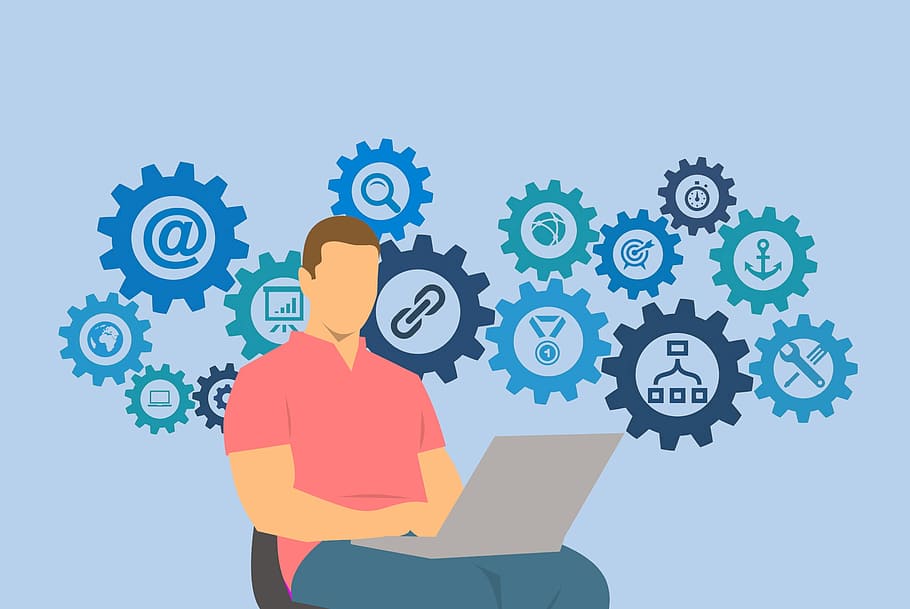 With the number of email accounts growing at a faster pace, it is predicted that email marketing will be an effective strategy to communicate with the existing and potential customers. So, does that mean email marketing works in 2020? While it seems complicated to cut through the noise in the digital era, a large number of marketers still experience better ROI from this approach.
The numbers given below showcases the importance of email marketing in the future.
Emails sent as well as received per day is estimated to grow by over 333 billion by 2022.

Image Source: The Radicati Group
60% of users still like to receive email with offers from their favorite brands.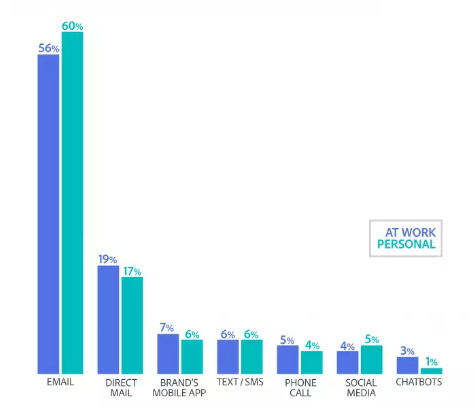 Image Source: Adobe
However, with a significant number of bulk emails and unsolicited spam messages revolving online, your efforts may go in vain if campaigns are not executed tactically. To put in simpler terms, it takes real-world knowledge and practice to run a fruitful email marketing campaign.
In the world of marketing, things are changing erratically. However, email marketing trends, in particular, are slightly more predictable. With the amount of data we are surrounded by, it's easier to know which tactics, tools, and technologies are working and will more likely work in the future.
To help you out, we have identified the significant email marketing trends that will stay on top in 2020 and beyond.
1. Personalized Automated Campaigns
Email marketing will not be a "one-size-fits-all" approach anymore. Segmenting your audience into buckets and sending them targeted emails will drive adequate sales and conversion.
When Mailchimp segmented their lists, the results were quite favorable to the firm. Please take a look at it.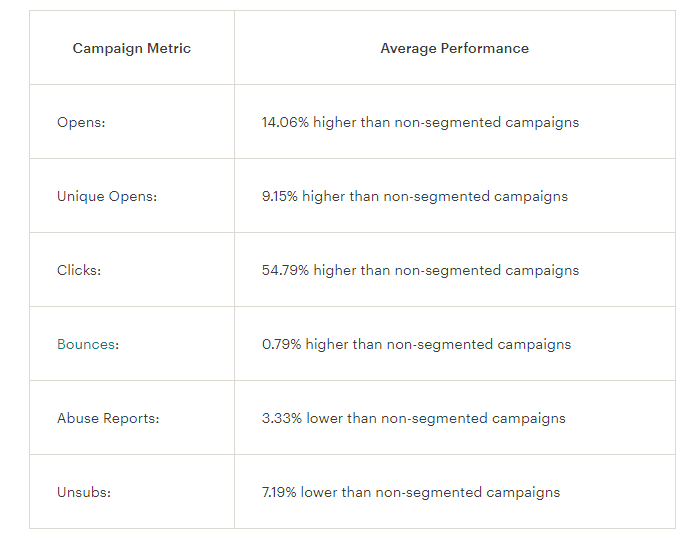 Image Source: Mailchimp
Therefore, in 2020, you need to focus on human psychology to view a large number of email open rates. You have to put the clients first and think about their problems individually. Hyper-personalized automated campaigns can do wonder in this area. With this tactic, firms can consider real-time data and browsing behavior to send highly-relevant emails.
Moreover, with automated campaigns, one can quickly collect the right data and deliver the pertinent message without spending much time and effort.
"If you want to cut through the fat and emerge as a brand your buyers want to engage with, your marketing has to seamlessly resonate with your buyer's goals, interests, and preferences." ~ Michael Brenner
2. Mobile Optimization
From reading emails to buying goods, people rely on mobile phones in this digital age. And, if you did not know, more email is read on mobile than other devices. A study by Litmus says 42% of email is now opened on a mobile device.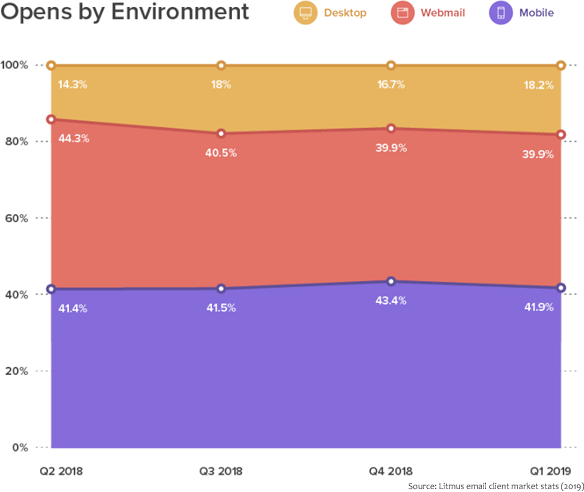 Image Source: Litmus
But the nasty truth is – only 22% of email campaigns are optimized for small screens. This results in the more number of emails remaining untouched. If you do not want this to happen, start optimizing your message for devices of all sizes. A well-optimized email will not only look clean and great on smartphones but also increases the click-through rate drastically.
3. Uncluttered Email Design
You are not the only one to send brand emails to the prospects. So it's essential to stand out from the crowd if you want them to open your messages. However, it's not a compulsion to create eye-catching emails, although most people believe that bright colors and colorful images can drive maximum attention. A minimalistic email – plain text with an authentic message and clear visuals will also help you sell more.
Simple emails are known to humanize the brand and form an emotional connection with the readers. That is, it helps you stay ahead of competitors who focus only on products and not customer needs.
The minimalist email design tips for marketers:
Limit the offer to one
The message should speak straight to the point
Write a short subject line (recommended length is 50 characters)
Keep some white spaces
Choose a monochromatic palette and highlight only important details
Keep your content well-structured
Consider this welcome email from Harry's. It's creative, minimalist, and simply impressive. A clear image, less text, rightly placed CTA, and white spaces make it look cooler than other messages.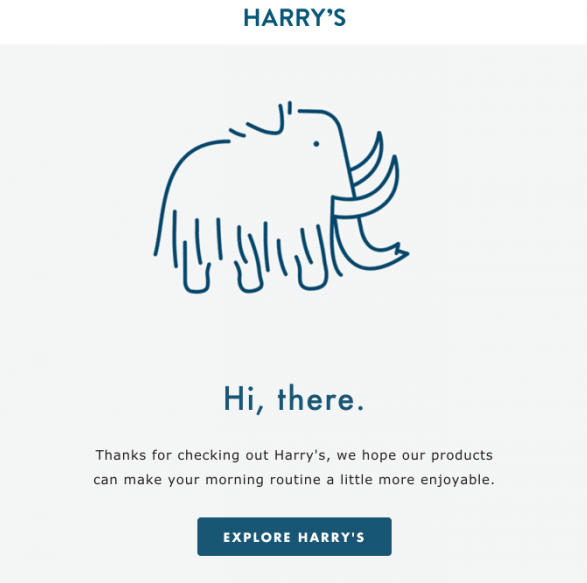 Image Source: Harry's
4. Social Media Integration
To reap the best outcome from your email campaign, you have to integrate it with social media. According to Emarsys, 42% (3.2 billion users) are on social media platforms. This channel provides an alternative way for marketers to reach their target audiences and deliver the brand message without sounding sales-oriented.
Moreover, modern customers are eager to know what people around them have to say about their favorite brands. They trust peer recommendations before making the purchase decision paving the way for influencer marketing. A study funded by Expertvoice, the largest network of influential group influencers, presents a more holistic view of how this approach is directly impacting customer's buying behavior.
It says,
82% of customers are likely to follow a recommendation made by micro-influencers.
Influencers have 22.2 times more conversion every week by recommending what to buy to the audience.
If you still need inspiration, pay attention to an email from Lulus: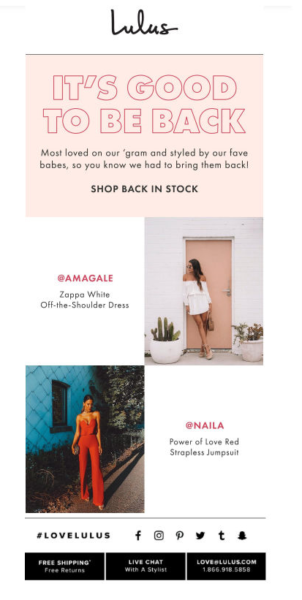 Image Source: Lulus
Lulus combined referral email marketing and social media by partnering with fashion influencers. It shared the photos of opinion leaders who wore Lulus clothes, to prove its popularity and trustworthiness.
5. Brand Storytelling
In today's digitally-driven and overly-automated society, humanity has become a sizzling topic. In this environment, businesses must connect with audiences and engage with them on a deeper level than ever before. That's how brand storytelling helps you.
In fact, a recent study by Significant Objects prove that by telling the brand stories well, companies can increase the value of a product or service by more than 20 times.
Consider this example from The Hustle. They used a linear storytelling approach in their welcome email. The company's CEO introduced the team to the subscriber in a humorous way, which was exceptionally entertaining to read.
Image Source: The Hustle
"The most powerful person in the world is the storyteller. The storyteller sets the vision, values, and agenda of an entire generation that is to come." ~ Steve Jobs
Bottom Line
Although technological innovation is continually reshaping the marketing world, email remains one of the most powerful tools to generate leads when done right. However, understanding the current trends is essential to reap the desired result out of it. By learning the developments in the email marketing space, you can build the campaigns that your potential customers love to receive and thereby gain higher conversion.