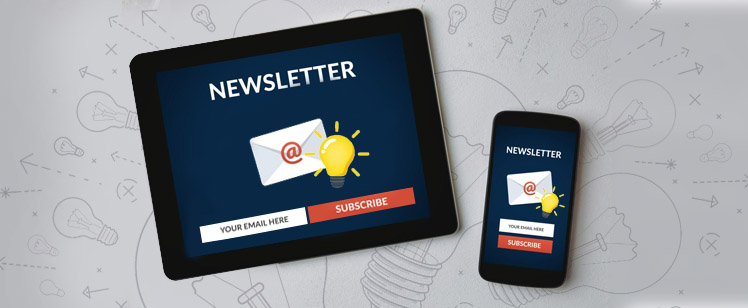 You must have heard about newsletters.
Yes, the email with customized news, knowledge base articles, and other useful information for your audience.
How it helps you and your customers?
It has result-oriented tips that customers could execute in their process. Further, it helps nurture the relationship with your customer.
By developing a good rapport, you can further upsell and cross-sell the service to them.
But first, one should know, the core benefits that these campaigns provide- it keeps your B2B customers updated on the latest happenings around them. And that is important for organizations as without that, no business can thrive in the market.
These email campaigns are sent mostly weekly, in some companies monthly or twice a week.
It is one of the best ways that gets you the right attention. According to industry benchmarks, publisher newsletters have an open rate of 22%.
As a brand, you would surely want a good open rate for your email campaigns. Newsletters help you earn the same. It also makes your prospect, the long-term customer.
But, how do you craft some of the best newsletter emails?
Well, that isn't easy, but this blog explores recent tactics and approaches that are winning the hearts of recipients:
1. Best Industry News:
Industry news are some of the best newsletters that one can send to a B2B organization. Most companies would be interested in knowing the latest happenings such as the introduction of new technologies, the launch of new products or services, etc. in the market. It gets to the point where thoughts consume them as to what their competitor is up to.
It lets them keep a watch over the business world, so that they are not left behind in the race.
Find one of the best examples of email newsletter, that includes SEO tips and industry news to sustain in the market:

Source: Brafton Inc.
Here you can see "Moz top 10."  Don't you think it would motivate the audience to read the content?
In this, you can see the sub-titles such as, "Does getting a Google my business suspension impact ranking?" "2020 local SEO success," "The search" are some of the useful topics that are mentioned in the top 10 list.
Businesses would like to go through the entire set one by one and check how it would be useful for their process.
2. Conveying the Information About Social Media Trends, Tips and Others: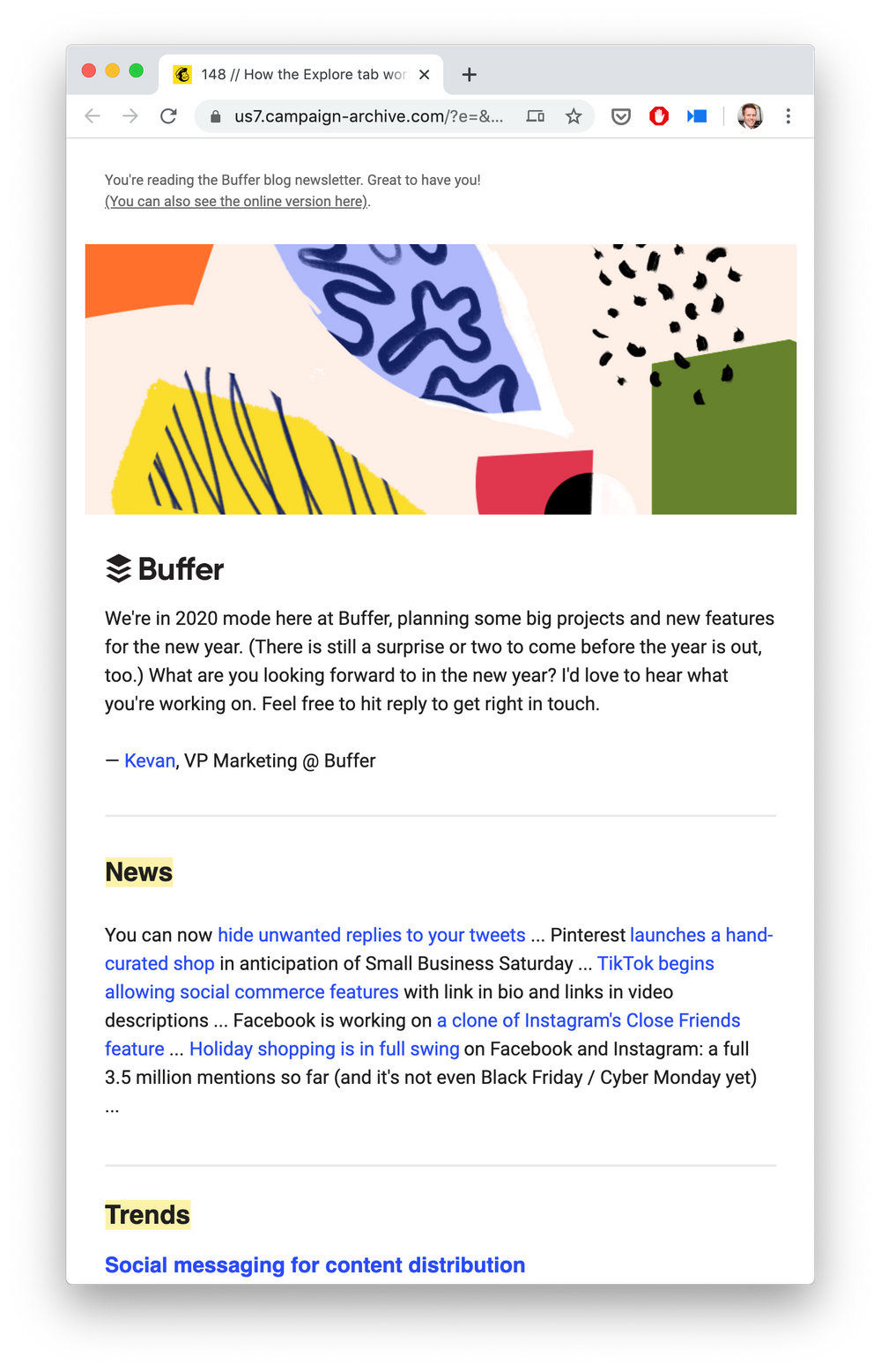 Source: Buffer
Buffer has designed some best social media newsletters- the tips, ideas, tactics to be used in social media.
You can see its content segregation with news, trends. The entire concept is to align their needs with that of the audience.
With the changing times, we all need fresh tricks to be ahead in the business race. And what best could it be than to give ideas on social media content strategy?
Most marketing strategies are about trial and error so, don't you think organizations would at least like to try this email marketing strategy once in their process?
You should hold your customers' attention with innovative newsletter content, and here "Buffer" has integrated some innovative approaches making the recipient stay longer and read the content.
3. Scoring Right with Healthcare Content:
Are you a healthcare organization wanting to promote your services?
As known, promoting healthcare services was never a practice, it's just a recent phenomenon that many organizations are coming forward to showcase their service.
Now, here is the trick, you don't need to always design content revolving around your product or service. As a healthcare organization, your content could revolve around daily healthcare routine, food, morning routine, etc. Most customers are stressed out with their busy schedule and don't follow any specific healthcare regime. This content could be a breath of fresh air to them.
And when you have a good relationship with your audience, showcase the content of how your healthcare service could make things easy for them.
In the present scenario, this idea would surely work and give the right results for your organization.
4. A well-Designed Non-Profit Newsletter:
Non-profit organizations need to always think out of the box to design an eye-catching newsletter. Along with motivating subject lines, these organizations have the mission to click with the audience instantly. Their content is simple, yet follows the marketing trends and conveys the message right away so that the audience doesn't feel it's the same promotional content.
Find one of the examples below:

Source: Campaign Monitor
In this, you can see the organization has designed a result-oriented newsletter. They have clearly developed the content to help the heroes who served the country in the war-ravaged nations. It is a support that would delight every veteran.
5. The Ever-Green Welcome Newsletter:
You should know that a welcome newsletter creates the first and everlasting impression on customers' minds. Just as they say, the first impression gets imprinted for a longer period, brands should never compromise in designing these first impressions welcome newsletters.

Source: WordStream
As you can see in this newsletter, the brand did its best to design newsletter that welcomes new subscribers. It got the right message that motivates the recipients to take the best action.
The newsletter starts with,"our story," "our goods," which conveys the message of what the organization does.
6. Adding Content that Includes Industry Experts' Interview or Case Studies:
Businesses like to implement the insights from experts as their rich experience would help multiply revenue in a short time. So, in this case, if you include newsletter content with industry experts' interviews, recipients would surely be interested in your email campaign.
Now another tactic here is including case studies in newsletters. Any case study revolves around analyzing, resolving real-time business issues that an organization faces. When any decision-maker receives this content, they will read it to know how in the same way your organization can resolve their challenges.
Find the below example:

Source: Sendinblue
In this content, you can see how the brand subtly conveys the message, "we turned their chemicals-in-a-bag products into desirable, valuable nutritional solutions just through branding. "
Any business would like to know how you resolved your customers' challenges!!!
The Crux of the Matter:
Newsletters are some of the best email campaigns. It is designed to deliver the right results by making your brand on top of your customer's minds. But the majority of marketers aren't aware of the tricks that would help them design it the best way.
This blog has some best newsletter ideas that would help to develop your campaign the right way. Besides that, you can even include some of your innovative tactics to get the right results.