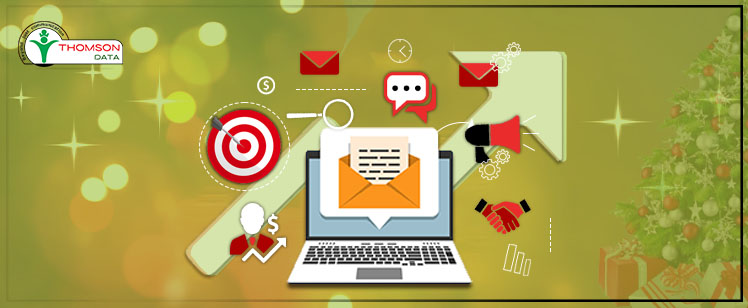 The Holiday season is undoubtedly a good time of the year. And, the cheer and joy are not only reserved for family gatherings. Businesses stand to gain a lot from it too!
Service Business Trends report that businesses make 50% of their entire years' worth of sales in the fourth quarter alone. There is no better way to enhance promotion opportunities than during this season, and the best way to do it is through email marketing.
B2B businesses often run into issues of lead generation due to outdated email lists. Here are a few ways to expand the B2B email marketing list that already exists with a company.
Leverage social media:
Social media is the most potent weapon in marketing right now. Over 61% of the people are anticipated to engage and make purchases through social media pages alone, especially the younger population.
Listed are a few ways to ensure that those engagements are not futile.
Include a signup button on the company's Facebook page. Alternatively, Encourage users to sign up with their email address by including a call to action on the Facebook cover photo.
To start a conversation about the brand's lead magnet, host a Twitter chat. Create
Snapchat snaps with a call to action for people to join the business mailing list.
Answer question on community pages:
Several online community sites such as MeWe, Mastodon, and Diaspora have sprung up recently. Create an audience of people interested in the business's primary subject using online communities and then marketing the subscription form.
Offer enticing rewards in exchange for email signups:
This tactic is still used widely due to its advantages for both the customer and the business. There are two ways to enforce this.
Granting access to content:
When a customer offers their email address to a website, it is common to grant them access to whitepapers, case studies, or other hidden content.
Marketers have now upped the stakes by giving away entire downloadable digital books. Contact information is extremely valuable, and the introduction of hidden content makes accessing it feel more advantageous to customers.
Giveaways and offers:
Contests and giveaways are typically useful for B2C businesses, but there are numerous ways to use them for B2B businesses.
Host a giveaway where the company offers free merchandise or services in exchange for signup.
Offering discount vouchers or codes in exchange for signups is another strategy to build a business email list.
ECommerce sites can offer a voucher in favor of email signup.
Pop-Ups on website:
There are a few reasons why a user may visit a website. They could simply be looking for information at the moment. However, this does not rule out the chances of becoming a future lead. Asking visitors to sign up for the email list via a pop-up on the website is one of the easiest soft closures.
It enables the company to offer them value-added content and improve their frequency of contact, allowing them to come straight to the business when they are ready to make purchases.
Include CTA at the end of your content:
Publish guest posts on famous sites that cater to the business's target demographic, and include a call to action (CTA) with a link to the landing page either integrated within the post or the author byline.
Moreover, including a call to action on all social media profile bios, along with a link to the landing page, can be an effective way to drive signups and engagement.
Purchase cold email lists:
Buying a cold email list from a vendor is probably the easiest solution. A business may purchase this list from vendors, target specific roles via specific campaigns, and maintain a steady source of leads.
When they go out of business, purchasing a competitor's or complementary company's email marketing list is another unusual strategy that can work if done right. A business can either integrate this list into their own or keep it as a separate brand and repurpose the information to promote their products.
Regardless, the company needs to make an informed decision about its application, or the emails may end up in the spam box.
Summing up:
This article aims to list all of the most effective ways to grow a B2B email list. CTAs are an excellent way to drive signups. However, with the growth of social media, finding a niche in a specific platform may be even more effective in increasing engagement.
Everyone appreciates offers, giveaways, and free promotional material. However, the most crucial factor is providing content worth signing up for.
Therefore, the first step to growing an email marketing list is to create content that suits different palates and is current and evergreen. Once a company establishes its quality of work, growing an email list should be the easiest in a long list of tasks!