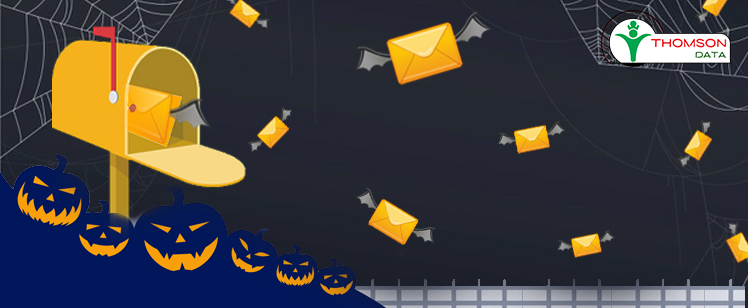 It's October, and Halloween is just a couple of weeks away. Everyone loves Halloween, and they have all got their reasons for it. For some, it's the camaraderie of going trick and treating with friends, while for others, the occasion might be all about Jack O'Lanterns and spending time with family.
And, the best part? Dressing up, of course.
Are you a business owner? If yes, then you've got an opportunity: Tap into all the Halloween festive cheer, and witness an increase in your sales.
Here's a statistic for you: According to the National Retail Federation, in 2021, consumers are expected to spend a whopping $10.14 billion during Halloween this year.
If you're planning to go all out with your email marketing campaigns, we have a little something to help. In this post, you'll find a list of some super creative Halloween email subject lines you can use to jazz up your marketing emails.
Halloween & sales: The equation
Every Halloween, children and adults love indulging in fancy costumes, accessories, spooky decorations, gifts, greeting cards, chocolates, and candies. And 2021 is all set to be a milestone year: The per-person Halloween expenditure looks poised to cross the $100 mark for the first time.
What's more, the Halloween costume market is making a resounding comeback this year, after a rather lackluster 2020. With the expected revenue pegged at $3.3 billion, it's fantastic news.
The best part is this: Your business doesn't even have to be directly related to costumes or candy to leverage this opportunity. Whatever product or service you're offering, your business can ride the Halloween euphoria wave by offering competitive deals and discounts.
Here's why this is a good idea: According to an infographic, nearly 40% of Halloween purchases are made at discount stores.
5 Creative email subject lines you can use this Halloween:
If you've dealt with email marketing before, you probably know how important it is to get the subject line right. If your subject line fails to attract the attention of your consumers, there's a 70% chance that your marketing email will get shoved to the dreaded spam folder.
This Halloween, take inspiration from these super exciting and catchy email subject lines:
All Treats, and No Tricks! – This email subject line is an excellent way of giving the traditional 'Trick or Treat' phrase a unique twist. Besides, it communicates your intention clearly: You have something interesting to offer.
There's Something Brewing in The Cauldron – Witches are extremely popular during Halloween. Why not use that to your advantage? By alluding to the cauldron, this subject line immediately sets a Macbeth-esque scene while creating an atmosphere of fervent anticipation in your customers' minds.
Here's What's New, Jack-O-Lantern – If you've got an interesting discount or deal to advertise, this email subject line might seal the deal. The super relatable Jack-o-Lantern reference is bound to attract attention.
Deck Your Goodie Bags with Spooktacular Savings – A clever play on words, a typical Halloween reference, and a tremendous promise. This email subject line is ready to thrill.
This Halloween, Spook Others, Not Your Pockets – Simple, to the point, and effective. That's what every email subject line should be.
Some notable examples:
Many prominent brands have tapped into the Halloween festive cheer before, and they have done it in style. Take a look:
Domino's Pizza – Get the Party Started with Domino's
Google Play – Scary-good games from Google Play
Etsy – Are You Ready to Get Spooky?
Cadbury – 15% OFF All Ghoulish Goodies
Experiment with emojis:
All text and no emojis make email subject lines a dull affair. You can revitalize your email subject lines by throwing in a couple of Halloween-related emojis.
Here's a list of the emojis you can use:
The Jack-O-Lantern
The Ghost
The Candle
The Clown (think Pennywise from the movie 'IT')
The Bat
The Spider
The Spider-web
The Lighting-bolt
The options are endless. So, don your thinking hats, and get brainstorming!
Halloween email subject lines for announcing deals and discounts:
If you're looking to let your consumers know about limited-period deals, you can tweak your email subject lines to communicate the same.
Grab Your Halloween Goodies! Buy 2, Get 3 – Offer Ends Today!
Get Pumped Up for Blood Curling Deals – 30% OFF on all items
October is Here, Halloween is Near, and Coupons are Here. Why Fear? – Unlock Exciting Coupons
Halloween = Spine Chilling Savings + Pumpkinastic Discounts. Hurry, you only have until Midnight!
The bottom line is this: Use as many action words and adjectives as possible to create a sense of urgency. Remember to keep it short.
It's a wrap:
With Halloween preparations in full swing, it's time to get your email subject lines jotted down and ready to send.
You can send general email subject lines with relatable Halloween references, or you can mix things up a bit and use specific email lines to announce deals and discounts.
Throw in a couple of Halloween emojis for some visual appeal. Remember to keep it short, concise, and simple, and always try to create a sense of urgency.