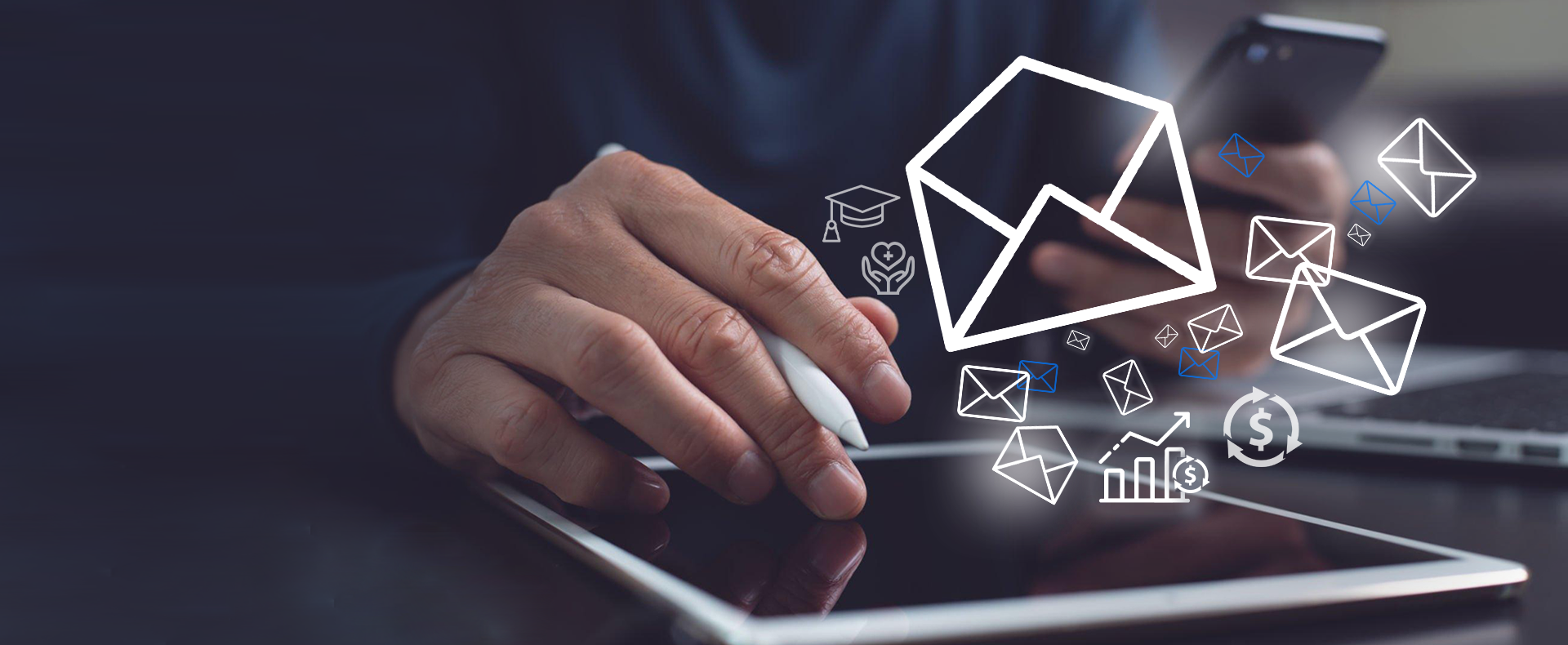 Do you think email marketing is dead?
If yes, let's dive deeper to learn some fresh facts:
AI & email marketing to increase revenue by 41.3%
The combination would improve the click-through rate by 13.4%
It would improve the open rate by 7.6%
Not convinced?
Other email facts prove that email marketing is an evergreen channel, dipped in the fountain of youth that would never be outdated!!!!
Email marketing in non-profit receives a 20.4% open rate
Email marketing in healthcare receives 19.1% open rate
Email marketing in education receives an 18.9% open rate
Email marketing in real estate receives an 18.9% open rate
All these mind-boggling statistics prove email marketing is THE ULTIMATE MARKETING PRACTICE. And it's not going anywhere soon, on the contrary, it's on the way to become the showstopper!!!
Many marketers are switching to social media channels, chatbots and others to attract high-valued prospects in the current scenario. While these channels are useful but none can replace email marketing. This mode has its charm and the magnetic power to convert prospects into customers. The convenient thing about email marketing is that almost all organizations can afford to implement it in their marketing process, be it SMBs or large enterprises.
Along with the latest technologies, such as artificial intelligence and automation, it is streamlining marketing communication. Marketers could send emails to their customers at the right time.
AI's predictive intelligence could find the best time when the customer is most likely to open and read the email. And the marketing automation could just shoot out the emails as per the customer's behavior and action.
 So, humans don't have to intervene much when technologies combine with email marketing.
Don't you think this would take email marketing to the next level?
If you're not reaping the desired benefits from email marketing, you're not following the best practices. Let's scan some of the best tactics that could assist your campaign on the right path:
1. Personalized Targeting:
Most customers love special attention. They don't want brands to view them as just another customer. Marketers need to have a planned strategy to connect with these customers. They could execute this strategy via personalized targeting, where they could collect personal information of each customer such as name, LOB (line of business), interests and many more to curate the email accordingly.
You could hold your customer's attention for longer, as the disseminated information is of high value to them.
Remember, when you personalize the content, don't forget to personalize the subject line- the first thing a recipient reads!!!
Source: chamaileon.io
Zoran Orak, a well-known personality who helps businesses develop and implement the right email automation strategy, once stated that the first point of personalizing an email is in the subject line through which you'd see better performance.
Almost 53% of marketers stated that personalized communication with existing customers could significantly impact revenue.
Personalized emails also deliver a 6x higher transaction rate.
Find the below example: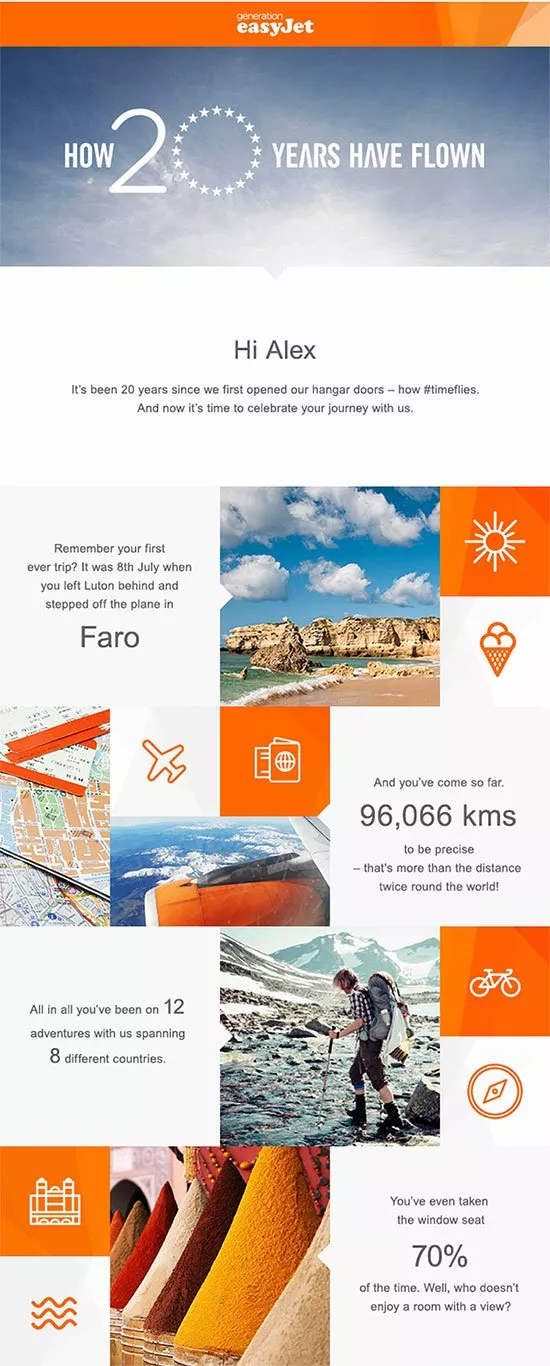 Source: ElasticEmail
As you can see in this email, the email is personalized for the customer "Alex" whom they have known for 20 years. The email content tries to make an emotional connection with the customer. We should understand that when customers feel like part of the bigger family, they will become lifetime customers. They would also refer your product or service to their friends, co-workers and others, thus improving your reputation among future prospects.
Marketers are now very often using personalization in their email campaigns. They know that even if the prospect doesn't get converted at the moment, they might be in the future.
So, make your effort worthwhile by investing your time in the right personalization tactics.
2. The Wonder of Segmentation:
You don't want yourself to be blasting emails to customers who would never open your email. And why would they if it's of no interest to them?
This is where segmentation comes into the picture…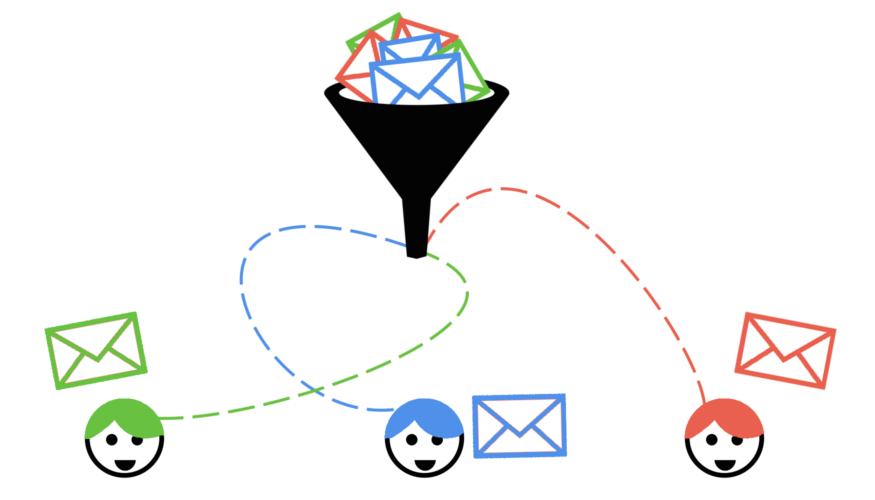 Source: Zapier
The process eases your effort by connecting with different prospects, which you do by sending out different emails to a varied set of future customers. Just as you can see in the image, although the emails pass through the same funnel, the blue email is sent to the blue customer, the red email to the red customer and so on…
And how do you segment emails for all?
One doesn't need any special prowess to segment customers. You can do it based on interests, industries and other factors, making it easy to craft the right emails for each segmented customer.
According to a finding:
 Marketers who used segmented campaigns witnessed a 760% increase in revenue.
 Segmented emails have an open rate 14.32% higher than non-segmented campaigns.
This shows if done appropriately, segmented emails could drive good results for the organization.
3. Optimizing the Emails for Mobiles:
People nowadays check their emails on mobiles. And do you know why?
It's more convenient!!!
Check this fact:
Over 376.4 billion emails will be sent and received by 2025.
35% of business professionals check their emails on mobile.
Quite an impressive number….
This why every organization should check the compatibility and whether emails are properly aligned on mobiles.
Check the below example: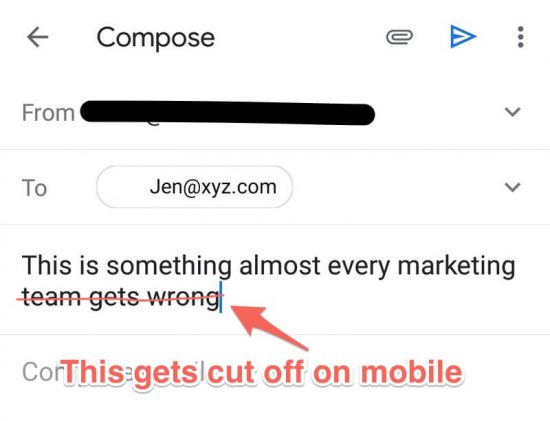 Source: GMass
Here you can see how optimizing the email for mobile also means optimizing the subject line. A long subject line isn't visible on a mobile; you should make it short and brief so that the recipient can properly read the email.
At the current state, marketers are jumping on the bandwagon to optimize all marketing emails to make them mobile-friendly.
The promotional emails, newsletters and other related information are completely optimized for mobiles before sending to the prospect.
4. Subject Lines:
If not developed rightly, emails couldn't give you the results you're looking for. The first thing that you need to work on here is optimizing the subject line.
It is the first thing a recipient sees in the email, so if it's not the right statement aligning with the prospects' needs, they will hop onto some other email in no time.
Find the below stats:
64% of people say they open emails based on the relevance of the subject line.
If the subject line doesn't hit the right chord with the customer, your entire campaign could nosedive and you won't reach the target. Make the recipient feel there is something important inside the email that would benefit them.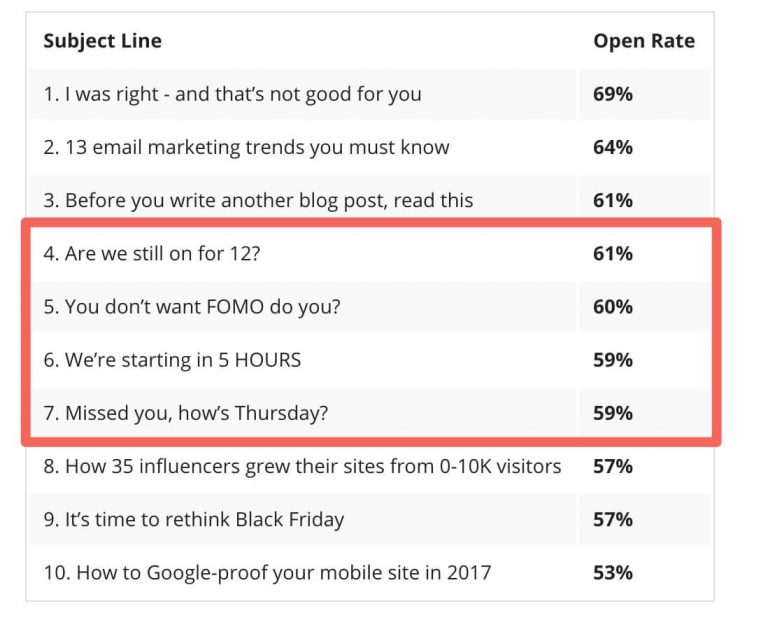 Source: GMass
As you can see in this email, you also create a sense of urgency or time constraint in the subject line. This would push the prospects to take the right action.
Customers like to grab any product or offer they think would be out of stock. They don't want to miss any opportunity.
5. Timing:
Last but not least, timing plays a crucial role in the success of an email campaign. If the US customer is sent an email in the Australian time zone, there is a high chance it could be overlooked. With a huge time gap of 15 hours, USA recipients would find it inconvenient to check their emails and take the right action.
So, marketers should segregate emails as per customers in different countries separated by varied time zones.
But what is the overall best time to send emails?
As per research by Dan Zarella, a viral marketing scientist, 6 A.M is the peak time to send emails.
Now, if you try to understand why he stated so, we could conclude that most recipients would check their email- as the first thing after they wake up.
Check this finding:
Almost 58% of adults check their emails on mobiles first thing in the morning.
Now you can connect the dots and understand the reason behind sending emails early in the morning- When the recipients open the email, they find your email on top of the inbox. This would also eliminate the chances of overlooking as the email is not in the cluttered inbox.
A recipient noticing your email and opening it is the most challenging part of the email campaign and if they do so, you win half the battle.
Conclusion:
So, we conclude that email marketing is still alive and in an evolution phase. It is merging with new technologies, trends, and practices to pave the path for a novel email marketing campaign.
The convenience of reading the email on your own time is what makes email marketing popular. Almost 72% of people prefer to receive promotional content via email, compared to 17% of people who prefer social media.
The blog helps you explore some of the hidden aspects of this great channel.
You can also see what makes email marketing most effective and use those practices in your next campaign. The more you adopt better tactics, it will drive good results for your business.