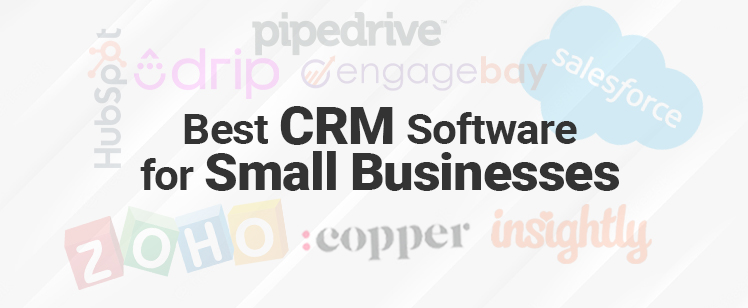 The world's changing, and it's all happening fast.
A decade ago, most small to medium enterprises (SMEs) relied on excel sheets or even standard documents to store client information. That's not the case anymore, is it?
You don't have to answer that. Instead, let's look at some statistics. The global market revenue for Customer Relationship Management (CRM) tools will hit $69.13 billion in 2022. By 2027, that number will double and reach around $120 billion. Meanwhile, Adobe Inc., one of the most prominent software companies, holds precisely 0% of the market share.
What's the point of all that? It's simple: CRM tools are exploding, and some of the major players in technology are left sitting on the bench. If you are a small business owner, you must get into it now. Putting it off any longer may make these tools too expensive for you to adopt later.
You don't need to panic yet. This article will walk you through some of the best options available on the market. Let's dive right in!
What should you look for in a CRM tool?
Let's face it: As of now, your company is a small fish in a large pond. However, soon enough, your organization is going to take off. And the CRM software you decide on needs to account for that future.
What does that mean? Well, it's simple—the technology should be able to cater to your growing needs. Take the example below:
Say you pick an application that focuses on increasing sales. That's a wise choice considering that sales will be instrumental to your growth. But what happens when you eventually reach that goal and need to focus on retaining customers?
Will you switch to a new platform? Well, you can, but that will also mean importing all the contacts and the related data. Sometimes, that may not even be possible, and you'll lose valuable client information. What, my friend, will you do then?
So, while application features are crucial, the best CRM for small business organizations are the ones that grow with them.
In addition, it'd also help if you picked a customer management tool that is cloud-based. And there's a reason for that.
While desktop applications can manage client information, you'll be at a disadvantage the moment you leave your work site. Don't forget—you're a growing organization, and you'll need to cater to customer demands at ungodly hours. The best way to do that is to ensure your CRM software works on cloud technology. That way, all the information is available to you remotely.
Some other things you need to look for are:
Free application support
Team-wide communication channels
Customizable filters to streamline reports
Contact syncing and integration with any existing software that you use
Now that you know what such software applications should offer, let's look at some of the best ones.
The pick of the litter
These are the top 8 CRM tools for small businesses. Some you may already recognize. Others will be entirely unfamiliar to you.
Here's to hoping that you find your perfect partner amongst one of these:
1. Drip
Drip has a specific clientele in mind: E-commerce start-ups. The platform sets some lofty goals for itself and, surprisingly, manages to achieve them, at least to a certain degree.
The application offers pre-built integration with third-party sites such as Shopify, keeping in line with its commercial market base. The standard CRM features are all here, including email tracking, lead management, and workflow automation.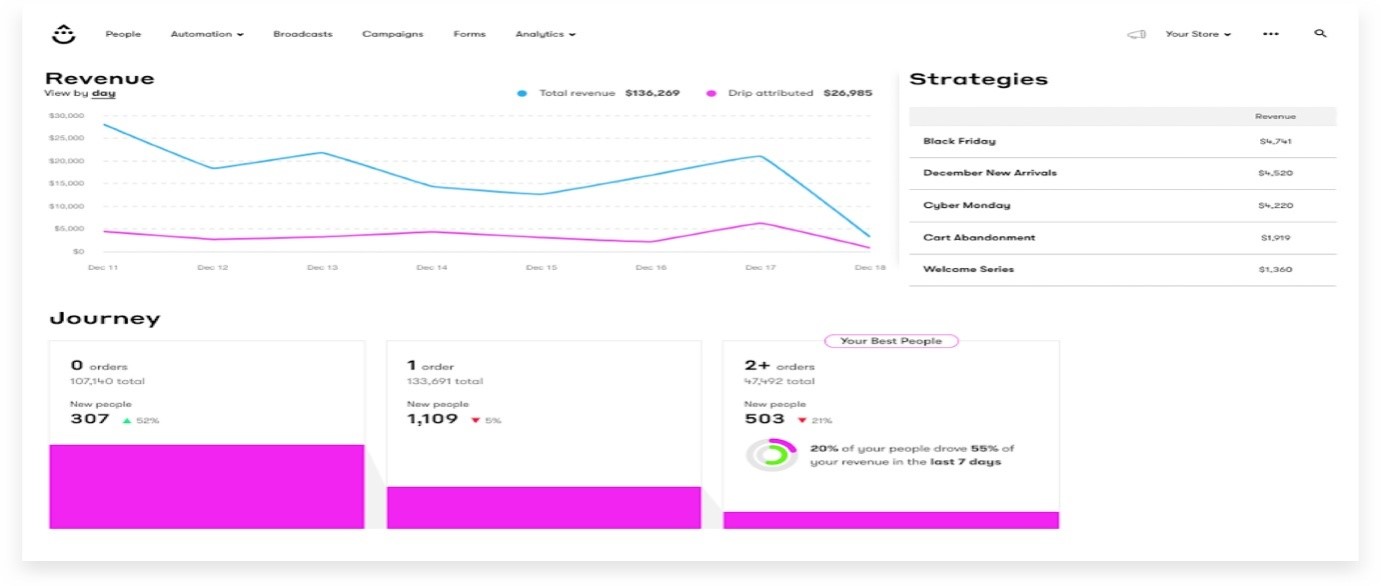 Source: Drip
However, you need to pay close attention here — its base plan is around $40. That's every month. Moreover, if you consider all the limitations of the starter plan, you'll soon realize you have no other option but to upgrade. Yet, the strangest thing about Drip is that it caps your emails even at the highest tier. And, get this, the base plan offers unlimited emails. What?
In all seriousness, the platform may not be the perfect CRM for small business organizations, but it still serves a niche base. And that, by itself, makes it worthy enough to be on the list.
2. Engagebay
Engagebay is affordable, functional, and, more importantly, specifically geared towards small businesses. Its starting plan sits at a mere monthly fee of $12. And, for what the platform offers, that's a hard bargain to pass on.
Source: Engagebay
Besides marketing automation, the software's paid plans include features that allow you to:
Create landing pages
Manage capture forms for leads
Schedule client appointments
Store call records
Implement email and mobile marketing through pre-determined templates
In addition to all of the above, Engagebay has a fantastic live customer service team. Even better, it's available for free users as well.
The one detracting factor about the software is that it's a little too focused on small enterprises. Essentially, if your business grows too quickly, you might need to switch to another tool.
3. Pipedrive
Pipedrive is visual more than anything else. It's also technically not a CRM platform. Don't get it wrong—it does everything such software applications do. It's just that it focuses a little too much on sales.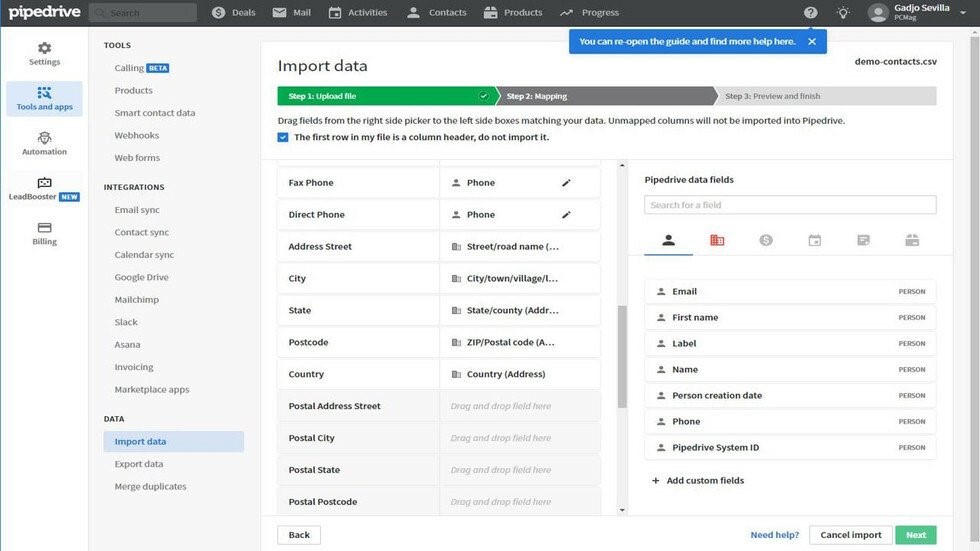 Source: Pipedrive
Still, the application has some unique features, the first being the AI sales assistant. From recommended integrations to performance tips, the AI bot lets you know about every little thing. It also sends out a teamwide notification whenever someone makes account changes.
The automation bar also lets you create new pipelines for emailing leads or existing tasks. The entire thing works based on the 'drag-and-drop' principle. Additionally, Pipedrive's 'smart contacts' feature seamlessly imports client data from social networking sites.
In short, you don't have to chase leads. The platform gives it to you.
The only downside to Pipedrive is that you can't use the free version for long. There's a 14-day trial period, following which you must pay a monthly fee of $10 for the base plan. Keep in mind that you have to pay extra for the add-ons. That alone may take it out of the running for the best CRM for small business organizations.
4. Salesforce
Salesforce has a unique AI assistant, appropriately called Einstein. What makes it so remarkable, you wonder? For starters, Einstein flags messages and emails where leads and customers express business concerns. This allows sales representatives to salvage a deal and prevent it from falling through.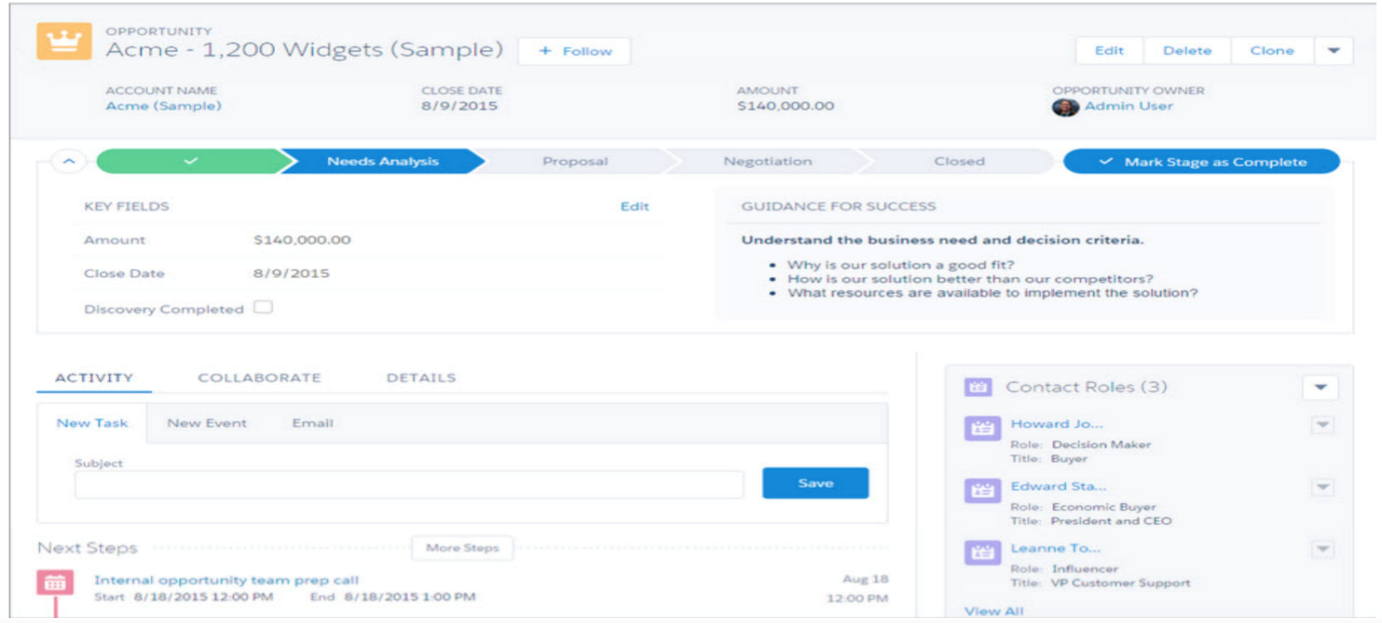 Source: Fluidogroup
Unfortunately, Einstein is only available for the higher tier plans or as an independent add-on. However, the platform makes up for this disappointment with its wide range of features and benefits. For instance, besides the excellent integrated project management tools, Salesforce also offers:
Campaign management
Auto-assignment of leads
Mass emails
Integration with in-house apps and third-party tools such as Quip and Heroku
Even better, all the listed features are available in the cheapest plan. Moreover, if you need it, the official website also hosts a vast selection of tutorials, videos, and other support material.
5. HubSpot
HubSpot has long been a household name in the marketing and sales field, for a good reason. Its CRM tool is the perfect blend of innovation and simplicity.
Source: Hubspot
There are two ways you can leverage the platform. The first is by sticking to the free starter plan. What do you get with it? Here's what:
Dashboard reports
Customer pipeline management tools
Deal tracking boards
Integration for over 1000 third-party tools
The second way is to opt for the paid plans. There are five different areas here, including:
Marketing
Sales
Content Management
Customer Service
Operations
You can upgrade each of the listed areas independently of each other. And, it might be worth your while to do so because HubSpot offers limited support with a free plan. That means you will not have access to in-app or phone chat.
There's no rush for small businesses, though. Try out the tool for a while and, if need be, upgrade to a paid plan later.
6. Zoho
Zoho's CRM tool is similar to HubSpot's, but there are a few key differences. First off, you get mobile support and over 500 in-app integrations. That's a significant drop from HubSpot's 1000. Still, don't let that discourage you.
Source: Zoho Desk
The free version is suitable for start-ups and smaller companies that only need to track customer leads and contacts. However, the best bit is that Zoho allows workflow automation on all plans. At least to some extent. There's also support for third-party apps and tools such as QuickBooks, Mailchimp, and Google Analytics.
However, if you upgrade to a paid plan later, you get access to:
An AI assistant
Sales funnels and pipeline management
Inventory tracking
Analytics and report automation
Custom dashboards and email templates
Essentially, Zoho can be the perfect CRM for small business organizations looking to expand aggressively.
7. Insightly
Insightly comes with some standard CRM features, including email integration and lead tracking.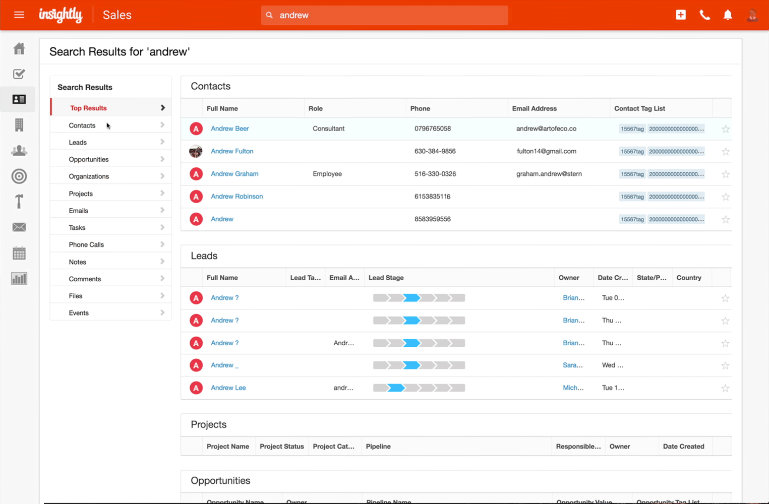 Source: DiscoverCRM
The platform also boasts an excellent project management tool in the base plan itself. Recent updates have also made the interface much more accessible to those unfamiliar with such applications.
The one place the software falls short is customer service. Insightly charges extra for its live support feature, while mobile integration is only available for the paid plans. Although affordable, these pricing models are overshadowed by the ones offered by Zoho or HubSpot.
8. Copper
Copper is the CRM software you need if your organization relies heavily on Google Workspace.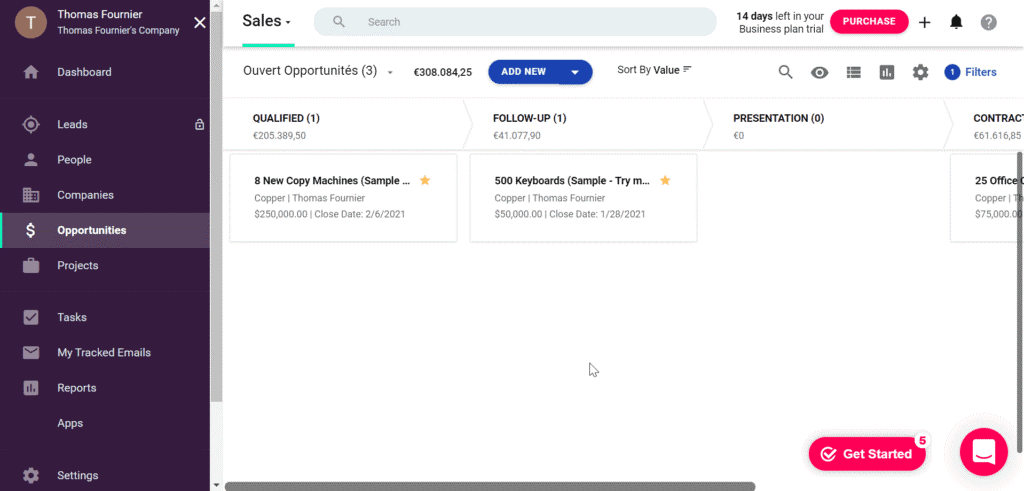 Source: Salesdorado
While not as sophisticated as Salesforce or HubSpot, for that matter, the application shines for a specific base: businesses that value simplicity above all else. Copper has one objective—streamlining sales management offering integration with fundamental google apps, including Gmail and Contacts.
The paid plans also cater to task automation. For instance, contact entries can be made directly through LinkedIn profiles or email signatures. There's no need for you to enter the data manually. On the other end, lead management works through the platform's 'bulk importing' feature.
Yet, Copper's simplicity can be detrimental if you want to scale operations sometime soon.
Which one are you going to choose?
As implied at the outset, picking the right CRM tool for yourself isn't just about the offered features. It goes way beyond that.
A simple rule is to assess current goals while defining future objectives. For example, if you've just started, Copper might be what works best for you. However, if you're planning on expanding in the next six months, it'd be safer to opt for Zoho or Salesforce.
Remember, the best CRM for small business operations isn't the one with the most features. Instead, it's the one that aligns with your vision.