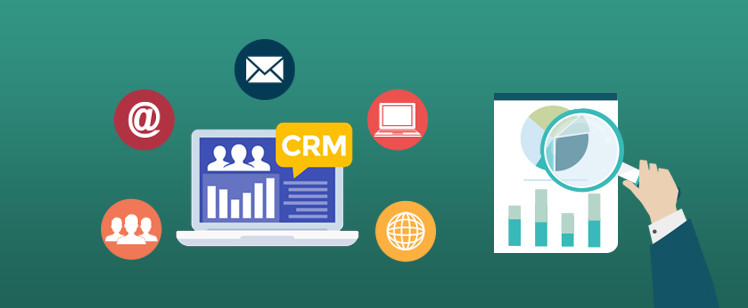 It isn't surprising to know that your organization still uses email communication to share the data as well as bond with the customers. But at the same time, this traditional mode of interaction hasn't remained the same since it first became available to users. Now the recipients can filter out the emails based on their interest. Hence, marketers need to be careful before sending a bulk of messages to a large number of audience. Already, your potential customers are surrounded by data on their desktop, mobile, Wi-Fi airwaves, and everywhere. If you want your prospects to pick your message among the hefty pile of online content, make sure you offer more than the old, generic, and impersonal information.
Most of the successful marketers use CRM and marketing automation tools to end this problem. CRM offers a plethora of contact data to personalize the email material, while marketing automation lets you send automated messages based on certain factors. When combined, these two super marketing tools help you significantly improve the conversions with a better email marketing approach.
What is CRM?
CRM (or Customer Relationship Management) is defined as the usage of specific methods and technologies to understand customers better, mend business interactions, and endorse positive relations. CRM holds the contact details of prospects and customers which one can use to segregate and personalize the email messages.
Technology Email List connects you with the Right CRM Professionals
What is Marketing Automation?
Marketing automation is the term used to describe the strategy and the tool used to systemize and automate the marketing efforts based on specific settings. Connecting the marketing automation tool with the CRM is crucial to personalize the automated email.
How to Utilize CRM and Marketing Automation in Your Email Marketing Strategies?
– Build Buyer Persona
Your marketing strategy turns out to be effective only if you are capable of targeting the right audience. But, how will you build this group of the right audience? CRM helps you in this aspect by identifying the typical pattern within your data repository and forming a specific buyer persona. This buyer persona is an ideal representation of your prospects using which one can personalize the email campaigns effectively.
To begin with, you can start with 2 or 3 audience group where each group represents the customer with different buying behavior, interest, industry type, job title, or more. Try to gather as many data as possible about the customer profiles. Later, learn the pain points and problems of this group. Based on this data, see if your products or services can resolve their issues quickly.
– Personalize the Emails
As we mentioned earlier, CRM holds a plethora of data about your prospects. Businesses can utilize this data efficiently to send highly tailored emails to the target group. By personalizing the email contents, you can gain higher open, read, and click-through rates. You can segment the email based on various factors. For instance, industry type is a great way to begin your personalized campaign. You can target the right professionals from specific vertical with the right message. That is, the group of manufacturing industries will receive a different email than the distribution industry.
Further, you can divide the group based on the job titles available in that selected group. The email messages intended for managers of the organization does not go well with the CEO. Hence, segregating the list further helps you in actively engaging the right individuals who are interested in buying from you. Similarly, you can segment the database on demographics such as location or gender of the prospects.
– Learn the Lead Scoring
Most of the CRM tools in the market scores the lead based on their engagement with your business. With this lead score, one can quickly determine the sales-ready as well as forgotten leads. As resources are precious, you can wisely plan your email marketing strategy and thereby focus more on the leads who are most likely to close. Also, lead scoring cuts down on wastage of time because now you know the position of your leads in the sales funnels and refrain your focus on leads that aren't hot and later nurture them.
You can also customize scores by lead property and their interactions with the company via email, application, or web. It helps you in prioritizing the leads that match your buyer persona and weed out the ones that are a waste of your sales time. With this method, you get to increase work efficiency and also save the time of your sales team.
– Automated Email for Signups
Sending out an email following sign up is an effective way to engage your audience from the very beginning. But, doing it manually, such as creating and sending the welcome message to every person when they sign up would be a massive waste of your time. Instead, you can use tools to set up an automated welcome email that gets sent whenever an individual joins your subscriber's list. That is the power of email automation. You set up an email at the beginning, which triggers later on when some demands are met. Triggering automated emails presents an opportunity for marketers to build trust with the prospect.
How to design this automated email? One can set up this kind of automated welcome email in just a few minutes. You simply need to provide a subscribe option in your website that directly adds new prospects to a list in your email marketing tool and then set your automated message to go out whenever someone joins the list. You can generate a discount code for the new users and include it in your email. This offers an excellent incentive for people to purchase from you, and also see its impact on the sales rate.
– Tailored Message for Email Clicks and Website Visitors
If any of your prospects click on the email, use this opportunity to send a tailored message immediately. For instance, a recipient may click on a link to view a product demonstration. You can use that action to send personalized material to him. Similarly, when someone visits your website, they are actively engaging with your content. With the marketing automation tool, you can trigger an email based on specific criteria. Send an automatic email when an individual goes through a specified number of pages on your website or visit any of your pages often.
You can ask the contact if they have any questions when they visit your FAQ section so that they feel valued and also at the same time, you can address their concerns quickly. Or, you can invite them for product demo if they visit your product description or pricing page. It helps you move the prospects deeper into your sales funnel. This automation tactic will not only lessen your burden but also brings the human touch to your campaign.
– Different Content for Each Stage
This method works similar to the lead scoring tactic. Based on your prospects position in the sales funnel, you can send tailored messages to help them move forward. Sales funnel consists of the various stages a customer goes through in their buying journey. It includes visiting your website for the first time, subscribing to your newsletter, reading your emails, watching the product demo, talking to a sales associate, and deciding whether to buy or not. So, sending a standard message to the potential customers at a different stage of the sales funnel will never be of any help to your business.
A new lead shows his interest in the product description or how your product helps them rather than pricing information. Hence sending them any mail that is designed to strengthen the bond with the customers will do no good. So, use the stages appropriately to segment your email marketing and drive quality leads down your funnel.
To Sum It Up
As a marketer, you should always be ready to face the changes as well as competitions surrounding your niche. Also, be wide open to the opportunities available to grow the business. Email marketing is one such segment that helps you in all this area. By setting up automated emails and CRM tools, you can drive the desired outcome without having to spend more time. Besides, you can make the best use of email list by running the right campaigns and meeting the right prospects. So take some of the practical ideas for CRM and marketing automation presented in this write-up and apply them in your business operation.
Reach The Ideal CRM Experts Using Best-In-Class Technology List