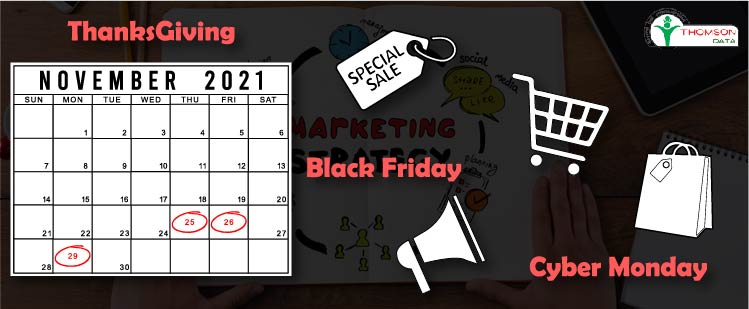 If you are a seasoned marketer, you know that busy days lie ahead. With Thanksgiving almost here, it can only mean one thing – that Black Friday and Cyber Monday are going to come trotting along.
In 2020, it was believed that sales from the Black Friday and Cyber Monday weekend raked in a whopping $4.8 billion across the world. Throw Thanksgiving in the mix, and you know it was massive.
It's going to be no different this time around. As the market gets filled with flash sales and great bargains, what can your brand do differently? You're about to find out just that in this article on the coolest marketing strategies in town.
The 5 most effective marketing strategies you need to know about:
From offering package deals, advertising on social media to generating curiosity – there's a lot you can do to ride November's festive wave successfully. Dive right in!
Offer irresistible package deals:
It's time for a quick inspection. Take stock of the products you'll be offering. Are there individual products that can bring greater value when paired with another product? If yes, bundle them up.
Here's a simple example: You can sell a screen guard with a mobile phone. Or, you can sell a photo frame along with a camera. After you have created the packages, offer customers a good deal on the whole package.
To make the most of the occasion, you can even consider themed packages.
In this way, customers get a good value for money – research has shown that consumers can save anywhere between 7-15% on such deals – and you can rejoice at the skyrocketing conversion rates.
Join the social media bandwagon:
Whether you are a well-established business or a small one, it is important to make the most of a digital presence. Shake the dust off your social media handles, and rope them in for the occasion:
Create themed hashtags to increase the visibility of your products
Promote all the deals, discounts, and offers – ensure that it reaches as many people as possible
Host giveaways and themed contests
It's simple. Instead of waiting for people to come to you, you can take the sale to them. And social media is the best place to get started.
Generate hype:
Marketing is a game of perspectives, with every business trying to achieve three things:
To capture the curiosity of the customers
To let them simmer in a state of anticipation
To create a sense of urgency
You can do this by generating hype around your products well before Thanksgiving arrives. Let's take Apple, for instance. They are trailblazers when it comes to creating an aura of suspense before each of their product launches.
The hype that you create is a signal for the subconscious minds of your customers. So, when the actual sale begins, they will automatically hunt for your products.
Freebies and more freebies:
The science behind offering free samples and products is very strong. Get this – if done right, your freebies can, in the long run, boost your sales by 2000%. If customers buy many things from you, reward them with free shipping.
Alternatively, you can offer a deal along the lines of Buy 3 items and get the lowest priced one for free. Remember, freebies can be anything – a product, gift voucher, or coupon – as long as they are valuable.
By giving items for free, you are essentially:
Instilling a sense of trust amongst your customers
Getting noticed by new and prospective customers
Creating value and cultivating loyalty
Consequently, you'll have customers flocking to buy your products even after the Thanksgiving-Black Friday-Cyber Monday craze lets up.
Milk the power of a cracking subject line:
This one is for the email marketing team of your business. It's well and good to curate themed content for the promotional email's body, but it won't be of much use if an enticing subject line does not accompany it.
Channel the spirit of the occasion in your email's subject line:
This is how we give thanks – Flat 50% off on all products
Are you ready for Cyber Monday? We are! – Use code CM001 to get 35% off on your next purchase
Black Friday is here – and so is our flash sale!
The key is to keep it very crisp and concise while sending a clear and powerful message across. Can you capture the might of the ocean in a single drop? Do that, and you will be all set!
Summing up:
Black Friday, Thanksgiving, and Cyber Monday are big occasions for customers and businesses alike. There will be a surge of competition in the market – and it's best to be prepared for it.
By offering package deals, generating hype, maintaining an around-the-clock social media presence, giving freebies, and using themed subject lines, you can stay ahead of the game. You can even partner with an influencer or celebrity to amp things up.