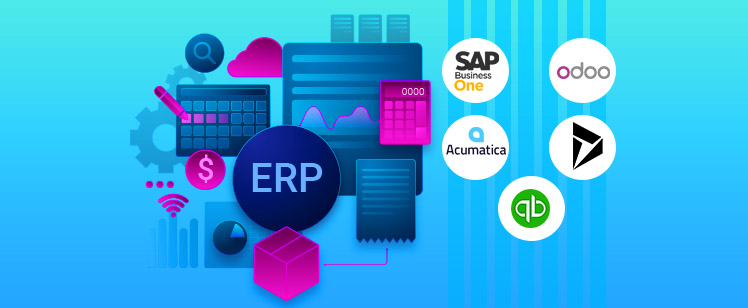 Enterprise Resource Planning, or as it's better known across the world—ERP.
That nondescript acronym has become synonymous with modern organizational management. And the reason behind it is simple: An ERP platform brings flexibility into business operations while consolidating departmental information and activity. Indeed, no one could have imagined how technology would evolve since its inception in the 1960s.
Now, if you are a Small-to-Medium Enterprise (SME) owner, choosing a solution amongst all the available options can be daunting. Yet, picking an ERP system for small business ventures is all about accounting for a few specific elements.
This blog will list the same while providing a brief overview of five of the best ERP systems in the current market.
Let's dive right in!
What should you consider before opting for an ERP system?
The global ERP market is projected to become a $100.7 billion whale by 2025. Incidentally, Oracle and SAP are two of the leading vendors in this area. Yet, just because a particular platform works well for others doesn't mean it's the right fit for you.
Instead, there needs to be an objective examination of a few critical factors. These include:
Initial price and cost of implementation
Platform scalability relative to a company's growth
Provisions for third-party integrations and operational assistance
User flexibility and the required learning curve
System mobility in terms of cloud and on-premise deployment
Once those elements are considered, analyzing each ERP system based on organizational activity and requirements is essential. For example, do you need a tool that focuses heavily on financial management? Perhaps, digital security is one of your primary concerns.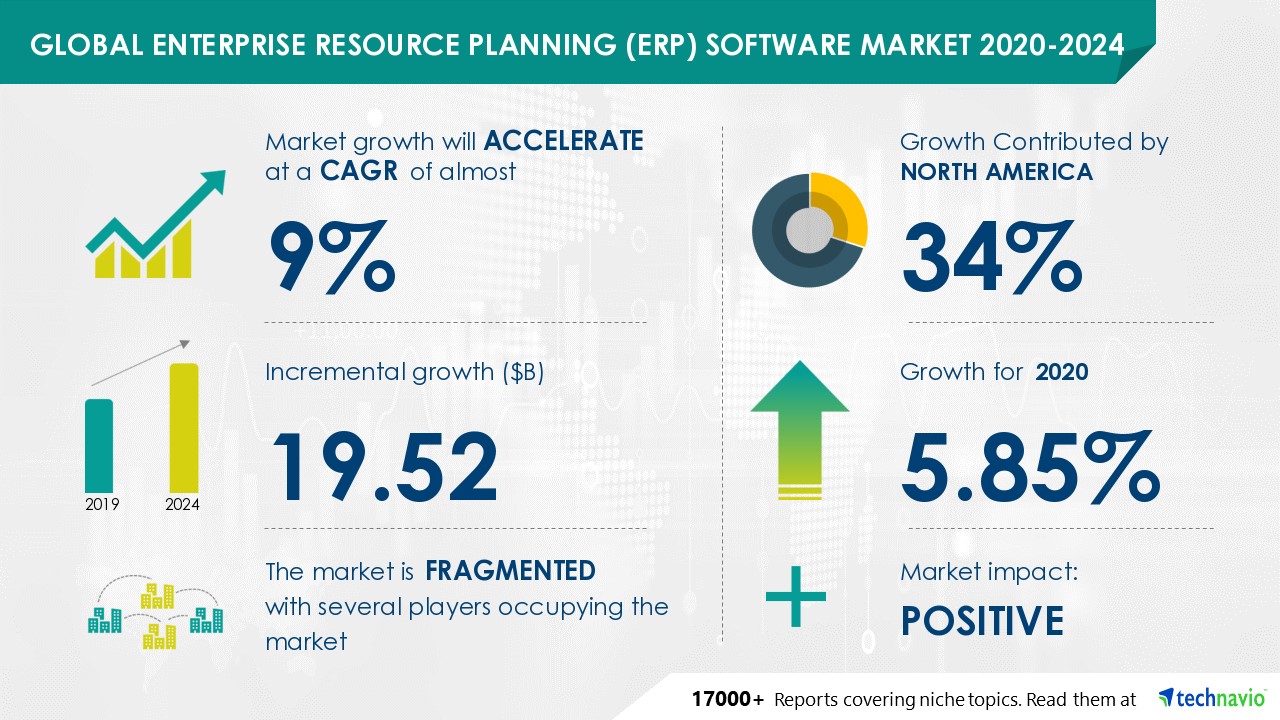 Source: Business Wire
North America will be the major contributor to the growth of the global ERP market
Whatever it may be, you must follow this two-step evaluation process—an objective comparison and then a subjective review of the software's benefits. Only that will highlight a suitable ERP software for small business enterprises.
It also helps to take a quick look at the top industries using ERP software. That way, you can determine the reason behind your industry peers preferring a particular tool.
Five of the best ERP for small business organizations
Considering the aforementioned factors, the following systems stand as some of the best options in the current ERP market. As such, the presented information examines what the particular software's standard features mean for your operations.
So, here they are:
1. Odoo
Designed as an open-source solution, Odoo is an excellent ERP system for small business companies that have just begun their journey. Even better, its current users are spread across multiple global sectors, meaning there's no specific industry that the software biases itself towards.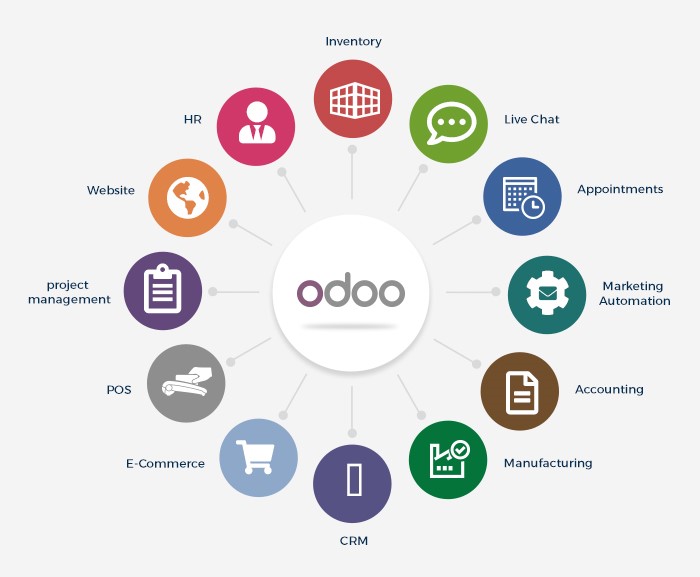 Source: Odoo
Despite being completely free, Odoo doesn't skip out on functionality and offers several features
Now, Odoo offers all the standard features of an ERP solution, alongside a few more, including:
Operational applications
Sales support
Human Resource (HR) management
Back-end e-commerce functionality
Customizable workflows
Marketing
Moving on to specific features, the Odoo platform allows businesses to seamlessly automate procurement orders while providing end-to-end tracking for all the issued propositions.
The best part? You have access to a single avenue for managing the residual data—supplier invoices, billing reports, customer profiles, etc.
There's also the availability of pre-defined templates that can be customized according to your preference. In addition, automated suggestions will help refine the final content by polishing the price quotations.
Besides that, real-time and collaborative project management enables all departments to have a consolidated overview of the ongoing operations.
The only issue is that Odoo has a clunky user interface, which makes it challenging for you to train your personnel or implement it efficiently. The support for the platform can also be lacking in a few cases, with prolonged customer wait times and limited resources.
2. SAP Business One
The price tag attached to SAP Business One may be off-putting to new companies. Yet, the software suite's advantages are well worth the price. In addition, its 'automation-first' approach makes it an appealing ERP software for small business enterprises.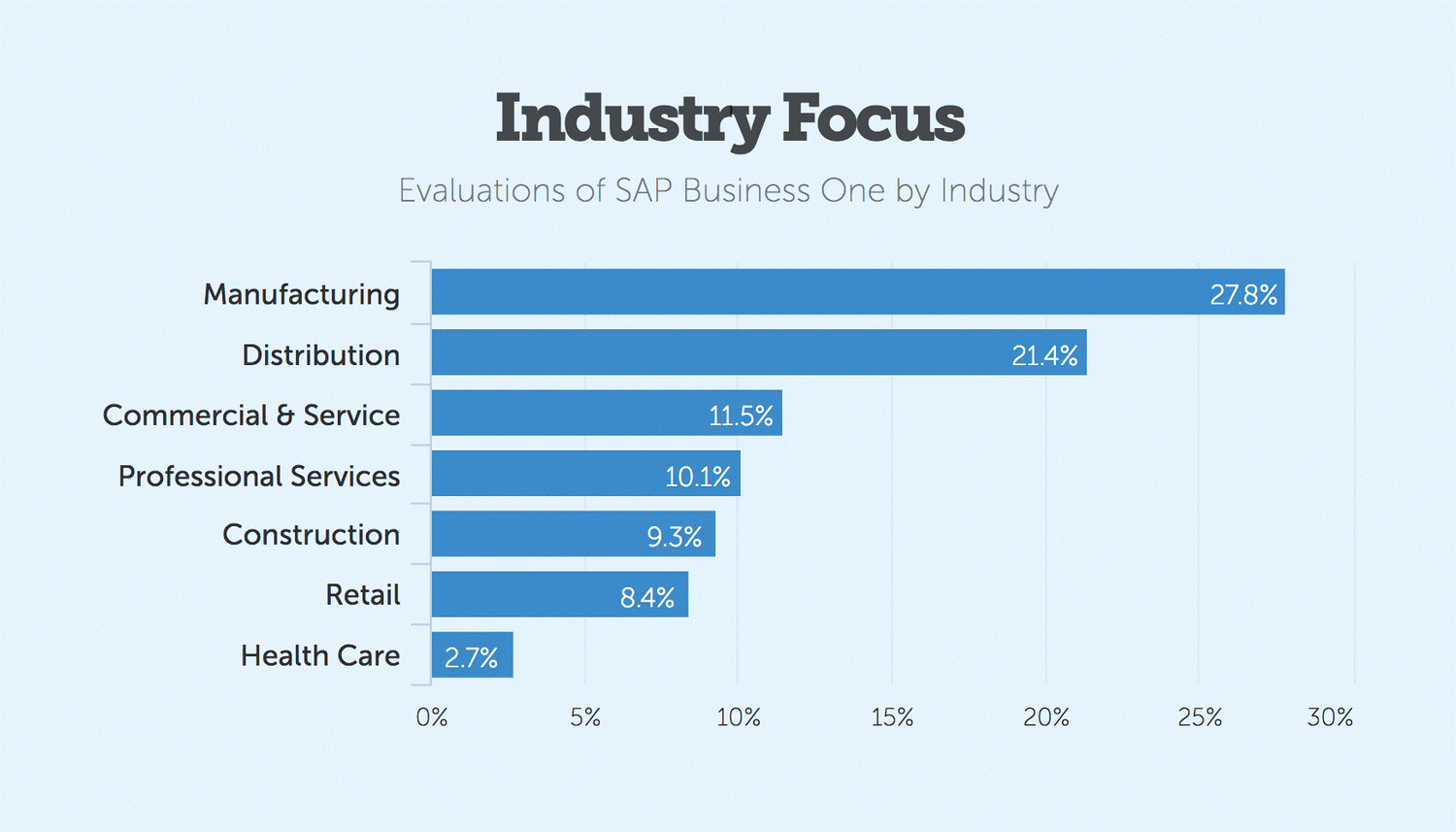 Source: Software Connect
The Manufacturing sector is the leading user of SAP Business One
The platform implements this through several avenues. For instance, enterprises have access to consolidated automation when it comes to critical business functions, including:
Global project management
Sales and financial reporting
Human resources and personnel training
There are also dedicated channels that use in-depth analytics to provide real-time data based on departmental activity. By merely incorporating that information, organizations can significantly reduce accounting errors, oversee the customer lifecycle and the sales process and even optimize company purchasing habits.
Concurrently, department heads and C-level executives can rely on the collected insights to empower their teams through accurate and timely performance reports. As an added benefit, the dashboard and user interface are entirely uncluttered, reducing the time of implementation.
The only complaint against SAP Business One is that the extra features and add-ons can snowball into a significant sum. Combined with the initial price of the software, it can get a little challenging to maintain the tool during a financial crisis.
3. QuickBooks
Originally designed as a payroll tool, QuickBooks has expanded its services to provide exceptional ERP functionality.
Yet, the platform adheres to its roots and provides excellent support for account management alongside bank and tax reconciliation. There's even a variant specifically built to simplify things for Certified Public Accountants (CPAs).
As such, QuickBooks focuses a little more on the financial side of organizational planning. The automated notifications regarding product levels, cost monitoring and inventory data are evidence of that.
Now, that could make it the best ERP system for small business enterprises with massive accounting or inventory management requirements. Manufacturing or retail businesses are just two examples here.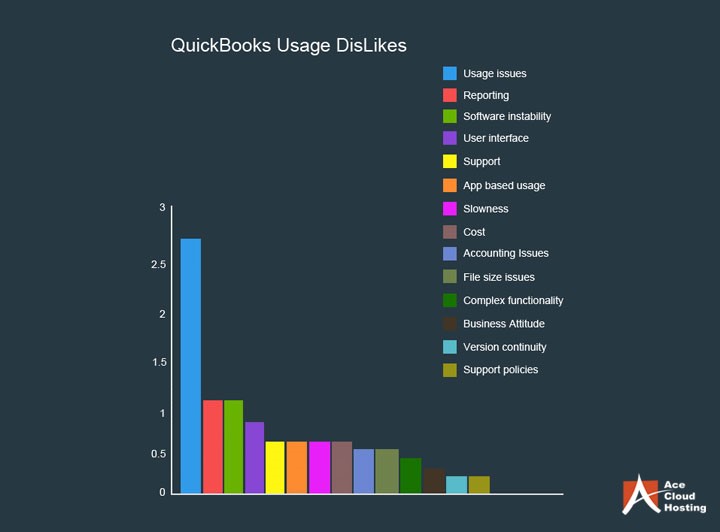 Source: Ace Cloud Hosting
While effective, there are specific usage and platform response issues related to QuickBooks
Something interesting about QuickBooks is the platform's unique 'smartphone capture' feature. Essentially, you can connect your mobile device to the system and then use it to take screenshots of receipts, basic billing reports and even tax estimations. The software will then automatically record the data and integrate it into the database.
While on the subject of tax estimations, it's also critical to note that QuickBooks streamlines the allocation of tax categories. The result? Seamless deductions and business expense management.
Regardless, the difficulty in modifying invoice coding, correcting posting errors or payment matching can be mildly annoying for some.
4. Acumatica
Acumatica is one of the best ERP for startups that have concerns about digital security. The platform's integrated documenting system and centralized channels ensure that company information is securely locked behind permission-based access.
Its modules also enable powerful customization regarding sales reports or asset management. In fact, the software has distinct versions based on the sector you are rooted in. That way, the system allows you to tailor your data according to industry-specific demands.
That same functionality extends to deferred payments and project management. In short, complex billing data can be organized based on specific project rules, while real-time data on asset-specific revenue highlights the most effective ways to scale your ROI.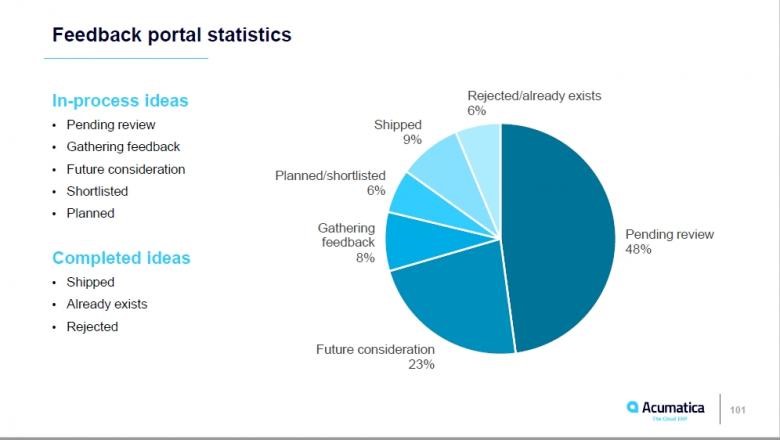 Source: diginomica
Acumatica actively pursues and evaluates user feedback to make platform improvements
In addition to all of that, the software provides your Customer Success & Sales personnel with comprehensive information on client activity and associated quote requests. As a result, your team can build highly accurate customer profiles.
The frequent updates and interface enhancements, coupled with no user limitations, make Acumatica very consistent in dealing with platform redundancies or bugs. However, that doesn't mean that the ERP tool is entirely free from any criticisms.
For one, email integration requires your personnel to share their passwords. Add the need to correct claims reports through a manual notification every time, and things can get frustrating very quickly.
5. Microsoft Dynamics 365
Like Dynamics GP, Microsoft Dynamics 365 focuses heavily on asset management. Yet, that doesn't take anything away from making it an exceptional ERP system for small business ventures. And like all the other options mentioned previously, the platform has provisions for both cloud and on-site deployment.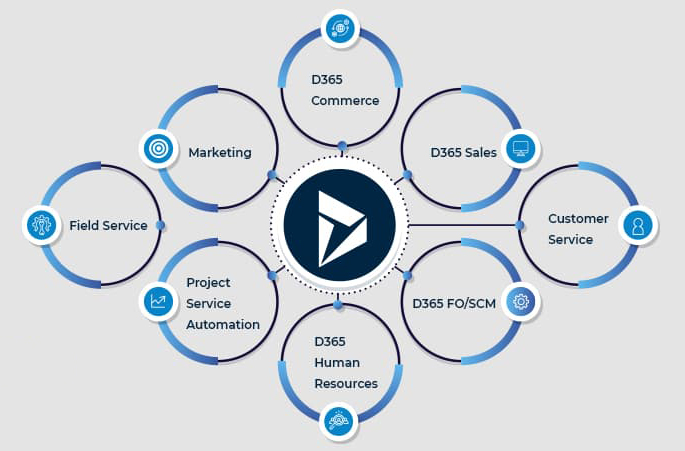 Source: DynaTech Systems
Microsoft Dynamics 365 takes a consolidated approach to enterprise management through its various core features
One of the software's unique features is its integration with social media channels. Simply put, it lets you analyze online market perception around your brand.
There are also dedicated channels for Customer Relationship Management (CRM) in addition to embedded guidance protocols that connect departments and share a single perspective on any gathered data.
Sales personnel can leverage the system's 'lead scoring' feature to rate the viability of specific prospects while singling out the ones with the best chances of conversion.
Nonetheless, Microsoft Dynamics 365 does have a few disadvantages associated with it. First, the more customization implemented into the tool, the worse the lag gets. Data retrieval is also challenging due to the availability of hundreds of app options.
Choosing what works best
Restricting yourself to the idea of the 'perfect' ERP software for small business enterprises can be detrimental to making an informed decision. Essentially, each software suite comes with its pros and cons.
Choosing what works best for your company depends entirely on making a thorough comparative analysis and then assessing that against your requirements. In other words, the perfect ERP doesn't exist. And considering the digital evolution occurring in all the global sectors, there's little possibility of that happening anytime soon.
After all, your organizational requirements will change constantly. Why should the technology remain the same?