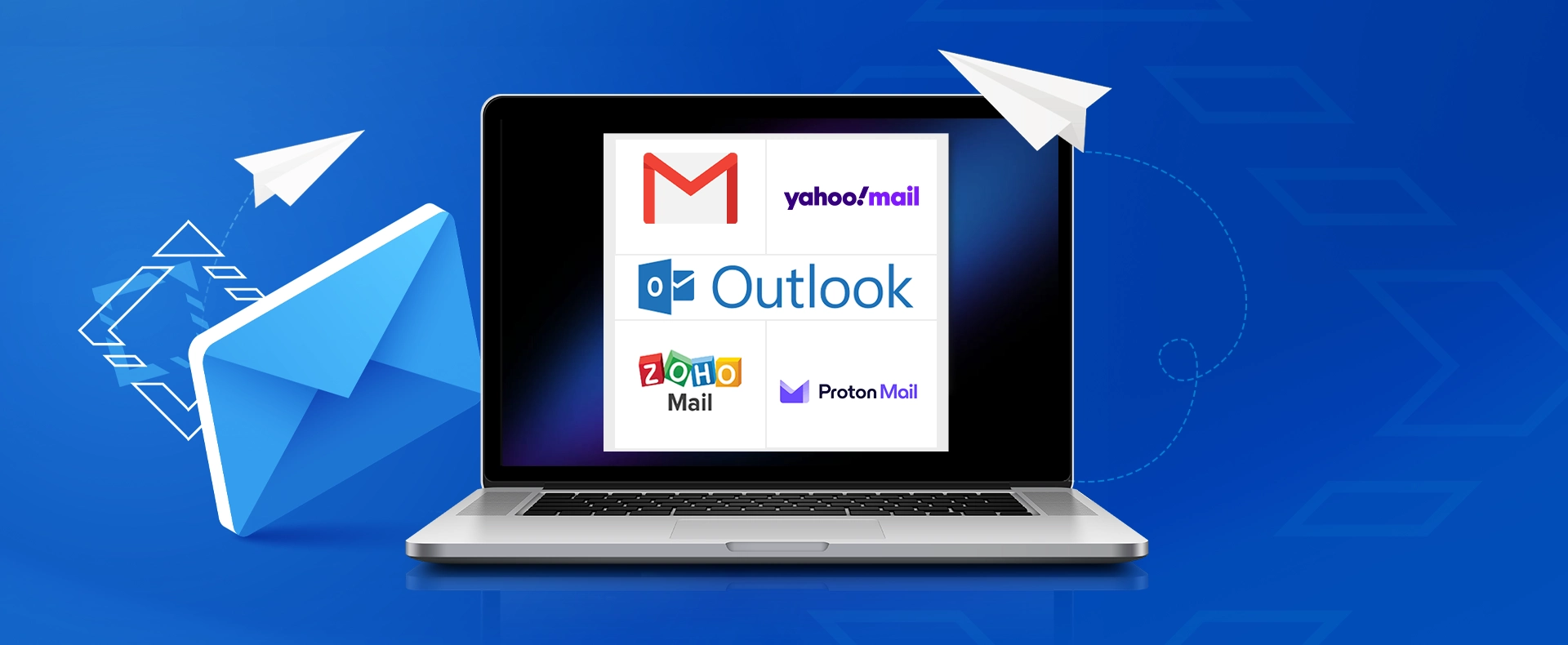 Is your marketing team sending out hundreds of emails daily? Ask yourself this: How many emails are making it into the intended inboxes? If your response is below 90%, the problem goes deeper than a flawed promotional strategy. It has more to do with the platform you use to deploy your content.
Yet, with all the current email service providers available on the market, it can be challenging to pick one.
This article explains everything you need to understand to pick the right platform for your promotional efforts, from the system types to the critical aspects you need to consider while choosing such tools.
What is an email service provider?
Email service providers refer to both the platforms you use to curate and deploy email campaigns and the vendors that provide those services to you.
The term bears this dual meaning because it is a legacy concept from when enterprise-grade marketing platforms were intrinsically service-heavy. In short, companies needed a third-party agency to manage various aspects of their email campaigns, such as deliverability, deployment and even email bounce rate.
However, technology providers have now integrated these services into their overall system. For instance, Zoho offers built-in email marketing tools alongside Customer Relationship Management (CRM) functionality.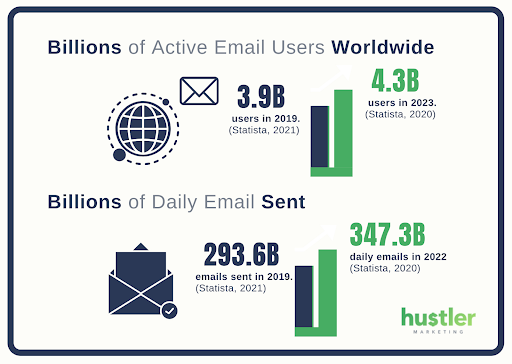 Source: Hustler Marketing
Here are the processes an email service provider enables you to do:
Generate forms for lead capture
Automate marketing workflows
Curate dynamic email content according to the gathered data
Segment your subscriber list based on opted preferences
Conduct A/B testing of automated email marketing workflows and promotional content
Track website visitors to collect information based on elements such as user habits and page engagement
These services are foundational to your marketing strategies, enabling you to track key metrics and adjust your campaigns accordingly.
Why would your business need one?
Besides all the ways they streamline your campaign execution, email service providers are critical to protecting your company.
Take the CAN-SPAM Act, for example. Introduced in 2003, the CAN-SPAM Act imposes a few restrictions on organizations that rely on email marketing in any given form. And those using generic clients or personal email accounts to send out promotional material are probably violating some of these policies.
Going against CAN-SPAM regulations, or any other standard data norms for that matter, will not only tank your deliverability rates but may also result in you being delisted from specific channels.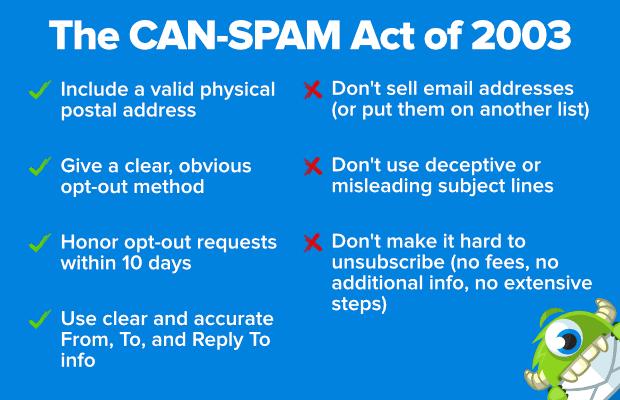 Source: OptinMonster
Relying on an email service provider will ensure that you face none of those issues. These tools will help you adhere to these guidelines while also offering the following:
Automatic sender identification
Dedicated opt-in and opt-out avenues for your prospects
Compliance with standard policies for catering to opt-out requests within the specified period
The Federal Trade Commission (FTC) can impose a fine of $16,000 to $46,500 for every email violating CAN-SPAM guidelines. That's the equivalent of the ROI from some of your smaller clients!
How many different types of email service providers are there?
There are two ways to categorize email service providers: the technical side and the marketing part. For this blog, let's stick to the latter.
Within the marketing category, there are two further categories:
An email client is a software application that manages the messages you send and receive. It downloads the emails from a remote server and then offers it up to you to peruse at your leisure. Microsoft Outlook, Mozilla Thunderbird and macOS Mail are just a few examples.
Conversely, webmail is exclusively accessed from, you guessed it, a web-based interface. In short, all your emails are hosted on a central cloud server. Gmail, AOL and Yahoo! Mail are the most memorable representatives in this regard.
Regardless, there is often some confusion here. For example, Gmail is considered to be both an email client and a webmail service. Yet, this is easily rectified with the explanation below:
The Gmail app, the one you have installed on your device, is the email client. Meanwhile, you use the webmail variant when you access your Gmail account from a browser extension.
The more important question here is why it's critical to categorize an email service provider based on this criterion. Well, webmail is accessible to everyone from almost all devices. Email clients can restrict users to specific platforms and channels. Simply put, your deliverability rates depend on choosing one or the other.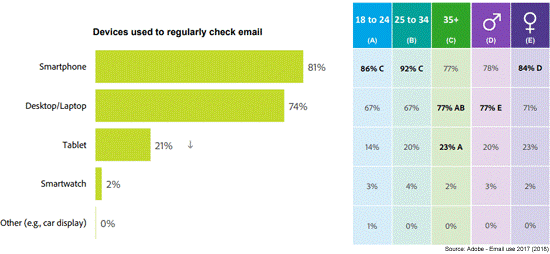 Source: Emailmonday
Both have advantages specific to themselves. Most webmail services, for instance, are free, at least initially. On the other hand, dedicated email clients are expensive but offer enterprise-grade marketing support.
What should you look for in an email service provider?
Several elements come into play when choosing an email service provider. However, most of them are oriented toward individual users or personal communication. Those aside, let's focus on the things that matter in the context of marketing, such as:
1. Deliverability rate
Whether you wish to target C-level executives or build consistent communication with existing clients, the deliverability rate is one of the most crucial factors in email marketing.
It refers to the likelihood of your promotional content making it into your subscribers' inboxes. Often, your emails get flagged as spam, junk, or even bounce back, affecting your company's reputation and overall sales performance. And that's still not factoring in all the wasted financial resources that went into deploying those emails.
In other words, look for email service providers with at least a 95% deliverability rate. It also helps to review any available resources to understand vendor practices regarding content management, backend inbox delivery and application usage.
2. Data security
Data security is not just a luxury in the current marketing landscape. Instead, it's a fundamental aspect that all your prospects expect from you. The Cambridge Analytica Scandal is a perfect example to highlight the importance of that statement.
And, similar to CAN-SPAM policies, any violations here will not merely result in legal liabilities but also put a sizeable dent in how the market perceives you.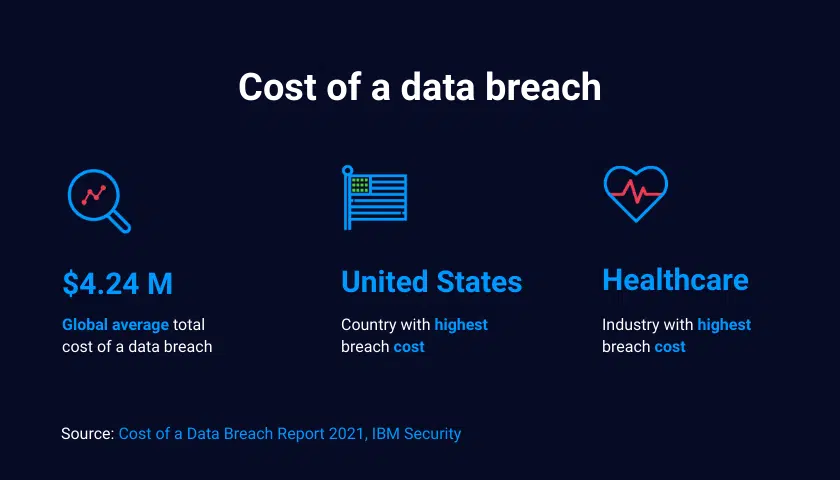 Source: Netwrix
It is entirely up to you to decide the extent of security protocols you want from a vendor. Still, it helps to consider the basics, including the following:
Password policies
Customer communication and data encryption
Availability of integrated firewall protection
Another thing to account for is your industry-specific guidelines. For instance, an email service provider offering HIPPA compliance would be best if your business caters to the healthcare sector.
3. Analytics and tracking
You should expect some basic features from all of the current vendors in the market. These include automatically generated analytical reports on the following:
Open and click-through rate
Bounce rate
Spam compliance
Unsubscribe rate
Yet, some email service providers go well beyond those elements, offering consolidated data on aspects such as:
The device used to view the email
The location of the subscribers
Click maps that reveal engagement patterns with the deployed content
In addition, you also have to factor in whether you frequently rely on third-party analytics platforms. Suppose Google Analytics is one of your most beloved tools. In that case, you need to look at service providers that support interoperability between your systems.
4. Integrations and overall budget
Most vendors now offer integration with other related marketing tools. For example, Zoho is a hybrid email marketing and CRM platform. HubSpot is the same. Nonetheless, there may be subtle differences between a popular email service provider and the one you are currently considering.
Whatever you choose, ensure that the platform at least provides third-party plug-ins. Even if that's missing, the system should have built-in APIs so that you can manually add custom integrations.
Moreover, you will need the help of an external agency or a developer to set up and integrate the service into your operational flow. Besides that, you also have to think about training costs. Collectively, this can add up to a significant amount.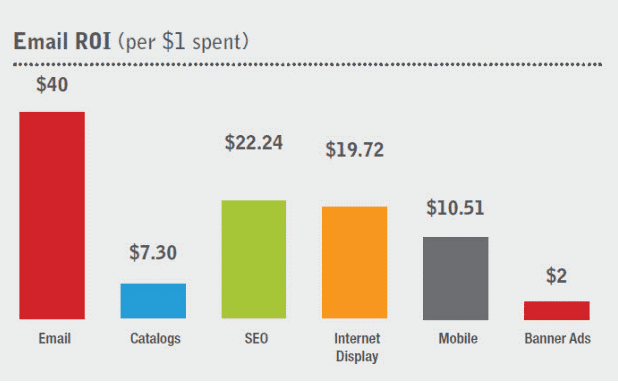 Source: Smart Insights
Thus, it's best to focus on a few vendors first and build an estimate of the final budget gradually.
5. Strategy compatibility
Cutting straight to the point, the best email service providers are intrinsically compatible with almost all marketing strategies.
And a few helpful questions to ask yourself here are as follows:
What does your lead capture process look like?
Which email formats will you frequently leverage?
Will the focus be on lead generation, upselling services or making general product announcements?
Do you want to track metrics within the internal database or through the email platform?
Figuring out the answers to those questions is critical. As such, they will not only help you choose the right tool for your organization but also enable you to refine your marketing strategies themselves.
6. Desired features
A common mistake most marketers make when choosing an email platform is focusing too much on peripheral features. Granted, extended functionality from your email service provider is always helpful. Yet, you also have to consider whether you are actually going to use them.
One simple tip is to rank the features you will use most often. For instance, custom templates may be more important to you than pre-determined formats. In most cases, you won't need access to both.
Meanwhile, additional elements, such as subscription page customization, might be something you don't even pay attention to.
A good rule of thumb is to focus on the following:
Subscription list maintenance
The extent of automation, in terms of triggered emails and scheduling
Customizable contact fields for deploying targeted content
Storage space
End-to-end A/B testing
Spam filter functionality
Segmentation categories to help develop tailored promotional material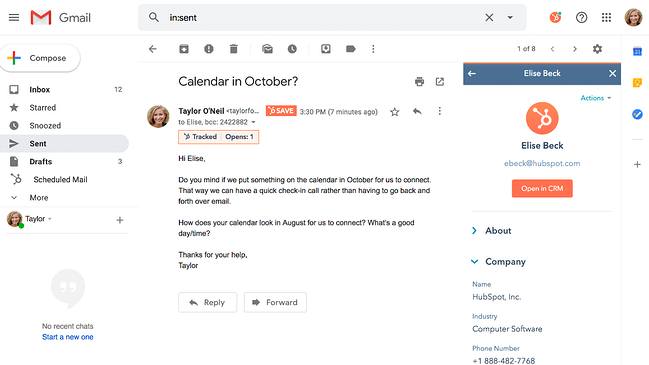 Source: HubSpot
The idea here is to examine what benefits your campaign the most and then choose based on that.
7. Customer support
Reliable and responsive customer support will be your lifeline in the initial stages of implementing an email marketing system.
And, while almost all vendors currently offer phone and email support, it helps to have as many open avenues as possible. So, look for email service providers that provide transparent and efficient resolutions on social media channels, online forums and, more importantly, 24/7 emergency chat services.
The more options you have when fixing your problems, the better it is for you.
Five email service providers that can take your campaigns to the next level
A crucial element that most marketers overlook when deciding on an email service is the available storage. After all, the prospect information from external databases, such as targeted industry email lists or outsourced records, often takes a significant chunk of space.
Here are a few of the most noteworthy email systems, with a specific focus on some of their critical features and functionality:
1. Gmail
USP: Native file and application collaboration
Storage: 15 GB free storage up to 30 TB paid storage
Pricing:
$5 per month (Basic)
$10 per month (Advanced)
$25 per month (Enterprise)
Notable Features:
Offline accessibility
Retroactive email cancellation
Rich content management and editing
Ample storage space (paid version)
Extensive integrations
Gmail has been one of the most popular email service providers for the longest time. More importantly, it towers over all the other webmail services with an open rate of 86.8%.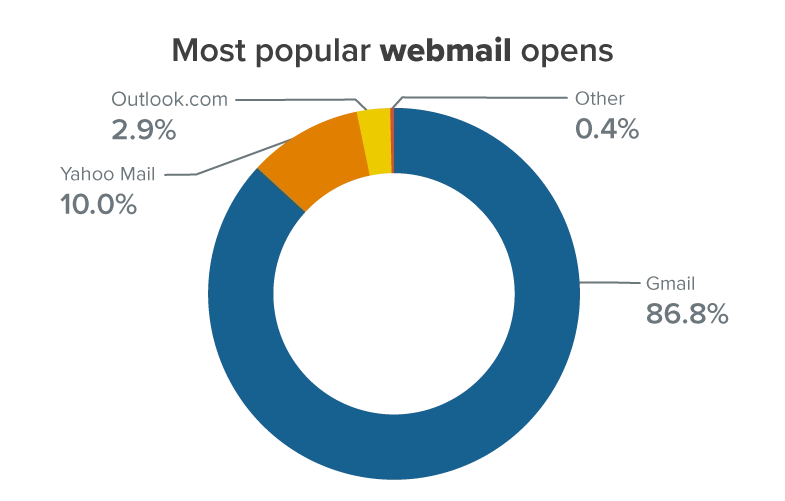 Source: Litmus
Ironically, what makes Gmail so popular are all the channels you get access to in addition to the standard email. Integration with Google Suite gives your sales team access to video conferencing, seamless file sharing, and even a dedicated chat option.
With support from peripheral applications such as Google Calendar and Meet, your sales and marketing representatives should have no trouble scheduling meetings with prospects or hosting product demonstrations.
And one of Gmail's most underrated features is its advanced filters, which allow you to categorize incoming messages into specific folders.
2. Microsoft Outlook
USP: Extensive native and third-party application integrations
Storage: 15 GB, free storage up to 100 GB, paid storage/per user with a Microsoft 365 E3 or E5 license
Pricing:
$9.99 per month (part of Office 365 Home)
$6.99 per month (part of Office 365 Personal)
Notable Features:
Multiple add-ons and plug-ins
Simplified access to other related Microsoft products
Email aliases to help with online anonymity
Superb messaging and email organization
Advanced search feature
A close competitor to Gmail, Outlook is a beloved email service provider with a user base of around 400 million. And one of the reasons behind that level of popularity is its 'Focused Inbox' feature, which allows you to set designated priority levels for your contacts.
Suppose your team just closed a deal with a high-profile prospect. Now, you can assign exclusive triggered notifications for their messages. Your most valuable clients can consistently enjoy a quick response time from your end. Excellent customer service will only boost your organization's reputation.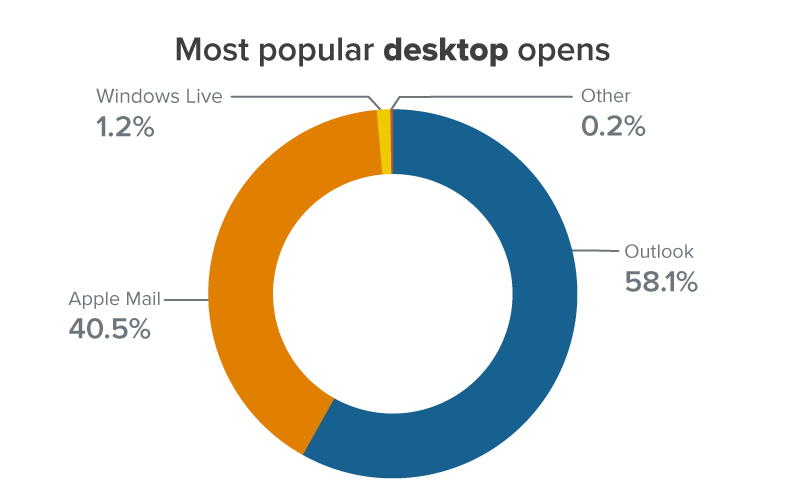 Source: Litmus
Outlook is one of the few email services that offers integrations with social media channels, payment gateways and task management applications – Facebook, PayPal and Trello, to name a few.
3. Zoho Mail
USP: Allows the creation of 25 customizable business addresses
Storage: 5 GB free storage to 50 GB paid storage/per user
Pricing:
$1 (5 GB) and $1.25 (10 GB) per month (Mail Lite)
$3 per month (Workplace)
$4 per month (Mail Premium)
Notable Features:
Restricts inbox scanning for advertisement purposes
Encrypted emails for exceptional user security
Message non-delivery notification
Shareable expense tracker
Added functionality with Zoho CRM
One of the best email service providers for small to medium organizations, Zoho is user-friendly, secure and, more importantly, allows for seamless migration. So, if your current system is not working, shifting to Zoho will require little to no effort.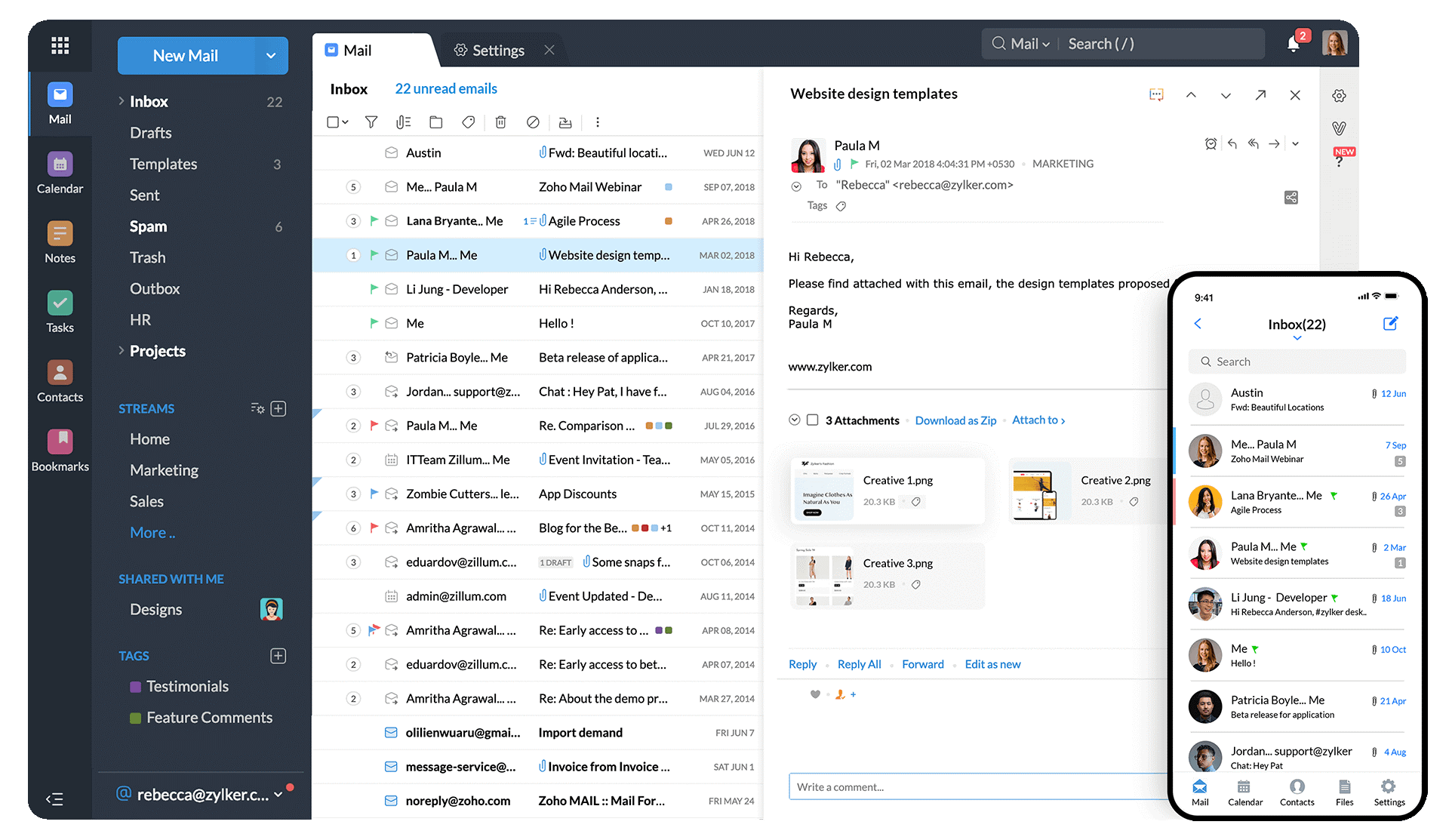 Source: Zoho Mail
It lets you create up to 25 customizable business addresses, which is incredibly beneficial for younger start-ups. In short, if you want your organization to become a little more 'established', you can change the domain name from '@zoho.com' to whatever your company's name is.
While that may seem a little trivial to some, it makes a world of difference when you pitch to your first high-profile clients.
4. ProtonMail
USP: Best-in-class user and content security
Storage: 500 MB, free storage with up to 500 GB, paid storage/per user
Pricing:
$9.99 per month (Proton Unlimited)
Notable Features:
Interoperability with a large number of other service providers
End-to-end encryption for any submitted user data and email content
Signing up does not require any personal user information
Optimized inbox settings to facilitate email management
Immense scalability in terms of usage (upon upgrading)
Right off the bat, ProtonMail is your go-to email service provider if you cater to data-sensitive industries. Are you targeting government contracts or military projects? Proton is your best bet in this case.
However, this level of security comes at a cost. Essentially, the system is not built for high-volume email deployment. That's not to say that it restricts your campaigns – just that, compared to the other systems listed here, Proton is more of a specialist tool.
Better yet, its free version has no annoying advertisements and protects your inbox from even the most intrusive paid campaigns.
Proton's complex infrastructure does not translate to a convoluted user experience. Instead, its interface is clean, user-friendly and highly navigable.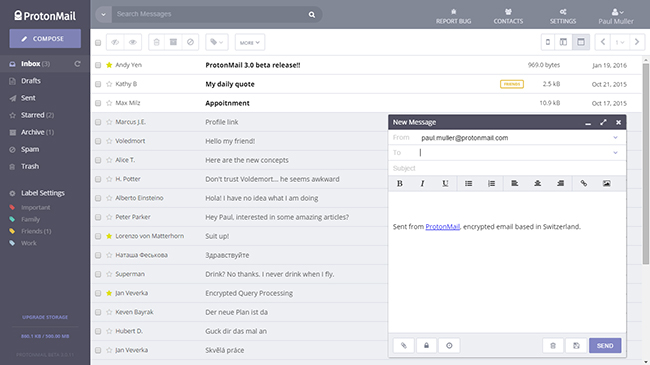 Source: Help Net Security
In 2019, the developers added the elliptic curve cryptography functionality, introducing additional security layers and speeding up email transmission.
5. Yahoo Mail
USP: Dedicated email account linking with business domains with support for email redirection to designated mailboxes
Storage: 1 TB free storage
Pricing:
Free (Separate payments ranging from $0.99 to $9.99 for in-app purchases)
Notable Features:
Massive storage space right from the get-go
Simplified user interface alongside accessible administrator settings for domain linking
Up to 30 aliases for each account address
Effective spam filtering and in-built search filters
In-built functionality for content categorization
If your organization has just taken its first step or is a bootstrapped company that is tight on its budget, Yahoo Mail is perfect for you. It's free, offers decent support tools, and doesn't skimp on business functionality.
Yahoo also offers significantly more storage space among all the email service providers on the market. In fact, it wouldn't be a stretch to say that Yahoo outstrips Gmail, its closest competitor, by a wide margin in this regard.
The one issue, though, is the lack of any dedicated advertisement blocker. Still, that's to be expected, considering the platform is entirely free. However, several other features make up for the advertisement pop–ups.
For instance, you can assign up to 30 aliases for a single address. Or, you can configure your settings so that emails to specific addresses go to a chosen inbox. Let's say Person Y heads your marketing department. Now, you can configure the inbox so that all messages meant for marketi[email protected] can be redirected to [email protected].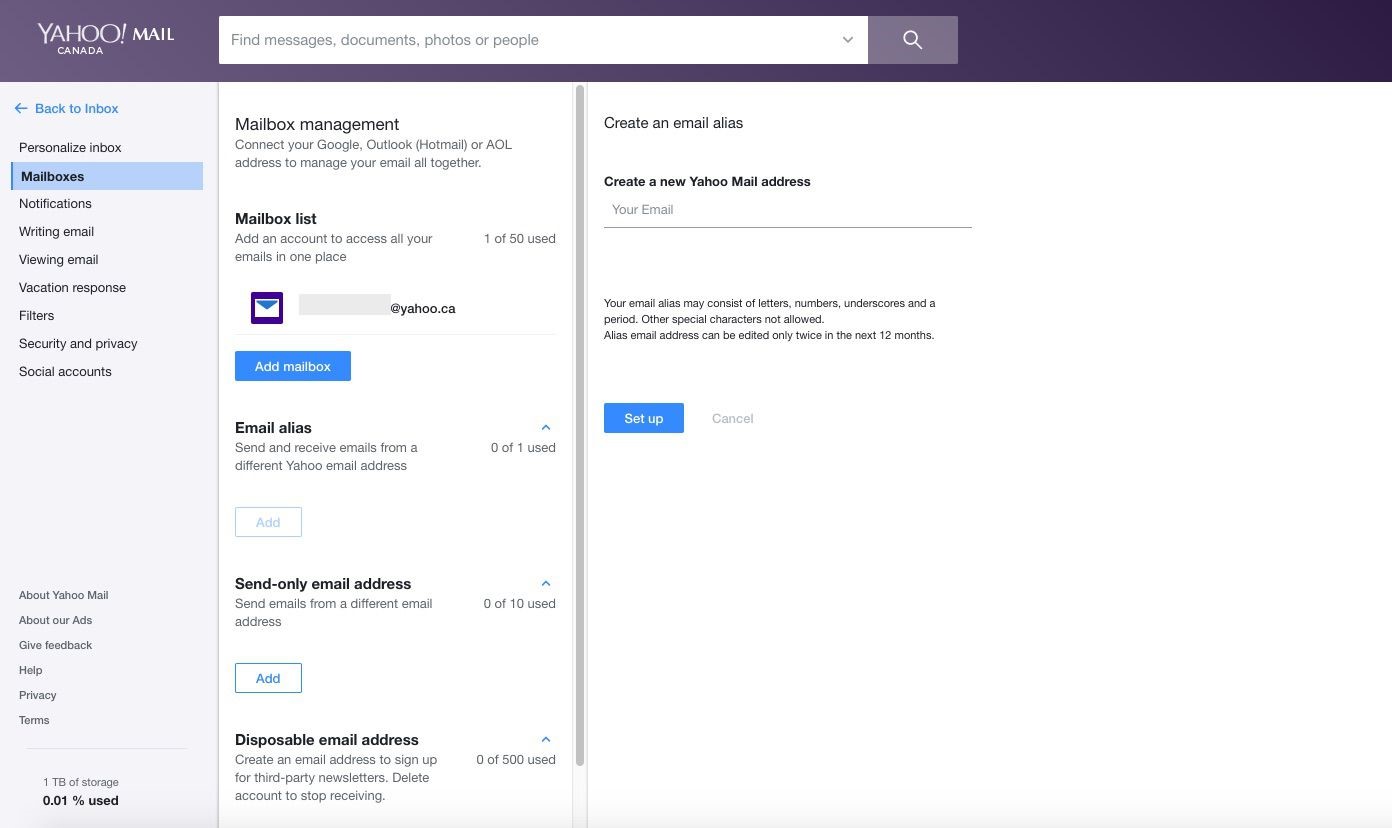 Source: Lifewire
In other words, you can structure your business communications before you even think about categorizing your actual mail content.
You've got mail!
Email marketing has always been one of the leading promotional tools for B2B and the B2C industry. And the reason behind it is simple enough: It's effective.
Now, while that may tempt you to launch multiple campaigns simultaneously, you must consider the fundamentals first. In short, choose carefully among the available email service providers. Remember, there's no right or wrong option. Well, at least as long as you stick to the recognized brands.
What matters is picking one that not only helps you execute your strategy but also enables you to refine it.