Do you often struggle when decluttering what seems like an endless sea of emails?
Emails have undoubtedly made lives easier with faster and more convenient ways of communication for businesses. Naturally, the number of emails sent and received is increasing.
In 2021, this number was around 319.6 billion globally. By 2025, the number is expected to reach up to 376.4 billion emails.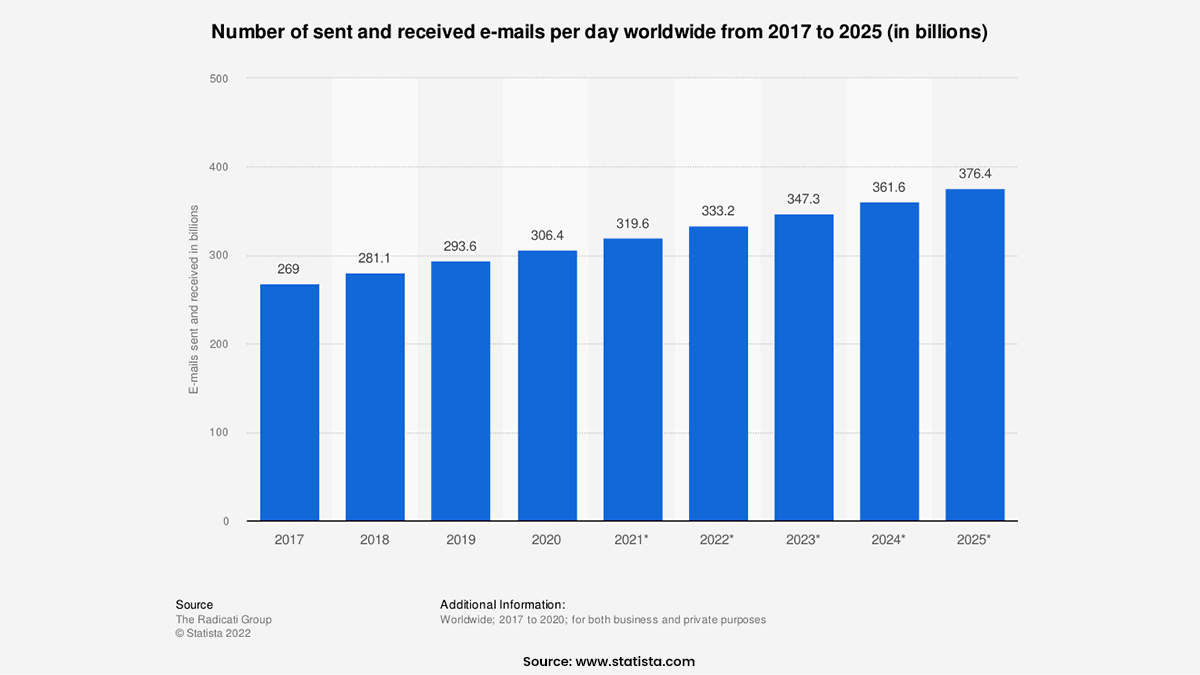 Did you know that the average person sends and receives about 40 emails per day?
As a result, businesses struggle with keeping their vast email database organized. This is where email management software can help. These tools are highly convenient and help businesses enhance their customer experience while increasing team productivity.
But not any email management software will do. As the market is increasingly filled with many options, businesses must compare usability, scalability, customization, integration, and pricing when choosing a suitable option.
To help you make an informed choice, we have compiled a list of the 22 best email management software available today. These tools offer many useful features to benefit your marketing and customer service teams and boost your growth. So, let's get started.
1. Boomerang for Gmail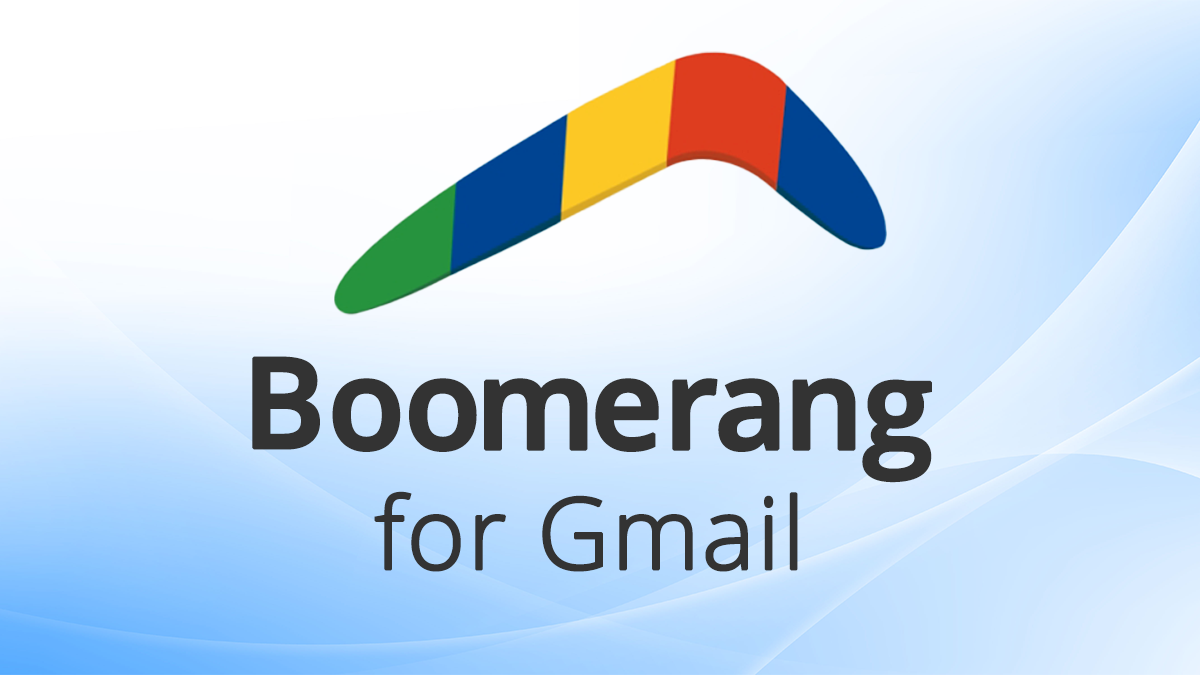 Boomerang is a highly useful browser extension intended to help you:
Optimize your Gmail drive.
Increase your productivity.
But that's not all! With a single click, you can also schedule your calendar on Gmail.
The application has gained the trust of millions of users as it is audited by Google itself. Being SOC 2 Type 2 certified and a Google Premier Partner, Boomerang has also been featured in The New York Times.
2. Drag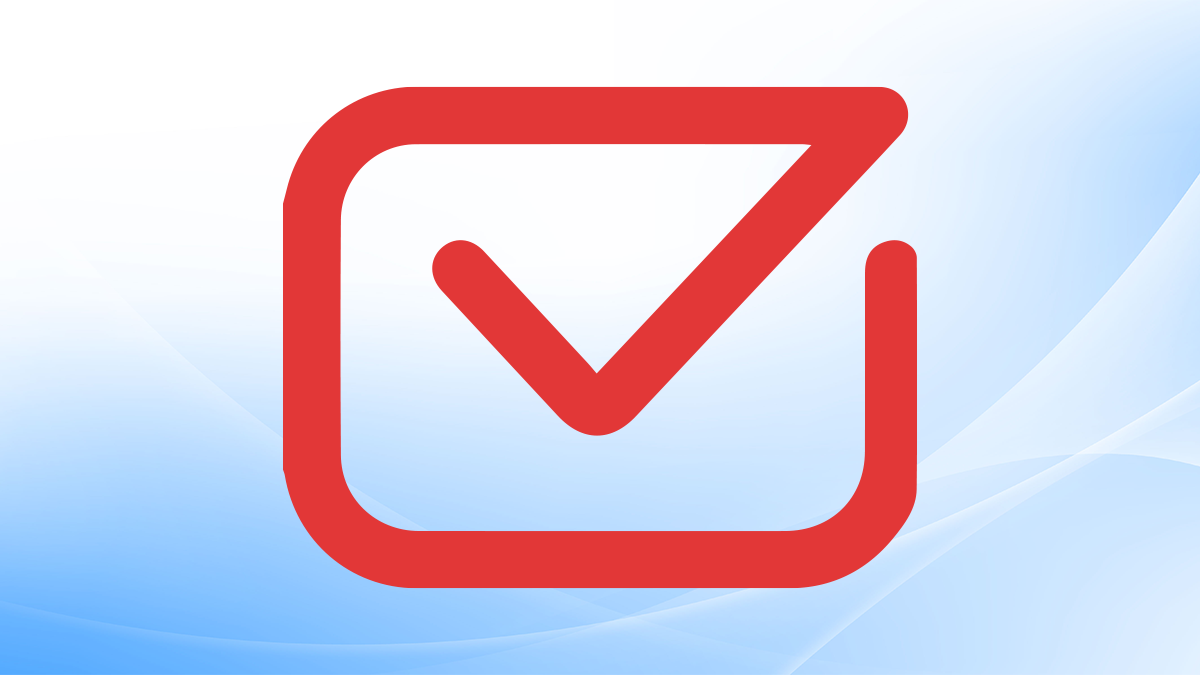 Say hello to the world's first all-in-one workspace in Gmail, where you can find all elements to boost your business. The tool allows you to provide better customer support while closing deals and managing tasks simultaneously.
You no longer need to switch between tools, as you can make the entire workflow seamless within a single inbox with Drag. The app also comes with efficient analytics like:
Email tracking
Performance tracking
Sorting and filtering abilities
3. Freshdesk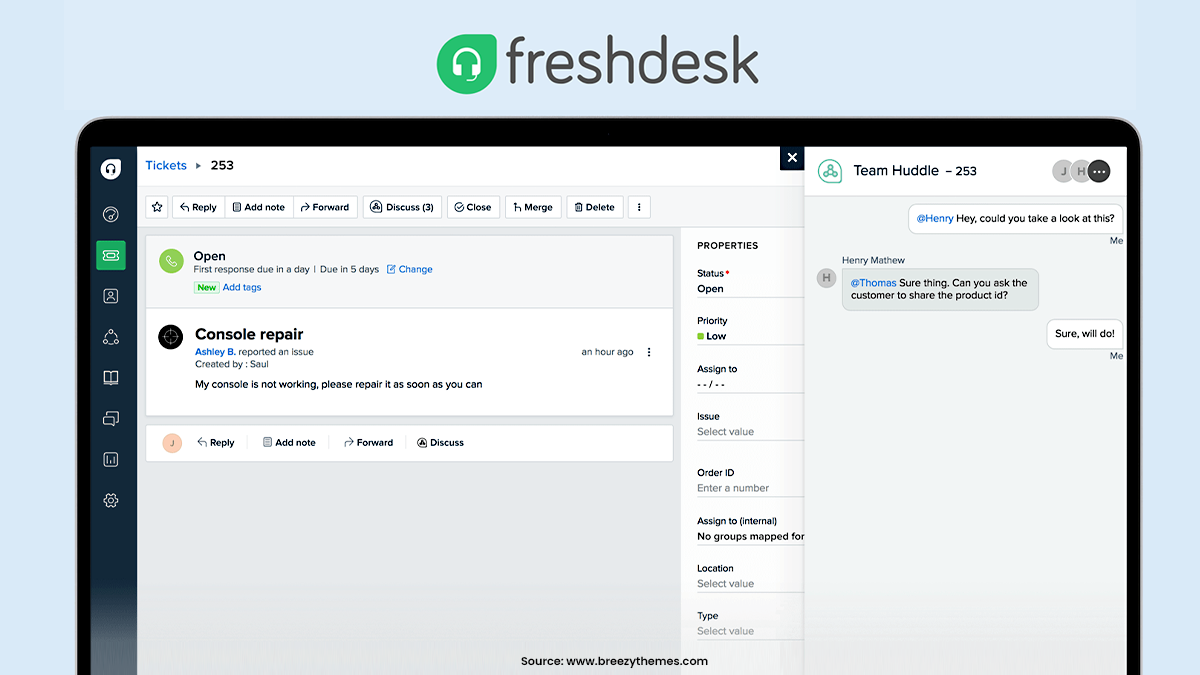 Freshdesk allows you to collaborate better within a digital workspace, boosting team efficiency. It provides features, like one-click reports, that help detect trends and patterns easily. This helps develop your email marketing strategy effectively.
Freshdesk is considered one of the best email management software today because it helps organize your entire tech stack. Businesses no longer require agent intervention when launching their self-service options, like a knowledge base or help widget.
4. Front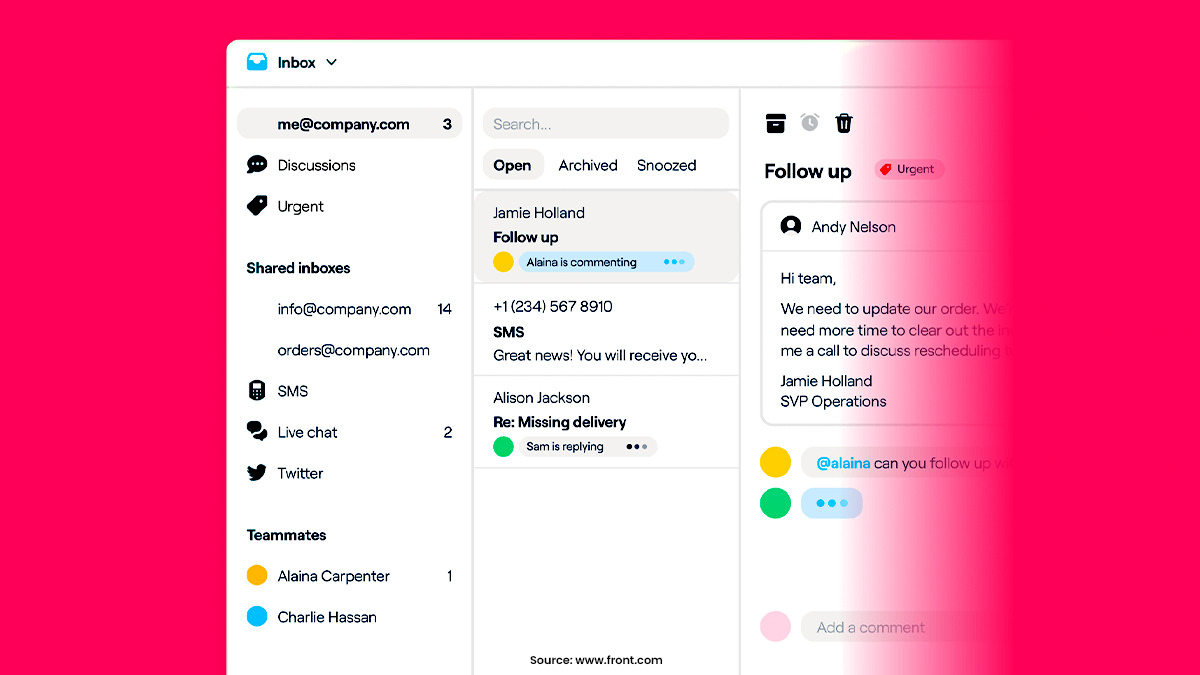 Next on the list of the best email management software is the Front app. It has some smart features, such as email snooze and labels, that may seem similar to Gmail. The app also offers unique functionalities, like a shared drafts facility and collaboration tools.
One of the best things about Front is that it allows you to see whether the client has opened the email and checked your response. The features, similar to the ones found in Gmail, make it more convenient.
5. Gated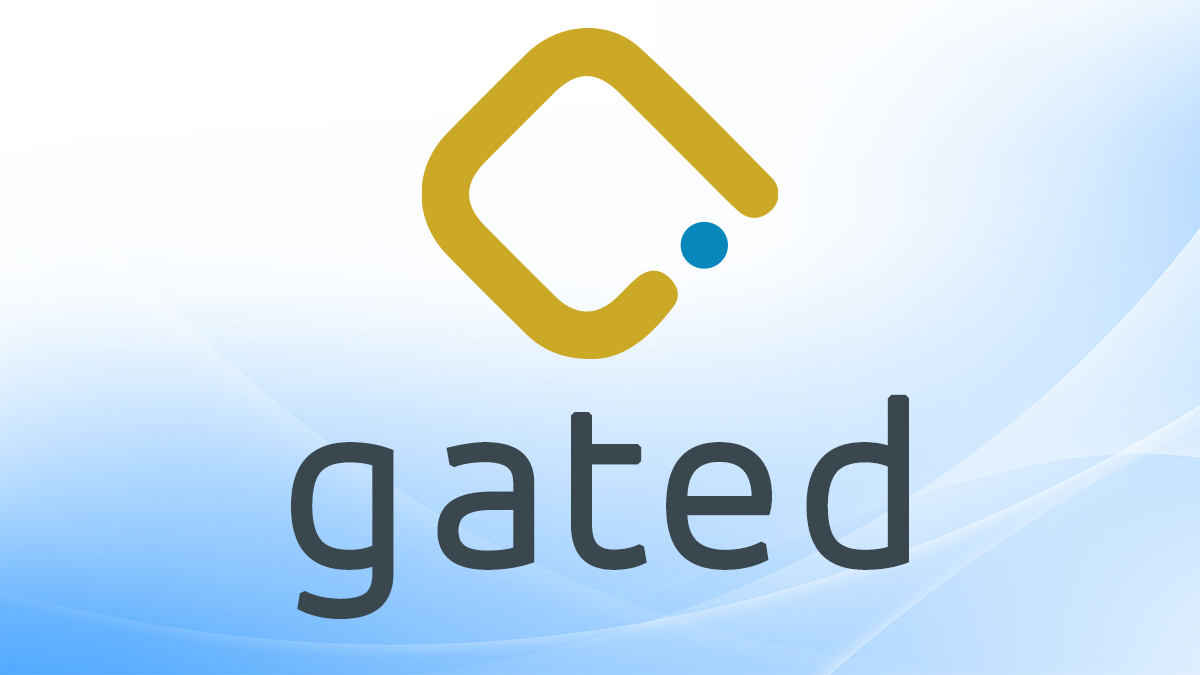 This is a free email management software solution for small businesses that do not wish to spend much on getting a tool. Despite being free, the app provides a secure solution and prevents unwanted emails from keeping your inbox organized.
The app was ranked #1 when it was launched in 2022. It acts as a barrier between unwanted emails and your inbox.
6. Gmail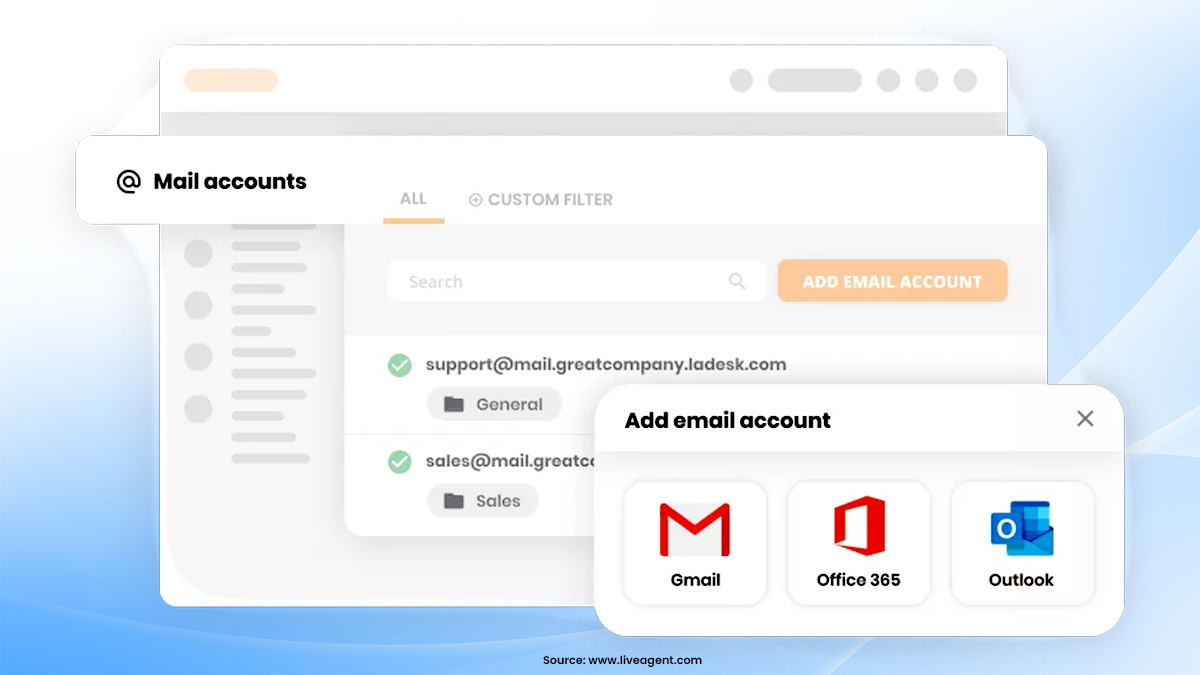 Gmail is not just an email service provider but also has an in-built email management system. If you are an ardent user of Gmail, then you may not always even need a separate app. Even if you do, Gmail is easy to be integrated with third-party extensions.
There is an option for both free and paid plans, with businesses often going for the paid plans due to better usage and additional features. Some of these include the extra 30GB of cloud storage and phishing and spam protection.
7. Gmelius
If great teamwork is what you seek from email management software, then Gmelius is an excellent choice. The tool offers powerful features, like shared Gmail labels, shared inboxes, smart workflow automation, and visual Kanban boards that can be integrated within the Gmail inbox.
The application offers a unique two-way integration that can be achieved with a public API or via Zapier. The tool can simplify your entire email management system and promote business transparency and accountability.
8. HappyFox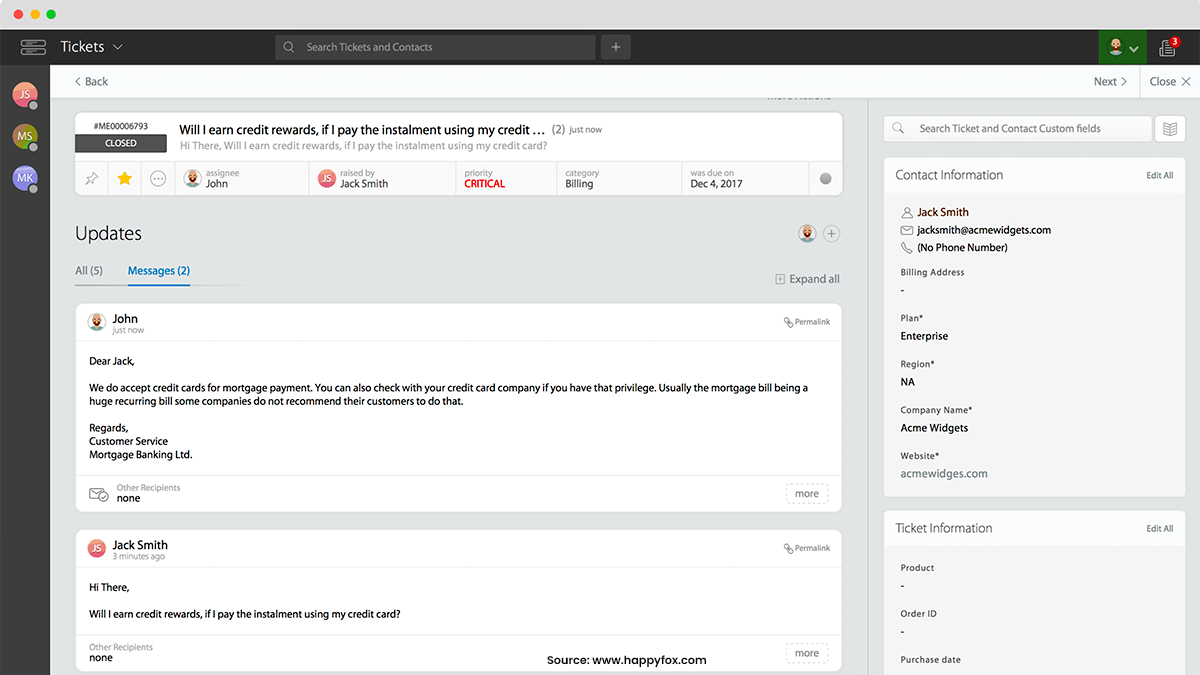 Speaking of shared email inboxes, HappyFox can help businesses that use customer-facing teams all the time. The tool is specifically intended to boost your marketing and sales teams and customer service.
It is also possible to automate workflows better and reduce downtime with HappyFox's predefined actions and combined canned actions. However, the UI can feel cluttered and be improved upon.
9. Help Scout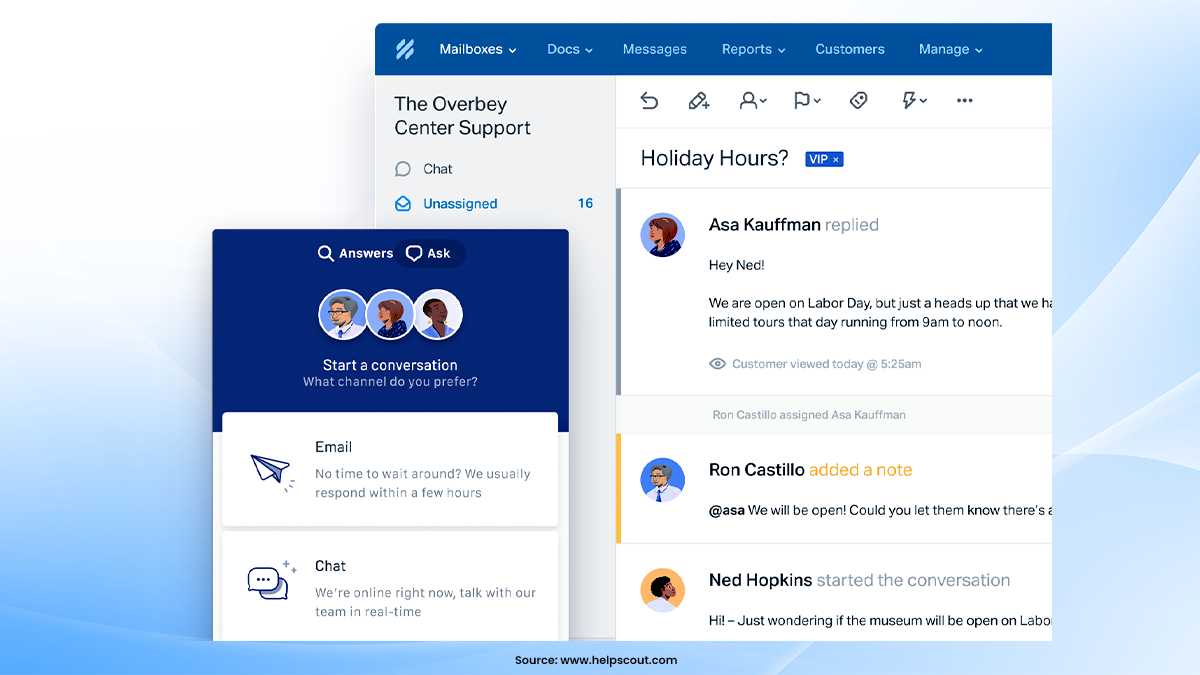 An excellent example of email management software is the help desk tool called Help Scout. It is useful for any business looking to manage any conversation with clients via emails. The tool can help keep your inbox decluttered while boosting better collaboration between teams.
Moreover, Help Scout also allows businesses to deliver better customer service on Twitter and Facebook. You can converse with clients by integrating the platforms or using third-party integrations.
10. Hiver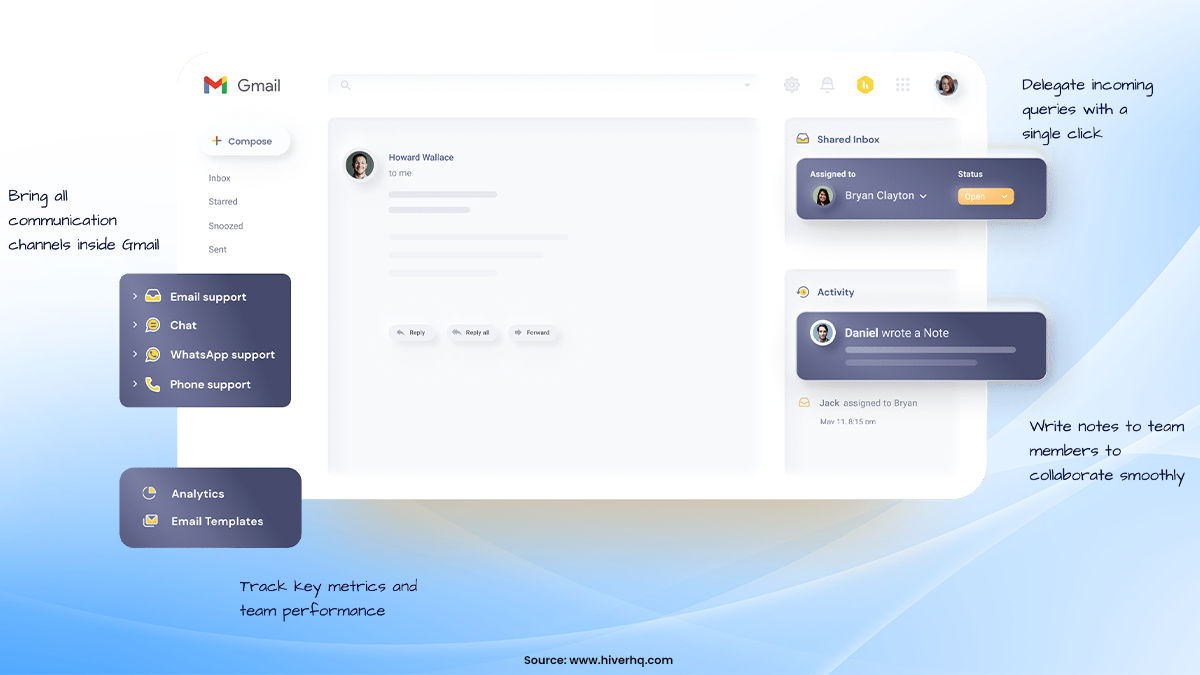 Here is another email management software that helps boost your Gmail functionality. For businesses that continuously use Gmail for their customer service, Hiver provides a great opportunity. This particular email management system lets you add layers of organization on top of the usual Gmail inbox.
Hiver is known as the world's best Gmail-based helpdesk as it provides a well-structured shared inbox and many automatic segments. The only drawback is that it cannot be used as a desktop or web app.
11. Ideagen Mail Manager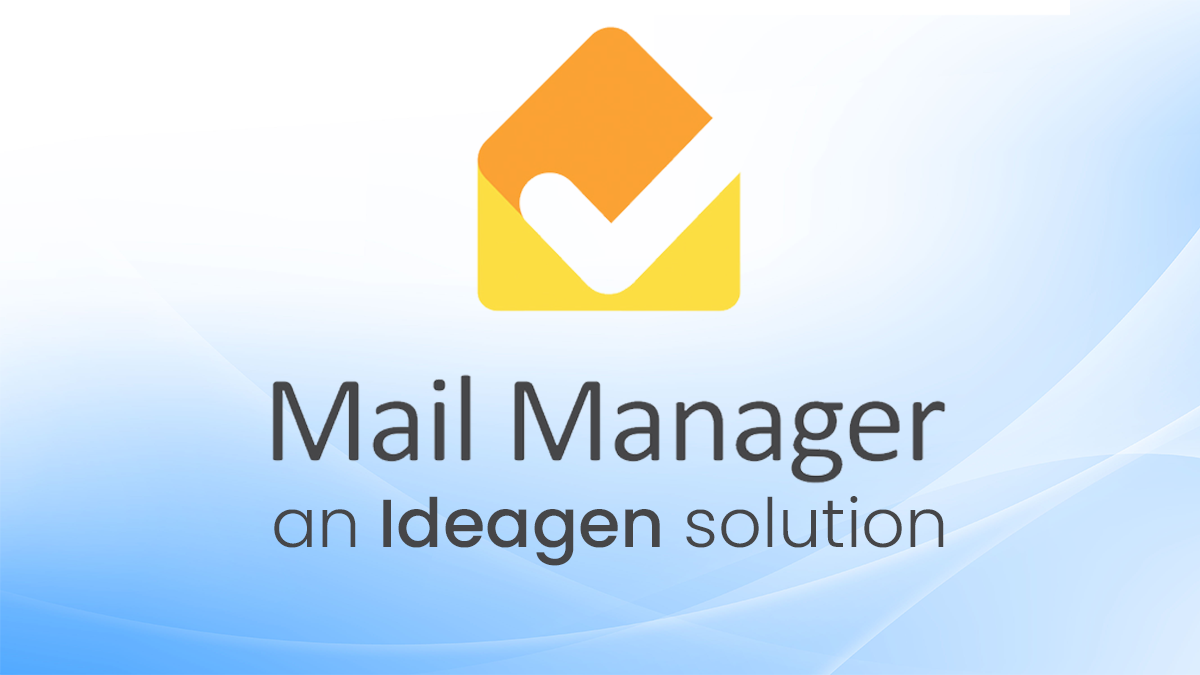 Ideagen Mail Manager is a highly scalable email management software solution supporting over 2500 businesses. It is a feature-rich tool offering single and multiple email filing, automated email filing, and a common document management platform.
You also get access to features like project folder auto-discovery that complies with the latest industry security standards. Overall, organizing and categorizing your emails with the help of this app will become very convenient.
12. Klaviyo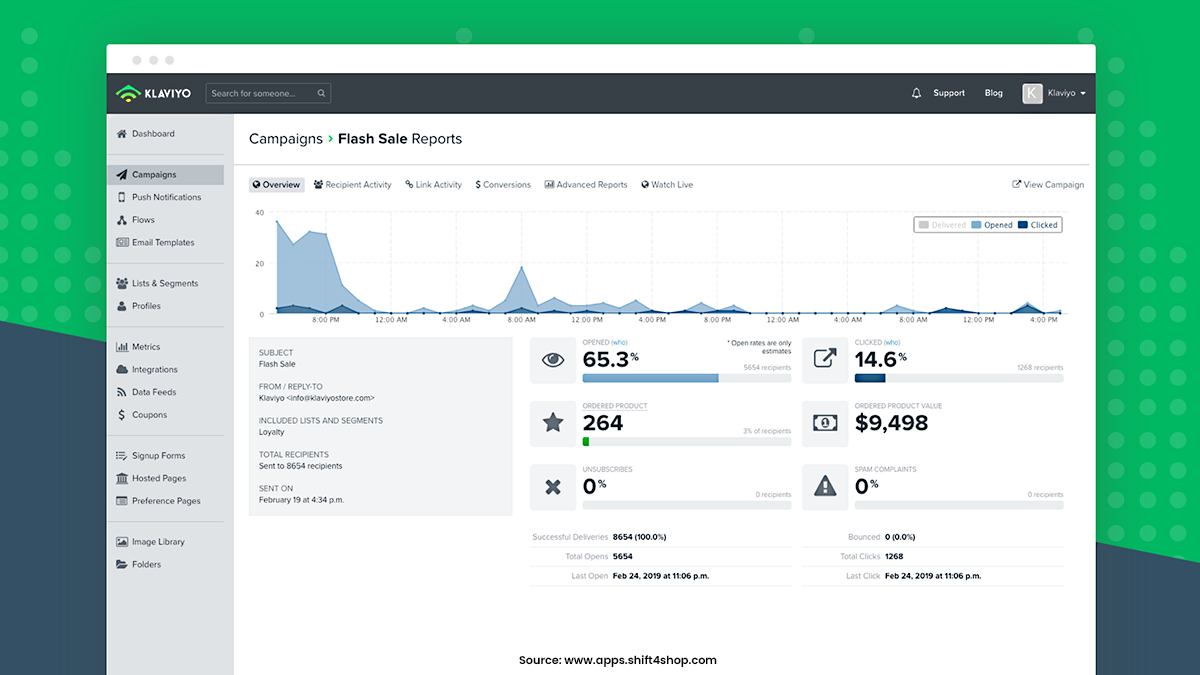 From segmentation and personalization to pre-built automation and better workflow, Klaviyo offers many benefits. One of the key features of email management software is that it allows you to create a more personalized abandoned cart flow. This helps draw the customer's attention to the abandoned items and pushes them to complete the purchase.
Currently, the software provides a $60 plan for email and SMS, a $45 plan for just emails, and a free plan.
13. LiveAgent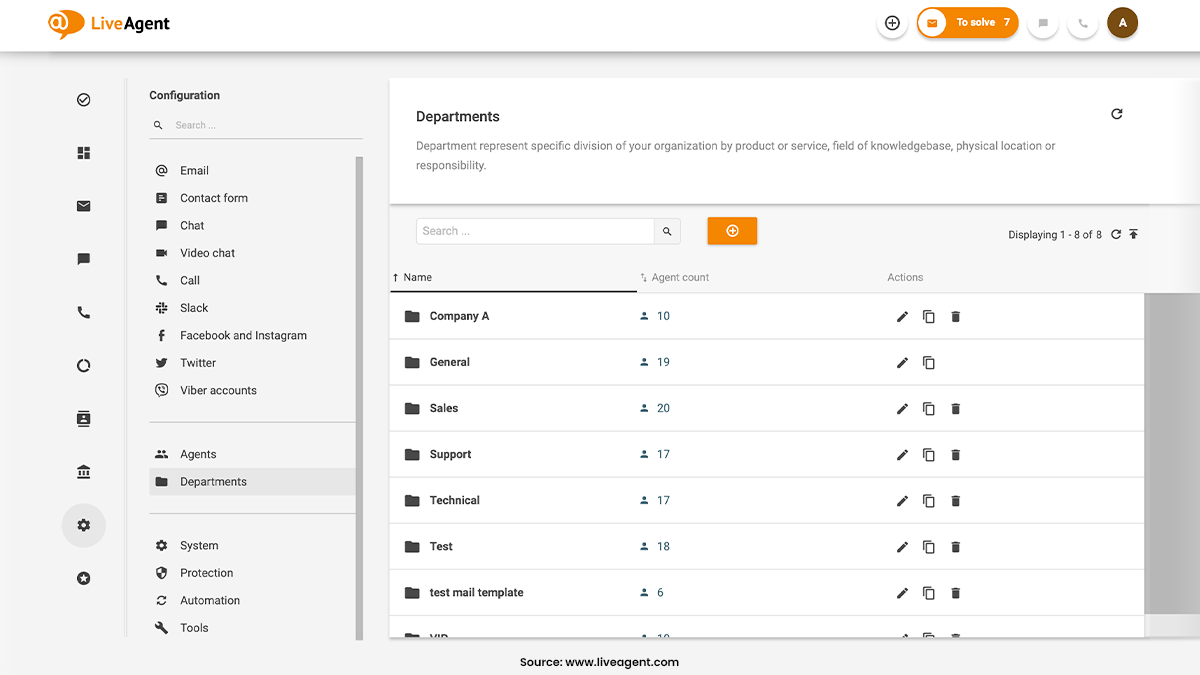 Many may find it surprising to find this particular app in this list. Although mostly popular for its live chat capabilities, LiveAgent is also an excellent email management software solution. It comes with features like tags, email templates, and forwarding to make organizing your inbox seamless.
So, anyone who wishes to resolve their emails faster and boost their email marketing campaigns must consider using LiveAgent. The tool also offers segmentation and A/B testing, which takes your email management beyond simply organizing.
14. Mailbird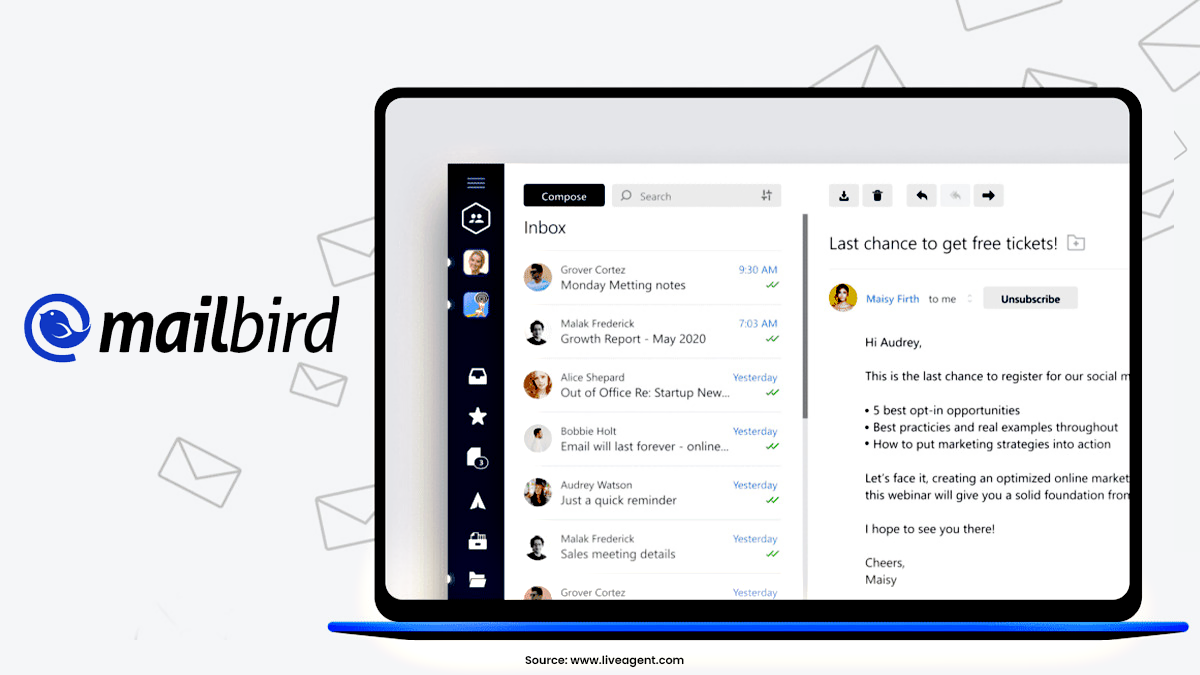 For businesses that seek customer-centric email management software then, Mailbird is an excellent choice. The tool also comes with customizable layouts and free color themes. This will allow you to transform your email account and show your creativity.
You also have the option to switch back to dark mode whenever you feel like it. Mailbird also boosts productivity with its in-built speed-reading feature and rapid display of words.
However, there is no web application available, and you can only use Mailbird via the desktop application. The app also lacks any built-in reporting and analytics tool and requires third-party integration for performance tracking.
15. MailerLite
MailerLite is an excellent email management software with unlimited monthly email management and templates. The pricing is pretty transparent, with 12000 email handling at $1 and 50000 emails at $25 per month.
A User-friendly interface, powerful automation, and robust analytics make the tool one of the top business choices. MailerLite is also well-known for providing 24/7 email support.
16. Microsoft 365
Microsoft 365 is one of the leading email management software in the market today, with many tools and features. The solution from the house of Microsoft comes with an in-built Microsoft Outlook, which is a popular email client around the world, next to Gmail.
The tool is highly customizable, with many collaborative features, security features, templates, and analytics.
17. SaneBox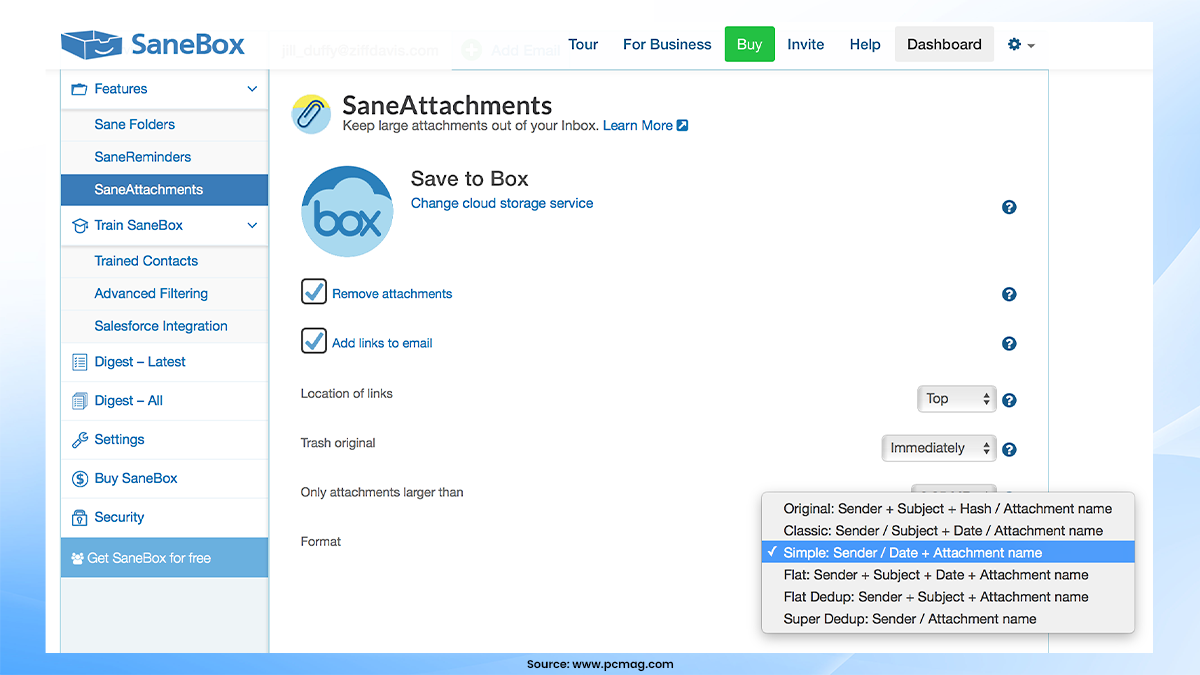 If productivity is what you seek, then SaneBox is an excellent email service management platform that you can try. The platform is integrated with highly powerful artificial intelligence (AI) that helps filter any unnecessary emails. Moreover, the newsletters and messages are organized into separate folders automatically. You can also schedule breaks from constant email notifications with this email app.
18. SEDNA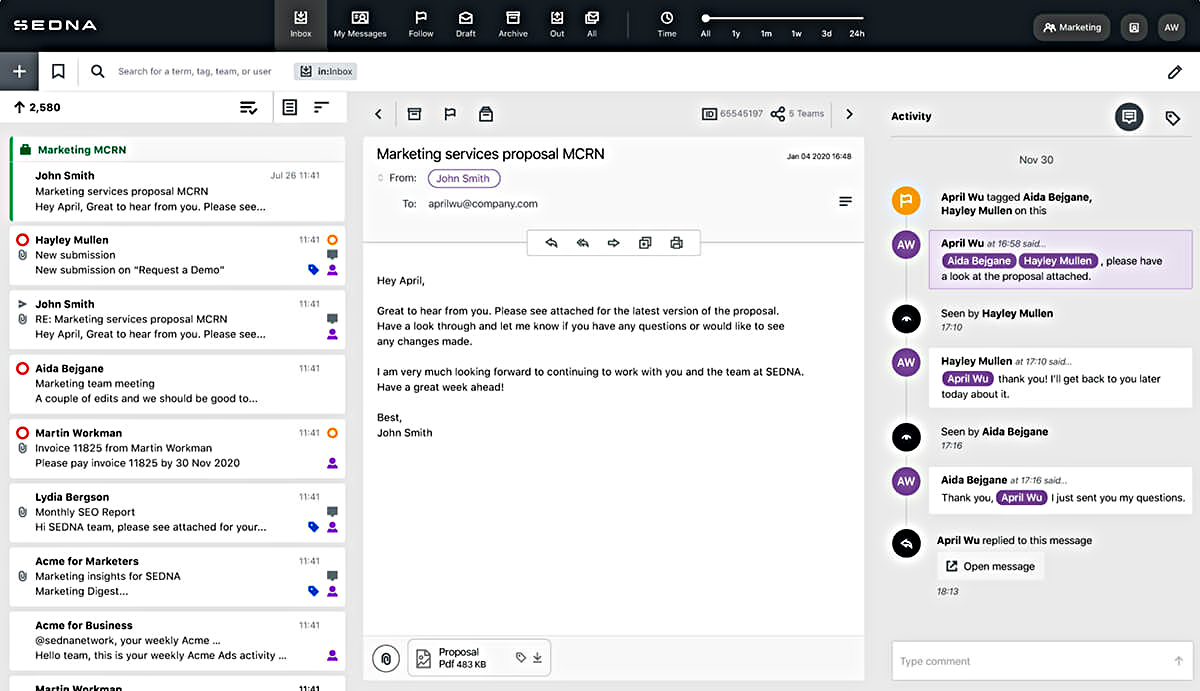 In the list of smart email management platforms, next in line is SEDNA. This enterprise-level solution helps businesses keep the conventional clutter of email systems at bay. It allows better collaboration in an agile environment and helps your team remain at the top of their performance.
Executing tasks with speed and accuracy becomes easy with SEDNA. The centralized email management platform can automate your workflow and provide secure and compliant but highly customizable dashboards. Other features include advanced search capabilities and a user-friendly interface, to name a few.
19. Sendinblue
Designed for marketers of SMBs, Sendinblue is another enterprise-level email management software. Along with organizing abilities, the tool also comes with features to help boost your email marketing campaigns. For example, it has a native email designer, email personalization, and SMS marketing functionality.
These features, along with advanced segmentation and a sales CRM help in better customer management.
20. SpamTitan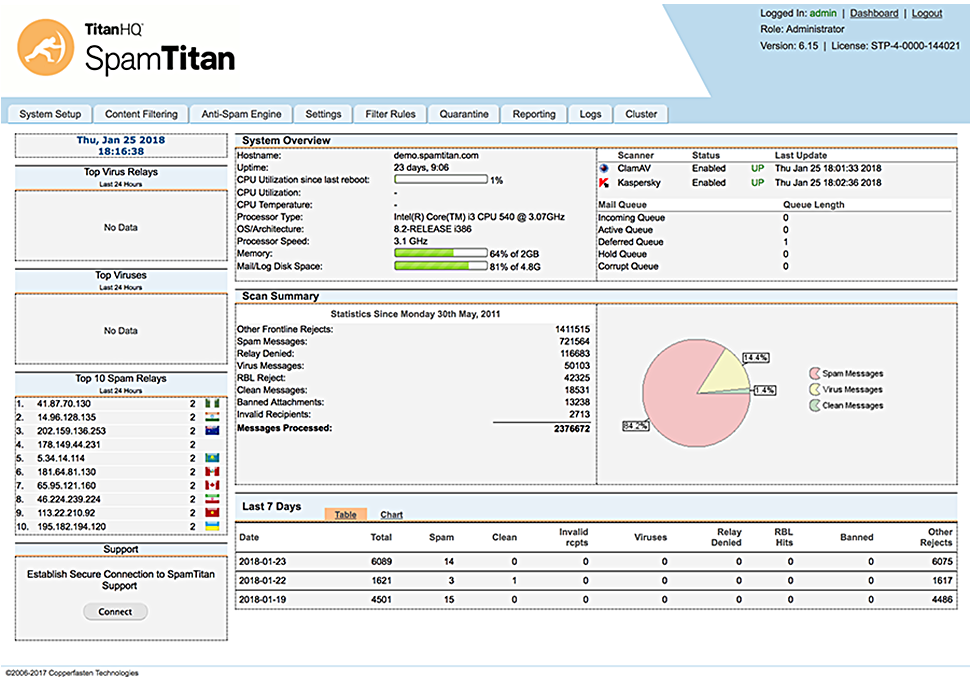 Are you tired of spam in your inbox? The SpamTitan has the perfect solution for you. The email management software is one of the best in the market for blocking spam emails. Not only that, but it also works effectively against viruses, malware, ransomware, and any other email threats.
21. Superhuman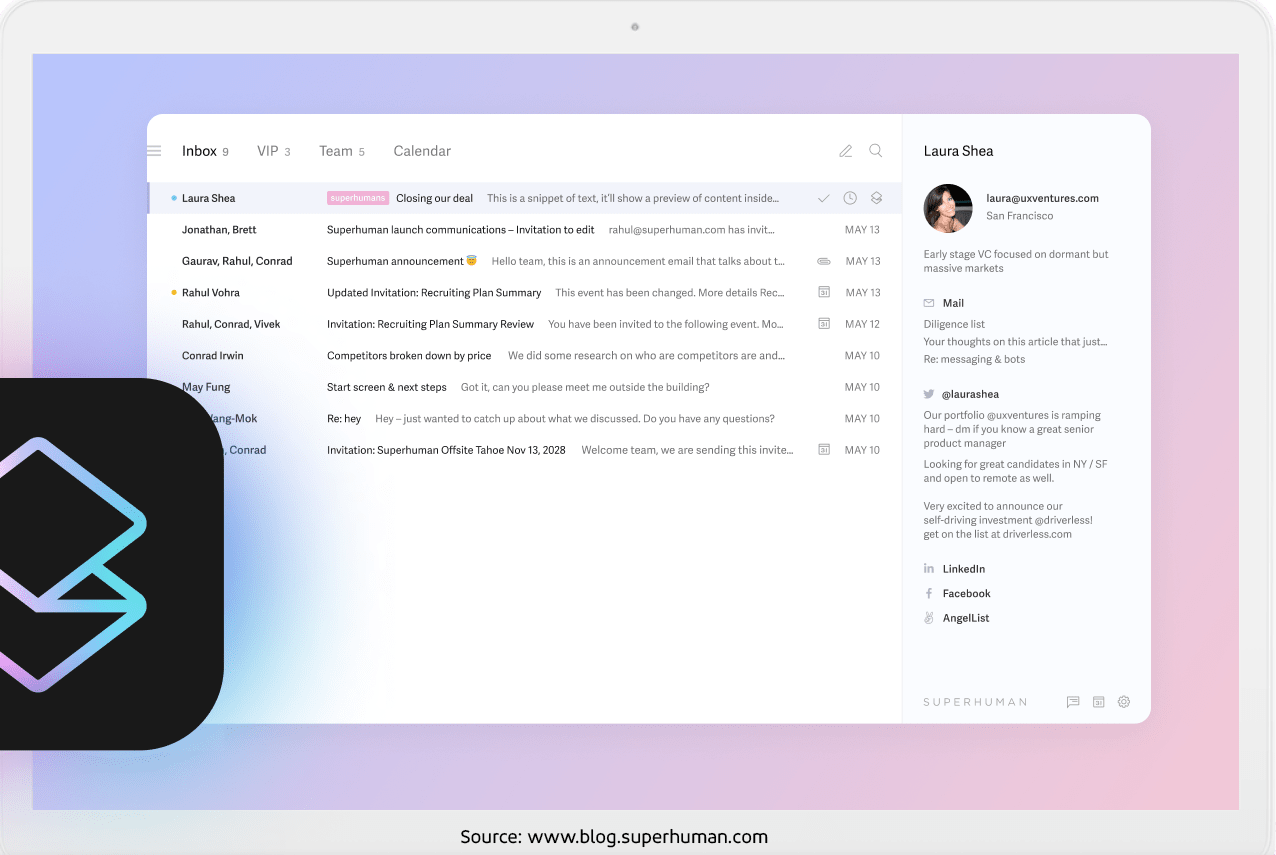 Superhuman is a super-fast and highly convenient email management software assuring the "fastest email experience" ever. So, if speed is what you need above all, then this software solution should be at the top of your list. The tool is mostly preferred by C-level executives of small and mid-sized organizations.
22. Zendesk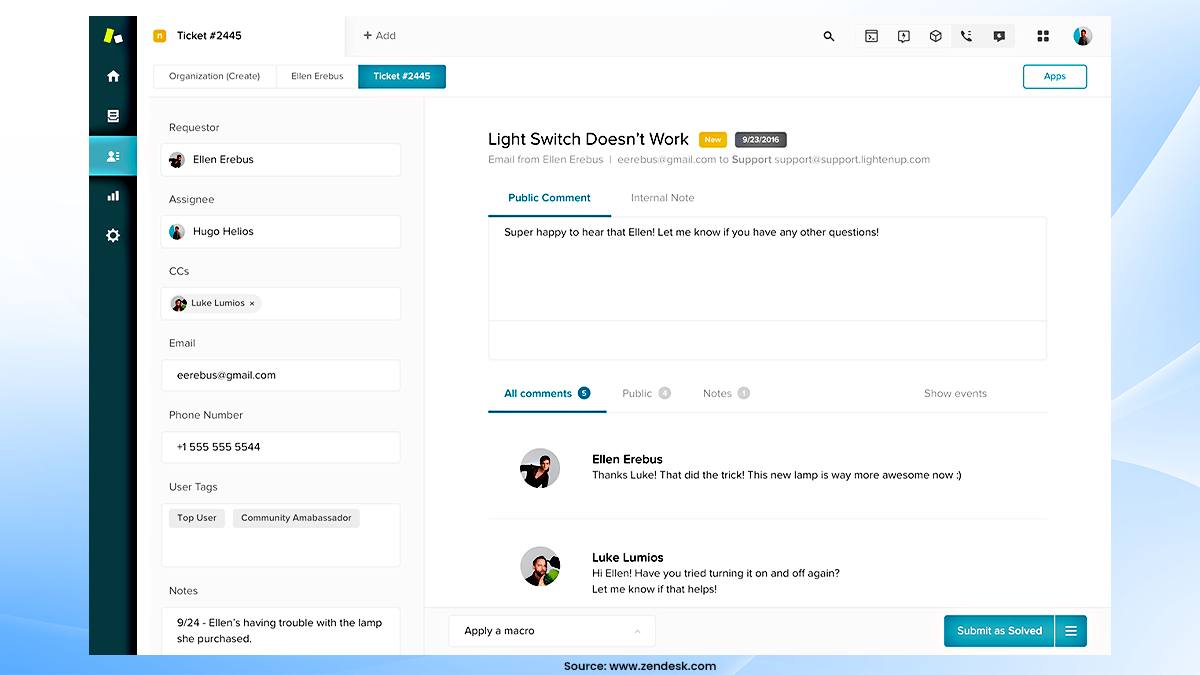 Zendesk is a highly intuitive email management software and offers unique functionality. The tool's purpose is not just to cater to customers but to boost the quality of your overall customer service experience.
One of its most famous features would be the dynamic request forms that allow employees to address client queries without delay. Other than that, the predefined responses, known as macros, are extremely useful in solving standard queries.
In a Nutshell
Email management software is essential for businesses that want to stay organized and efficient. With the increasing number of emails sent and received daily, it's easy for businesses to become overwhelmed and lose track of important messages.
However, the right email management software will allow businesses to streamline their communications, enhance their customer experience, and boost their productivity with ease.
You can easily compare the best email management software tools enlisted above to measure their suitability with your business.
With the right tool, you can take control of your inbox and enjoy the benefits of streamlined email communications. So, don't hesitate to try it and see the difference it can make in your daily operations.