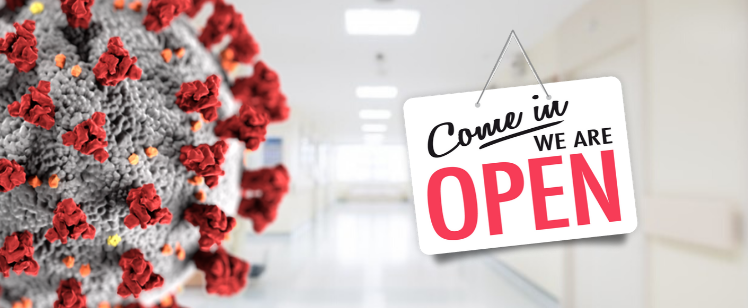 Businesses across the world are at the crossroads, where they are facing unique constraints of dwindling revenue and dissatisfaction among employees. An organization needs to value its employee as an asset so that even during these critical times, they could earn a good profit and ROI.
Amidst the crisis, US president, Trump, has declared three phases to re-open the economy. This would facilitate many companies to run their business operations aligned with their requirements. In such a scenario, you could plan some HR practices that would motivate your employees and improve their productivity.
It should be about keeping them healthy and having peace of mind at work. Below are some of the practices that could be implemented in your organization, via which you can achieve both, satisfactory business results and trust of your employees:
1. Executing Good Internal Communication
Communication is the key to any business process. You have to be in constant touch with your employees and keep them engaged.  You can provide them with the guidance that informs about the viral infection and the methods to avoid it.
Use all the forms of communication channels to reach out to them. As the majority of the workforce is working remotely, it is a challenging process, but still, it can be effective via email, chat groups, videos, infographics, etc.
 2. Leave policies
There are some organizations, who need their employees at the office for the critical process. In such cases, one should reconsider the leave policies so that if also the employee gets sick due to other reasons, he is not forced to come to the office due to the lack of leaves.
Remember they were the ones who were still coming to the office despite the risks.
3. Basic But Necessary Initiatives
Some basic initiatives can be taken, such as regular cleaning of the office, providing sanitizer, masks to the employees, etc. Regular temperature monitoring would also help avoid panic among the employees, food service should be provided at a larger place so that social distancing is maintained.
 There should be frequent meetings between the management and managers for understanding the situation on the floor.
4. Avoid Micromanagement
Micromanagement demotivates employees. You should have trust on your employees, who are working hard to garner the right results for the organization. Provide them ample space and freedom to perform, they would definitely give their best. You have to acknowledge, results matter. The process they are following if it aligns with the guidelines of the organization, then it should not be a worry for you.
Who knows, this new style of working might work wonders for your business…
5. Technology as a Savior
Many new technologies are widely used for a seamless communication process. You can even take the help of these technologies, such as Microsoft Teams, Skype, and others to collaborate and communicate with your global workforce.
This would make your employees aligned with the schedule and work policies of the organization. A right work atmosphere is needed to bring out the best from an employee, and technology can help you achieve the same during these times.
Conclusion
A right practice in an organization could help your business operation to run with ease. You can avoid any instances that would disrupt the same, the last thing you want. It is challenging as well as a learning process for employers as well as employees. As they say, "every challenge is an opportunity in disguise."
So, make the best use of the opportunity to win the trust of your employees, customers who could take your business to new levels of success.