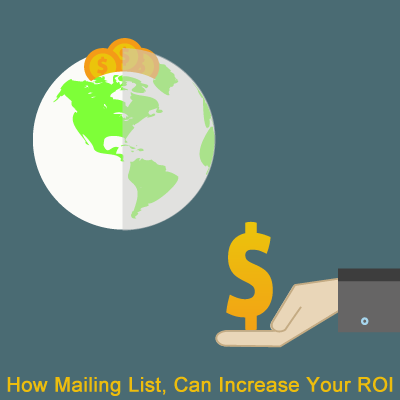 Mailing lists are the most essential tool for a business. Be it an already established business or a startup, its one such marketing tool, that helps in getting new customers and grow their customer base.
But, we must note here that most of the businesses fail to make complete use of their mailing list. In fact, many lack proper knowledge about it by using it randomly and illogically.
So, how to make use of the mailing list database and get better value for your money and achieve maximum ROI.
Given below is a list of a few tips that will help you maximize your ROI through a mailing list.
There are few things you must consider while buying a mailing list.
Firstly, make sure that the database is of high quality and is provided by a reputed supplier.
Secondly, do not forget that quality is important than quantity. A cheap data can be a waste of money and most likely to be inaccurate in nature.
If you are offered with a database that is of less price, then do not take it up. Suppliers who provide millions of records at a cheap price offer data that are typically cluttered and untrustworthy.
All you want is a specialist supplier who understands your business, customers and your marketing objectives. Moreover, he must be able to build and deliver targeted list for you, through which you can increase the chances of better ROI.
One can use a mailing list in different ways like through email, post a direct mail or through telemarketing. In some cases all the three methods could be used depending on your business. You can also segment demographically and reach your target audience effectively. At the end, make sure that the data is used sensibly.
While posting an email or having a conversation with your prospects, ensure that you introduce yourself thoroughly. There could be chances, where your prospect might not be knowing you; hence, introduce well, demonstrate clearly to them why using your products or services is right for them.
With well planned communication, it is possible to convert people on the list into customers. However, its' equally important to measure the success rates by tracking every interaction that is made through a phone call and websites until the number of orders made and its values. Through this, you will be able to get a complete picture of how successful your marketing campaign has been.