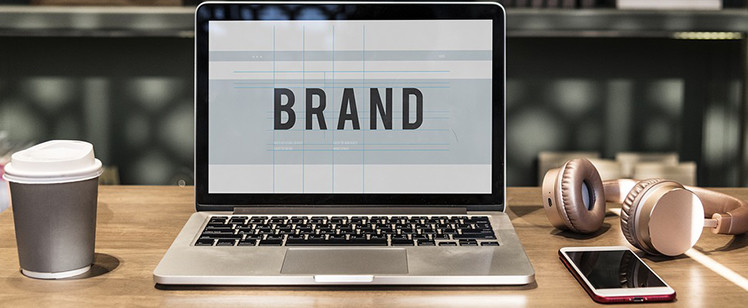 Did you know that a lack of brand awareness is termed as the root cause of all marketing miseries? The primary reason behind it is the level of difficulty associated with the measurement of brand awareness. Although brand awareness is measurable, marketers usually find it challenging to identify the percentage of the audience who are aware of their brand, product, or services. One cannot easily calculate the awareness results monthly or quarterly, like how they do with leads generated. It does not include concrete metrics like other B2B marketing measures such as website visitors, ROI, and conversion rate.
Nevertheless, for the success of any B2B organization, brand awareness is critically valuable. According to a research report by Content Marketing Institution, 89% of B2B marketers agree that brand awareness is their most crucial goal, followed by sales as well as lead generation. Hence it is essential to embrace the systemic approach to build brand awareness for your business. That said, we have listed some of the must-try B2B brand awareness activities for marketers to increase customer loyalty rapidly.
1. Be a Company with a Face
It's a natural human tendency to trust a person more than any brand or product. Clients find it easy to connect with people no matter how sophisticated is your bot. Therefore, B2B companies should not fear to be a company of faces. By putting a face to your brand, you are expressing personality through your content. As a marketer, you can choose whoever or whatever you want your brand wants to be. It could be a simple model, friendly agent, caring family member, or a funny cartoon. The options are really vast. By adding such faces to your brand, you will make some space for the users to build a rapport with your brand.
Although B2C segment has widely accepted this tact, the B2B companies have also started noticing it. So, you aren't too late in assigning a face to your B2B brand. Embrace this brand awareness activity and make people think of your firm as a person or a character they remember or know.
2. Be Socially Active on All Platforms
Start networking with philanthropic professionals or customers and increase your social responsibility. To uplift your brand worth, it is highly crucial to be socially active in any way, form, or shape. Recently, Sprout Social surveyed 1,000+ audience to learn their desires for a greater bond with brands and each other. It found that people are expecting a lot more from brands on social media. They want brands to be transparent on social channels.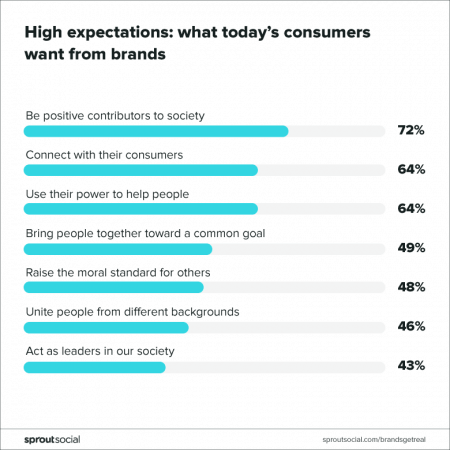 Image Source: Sprout Social
So, what exactly should a brand do on a social media platform? The same report by Sprout Social revealed that 44 percent of respondents felt more connected to brands when they discussed relevant industry trends, timely news, or pop culture events, whereas 40 percent citing only industry trends. Take advantage of this prominent strategy and grab the attention of customers towards your brand. When you successfully create a connection with the audience, they will choose you over competitors and spend more on your brands.
3. Show Up in Key Events
B2B brands usually invest some of their marketing budget on organizing the events (such as trade exhibitions or conferences) or setting up a booth at these events. But these strategies don't always yield expected returns. The most effective way to build brand awareness is through participating in live events where you can secure a spot as a speaker. In a digital age where clients are overwhelmed with multiple forms of digital campaigns, speaking about your brand on live events are capable of cutting through the noise.
However, earning speaking opportunities on such programs require thought leadership traits. Once you train yourself to become a respected thought leader, you can rock the stage full of opportunities with your skills. Also, other than speaking, booking an ideal venue, securing sponsorships, or creating a detailed event marketing plan, one must also select relevant metrics to make the live event a manageable endeavor. Having a good knowledge of how well the event campaign performed is crucial for the success of any firm.
4. Admire Your Customers with Contents
If you own a business or working as a B2B marketer in any organization for several years, you will definitely meet one or two customers worth talking about. Why don't you create an appealing content praising such loyal buddies? It can be in the form of an article or a video explaining what your customers are doing, and how your product or service helped them in some way. Digital Intelligence Today reveals that customers are 92% more likely to trust references by peers, whereas only 29% trust ads on their cell phones.
Start showcasing your client's happiness or satisfaction to create highly-shareable content that resonates well with your target market. Also, such contents are perceived as authentic and reliable than any case study that heavily concentrates on boosting or managing the brand's reputation.
5. Post Behind-The-Scene Video
In this age, where you find more number of data breaches and brand scandals, honesty plays a key role to drive the attention of the target audience. Hence by creating a behind-the-scene video of your business operation, you can increase the authenticity of your brand more than ever. Video is the most important content type you can share on social media today, and that's even truer for B2B than any B2C companies. That's why include plenty of behind-the-scene videos of your company explaining how you work to meet the demand of clients. Take advantage of filming your team at any event, or just what they do in the office.
These short videos giving a sneak peek of your business, team, or your work culture will help your potential buyers to see your brand as a real person. The more human you are, the more willing your customers will be to engage and get closer to you.
6. Provide True Value for Free
B2B marketers usually provide high-value content to the customers who exhibit interest in their brand. We advise you to offer such values for free so that you can improve the trust and build brand awareness quickly. It can include eBooks, research-driven articles, white papers, or guides that are designed to help the target prospects to reach their objectives in a hassle-free manner. These original and research-oriented content is one of the most valuable forms of branded content other than peer recommendations. Now prove your authority in a particular niche for free through such educational contents.
7. Utilize Trusted Content Sources>
You may build brand awareness by publishing content on your marketing channels like your website or social media. But to gain exposure and audience trust quickly, you must establish relationships with trustworthy online publications that are ready to promote your brand. There are various such media sources that contribute to giving a voice for your brand. Some B2B brands use paid content distribution platform to publish original and brand-authored content directly on well-known websites. These methods are often cost-prohibitive for small scale businesses. So, you can use lower-cost methodologies such as industry publications, guest posts, or answering the queries in legitimate sites.
Marketers might have already used these SEO tactics to earn a large number of backlinks to the website. But to stay on top of the customer's mind, you must author a guest post or industry publications from a different perspective. That is, use this effective strategy to strengthen the industry relationships with its market. Craft a high-quality content that provides true value to the readers. Offer regular contributions to newsletters, magazines, technical journals, and more. Also, you can connect with journalists to answer questions and earn quotations in their news articles.
Putting It All Together
Without building a stable, consistent brand, your marketing effort towards reaching the desired objective will all go in vain. It will also hamper the growth of your company severely. Hence it is essential for B2B marketers to understand the value of brand awareness for long-term benefits. Focus on building brand exposure, while striving to meet the set goals such as website traffic, conversion, and revenue. Understand your target market thoroughly and increase your authority on the right channels. People will definitely notice your presence when you stay true to your values.
"Determine who you are and what your brand is, and what you're not. The rest of it is just a lot of noise." ~ Geoffrey Zakarian