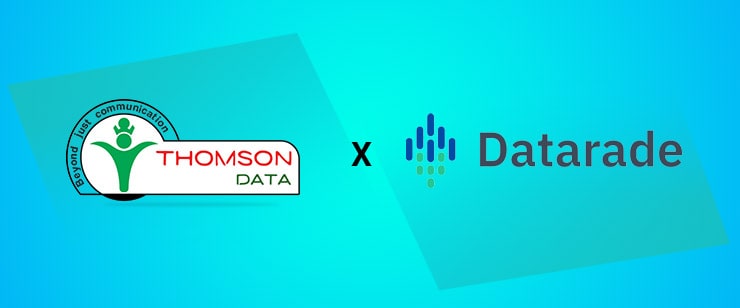 Plano, Texas / Berlin, Germany. August 5, 2021 – Thomson Data, leading provider in data-driven solutions for B2B marketers, has joined Datarade, the fastest-growing data marketplace. Datarade's tens of thousands of data buyers from every industry can now effortlessly discover, compare, and purchase Thomson Data's data products.
Thomson Data offers both pre-built and customized B2B business data based on clients' requirements. The following data attributes are included in a Thomson Data B2B marketing dataset:
Contact name
Title
Company name
Email address
Mailing address
Fax
Phone
Website
Number of employees
Annual sales
SIC/NAICS code
In total, Thomson Data's offering spans 75 million+ B2B records and over 200 million+ consumers records. The company covers almost 170 countries across the world, with special emphasis placed on North America, with more than 70% coverage of the region. The company serves all industries, especially the technology industry. Thomson Data serves premium companies and organizations, including Queens University, Panasonic, OroCRM, Oracle, IBM, SugarCRM and many more.
The other crucial services that Thomson Data provides include data appending, account profiling, data cleansing, data licensing services and CRM data enrichment solutions. Aside from these core products, Thomson Data also offers over 3 million technographic data points and 10 million+ healthcare data records.
"We have great expectations from this partnership: Thomson Data and Datarade could completely change clients' approach towards business data. As we both focus on data-driven decision-making, collaboration with Datarade will further help gain clients' trust. We're looking forward to enhancing global outreach, and seamlessly connecting new clients to a good number of buyers across verticals. Overall, a win-win for both of us."
George Mathews, Chief Sales Officer, Thomson Data
The following data products are now available to buy via Thomson Data's storefront on Datarade:
Thomson Data sources its insights from a range of verified B2B sources. These sources include surveys, monthly email newsletters, B2B directories, email campaigns, phone surveys, public record information, and business trade magazine subscriptions. Data is updated at regular intervals (90 days) to maintain accuracy and remove discrepancies. Before processing the list to the client, Thomson Data cross-checks and re-verifies all data points in each list to ensure recency and quality.
"Thomson Data's B2B outreach solutions and insights are already driving important KPIs for clients in many industries. By joining Datarade, they're able to ensure that this data reaches a fresh network of clients. I'm looking forward to connecting Thomson Data to new partners, and to strengthening our companies' collaborations!"
Richard Hoffmann, Co-Founder & CCO, Datarade
Thomson Data is BBB accredited. Clients who utilize Thomson Data's services typically achieve 12-14% open rate and 6-12% click-through rate from their email campaigns. Thomson Data offers 90% accuracy on deliverability of emails and success when it comes to completely eliminating hard bounces. With instant connection, businesses can use Thomson Data's products to kickstart communication processes and easily convey their chosen messages. This way, clients are ensured increased deal closure rates and ROI. Thomson Data's clients include a technology company who used Thomson Data's email appending service. The client received 92% accuracy on business data. Another previous Thomson Data's client, an analytical company, witnessed an impressive revenue increase of 694.32%.
All records have direct email addresses. Thomson Data follows standard compliance practices as per GDPR, CCPA & CAN-SPAM. Thomson Data offers personal data for the USA market only.
About Thomson Data
Thomson Data was founded in 2010 and is based out of Plano, Texas, USA. The company's mission is to nurture clients' businesses and enable them to reach targets effectively.
With more than 150 data scientists and other experienced professionals, Thomson Data was able to build up quality records in a short time span. The data is refined to meet sales and marketing needs significantly. Thomson Data has the vision to maximize revenue of businesses by connecting them to the best prospect.
Contact:
Name: Clara Beck, Business Manager
Email: [email protected]
Phone: +1-800-385-8221
Address: Plano, Texas, United States
Web: https://www.thomsondata.com/
About Datarade
Datarade is the world's largest and most easy-to-use data marketplace. With a persistent focus on crafting the ultimate data shopping experience, Datarade has helped thousands of data buyers find the right data for their business, effortlessly. More than 2,000 data providers across 500+ data categories are already listed on Datarade, enabling organizations across industries to connect with trusted providers and access the best datasets and APIs. Datarade was founded in 2018 and is headquartered in Berlin, Germany.
Contact:
Name: Lucy Kelly
Email: [email protected]
Phone: +49-30-3119-8087
Address: Brunnenstr. 196, 10119 Berlin, Germany
Website: https://datarade.ai/