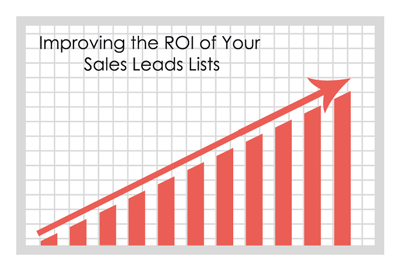 In this B2B marketing era, Return on investment (ROI) is the top priority on everyone's agenda. At the bottom line, either success or failure of any business comes down to numbers. Though they are many effective pointers like profits, net revenue generated to speak about the wellness of the business, among them ROI remains unique.
Why Return on Investment is so important in marketing?
The basic reason is knowing the ROI for each of your marketing ventures tells precisely how fruitful every activity is per every dollar used. Also that empowers you to quit spending amount on crusades that don't deliver profits. Anyhow tragically, in the light, the fact is deciding your ROI can be a confounded system, numerous entrepreneurs never focus their ROI. But, Sales Leads List permits you to improve ROI and get more business productively.
Above all else, how sales leads are helpful to improve ROI?
There are so many ways to define a sales lead, it can define as the identification of a person who has an interest and authority to purchase a product or service. We can broadly classify sales lead as qualified and disqualified. Below listed are a few steps to improve ROI through the sales leads list.
Step 1: Define your target market: The process of acquiring a qualified sales lead list usually starts from inbound marketing. It constitutes SEO on-page optimization, Blogging, Landing pages, social media and email marketing. The other technique to build a sales lead list is PPC, Trade shows, Direct Mail.
Step 2: Verify your Sales Lead List: The sales lead list should be verified thoroughly because not all the sales lead has the potential to become sales prospects. There are some factors to be considered:
Prospects in our list may not be a key decision maker.
The demand of the prospect is already satisfied by another similar product or service.
The prospect's contact details are improper.
Even though the prospect has a need for your product or service, he/she can't afford it because of lack of financial capacity.
Step 3: Send them a precise call-to-action (CTA) message: After getting a qualified sales leads list, shoot out a message to your prospects in such a way that it should show that you understood their needs and came up with a solution. Sending tailored message to every group of audience can improve your ROI.
A key fact: Improving the ROI of sales lead list starts with understanding your target market and acquiring qualified b2b sales lead lists. It is an on-going process that involves sending tailored messages and analyzing results.