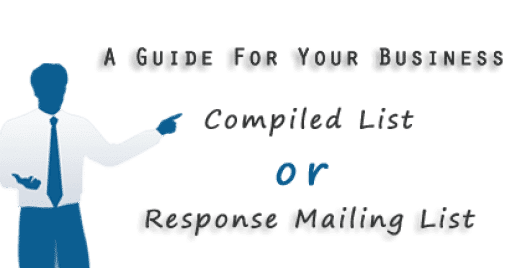 It's been a never ending anecdote for many B2B vendors to select between compiled and response mailing list.
Compiled list and response list, both of them have some serious plus, and at the same time they may cause a kind of minus to your company. So, which one is better for your business or which one works more efficiently to get your revenue swore? Okay, then just wait for time being because before stating any conclusion let's try to get how the following types of mailing list works!
Compiled Mailing List:
Compiled data is a data amassed from various resources, mixed together, and then segmented according to self-reported or public information on interest, habits, demographics, etc. This could be very beneficial if you are looking to reach a broad audience.
Response Mailing List:
Response lists are comprised of people who have purchased or inquired about a particular product or service. They consist of individuals who have taken some specific action to show interest in a product or service. These lists are usually based on previous buying history, subscriptions to newsletters or organizations, surveys and sweepstakes, trade show attendance, and the like.
Basically, response lists allow you to reach individuals who are already in the market for what you offer.
What to click!
Both the lists have their own characteristics and thus it's the choice of marketers to select as per their requirements. The two basic things that matters:
Target audience
Cost Budgeting
Before selecting any of the tools, it better to understand your target audience and their wants. It very depends upon how specific you customers want the list. Along with targeting the audience and their wants, cost budgeting is also plays a crucial role. Depending upon your budget only you can plan the strategies.
Counter Strike!
Response lists has been proved to be a great tool, because they generally offer high-quality leads. All of these individuals have expressed a need, either for your product, or for something that complements your product, and that is very valuable information. Response lists typically offer high response rates, and they allow you to more effectively tailor your offer based on the individual's previous consumer behavior.
However, on negative side you would miss out on individuals who are interested in your services but have not yet taken action to express that interest, as well as individuals who do not yet know that they need your services. Plenty of consumers have identified a problem in their lives, but do not yet know what the solution to that problem may be.
This is where compiled data's counts. If you have proper knowledge about demographic and where you can get the best customers, then compiled lists will enable you to reach those people, whether or not they previously realized that they might be in the market for your products or services. With compiled lists, you can solve people's problems before they have even attempted to find a solution for themselves.
It's true that both the tools have their own pros and cons. But selecting and utilizing those properly would give you the best results. Understand your customers and then take the decision. Remember, before understanding your customers and their wants always try to be transparent to you and your company. Because everything starts with money to earn the same "money"!