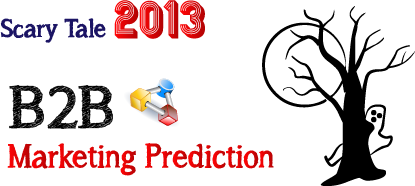 The New Year comes with lots of expectation and orison for the marketing success. Change, innovation, progress, while these terms should always be associated with the positive, for marketers entrenched in their current methodologies, but the future can seem downright scary as the lines blur.
No doubts, it will be a challenge on the term of customers choice and needs. As no one is still and constant, the consumer behaviour also changes with the time and generation. Thus it would be a huge challenge for marketing professionals to keep up the customers needs and wants.
They say Outbound Marketing is Dead, do you think so?
No doubt 2012 witnesses to be the great year for the social media websit4es and Big Data Explosion, but the question arises will it be the same for 2013. Or, it will be souped up with some new tools and strategies.
According to Useful Social Media's research with over 100 CMOs, 2013 will see:
The death of push marketing:
With the advent of inbound marketing, it's long been predicted. But will 2013 really be the end for outbound? We'll get back to you on that in 12 months time
More customer centricity:
The companies that understand their customers and prospects best and put them firmly at the centre of everything they do will have the greatest success.
Return of Marketing Automation!
The use of marketing automation continues to rise as businesses see the rewards those already using it well are reaping.
SiriusDecisions has some predictions for how it will evolve:
More choice, more functionality:
The solutions available will become more sophisticated; and email marketing solution providers will enter the automation space by adding increased functionality to their existing systems.
Advanced tactics:
Those best-in-class companies that are already using it well will up their game even further with more advanced lead scoring processes.
Welcome to the Concurrent Marketing!
As told earlier, it might be a scary affair of marketing as the trend is changing very rapidly. But if you look the following strategies and forecasting one can be better prepared to face the upcoming challenges.
Research has proven that businesses that use revenue performance management in conjunction with marketing automation are the best performing businesses out there. So, be ready to enter the DRAGON!