Healthcare Executives Email List
Medical personnel such as healthcare executives are the frontline of any healthcare organization. These professionals (also called healthcare administrators or healthcare managers) are the trained individuals in whom patients invest their trust. Healthcare executives ensure that their organizations have robust medical, operational, as well as financial stability to serve the requirements of patients, and their families. The role of any healthcare executive is great because they are recession-proof and also handle several political issues amongst physicians, lawmakers, the public, corporate ownership, insurance companies, and others.
"Thomson Data's comprehensive and Verified Healthcare Executives Email List has more than

1000K

contacts to reach Doctors, Physicians, Dentists, and other key decision-making healthcare professionals."
Customize Healthcare Email Lists by following selects:
Benefits that Empower You
If you are seeking a highly experienced executive in the healthcare segment, Thomson Data's Healthcare Executives email list could be the best option for you. We let you reach a various team of hospital executives such as Chief Executive Officer, Chief Financial Officer, Chief Information Officer, Chief Executive Officer, Vice President of Human Resources, and many more. Our database contains more than 95% accurate and genuine data. Our team thoroughly checks and cross-verifies every record through manual and refined automated processes. Avail our always-fresh opt-in Healthcare Email Database and boost your market reach, sales, and ROI quickly.

Thomson Data helped Experian complete a deal that was painstakingly difficult but yet a genuine necessity.

Thomson Data has helped SugarCRM to strategically align marketing capabilities and by leading company's initial success.

Thomson Data fast tracks sales for Taurus by targeting IT decision makers with multi-channel marketing.
Thomson Data's Healthcare Mailing Lists Includes:

---
| | | | |
| --- | --- | --- | --- |
| Biotechnology Email List | Pharmacist Email List | Dentists Email List | Doctors Email List |
| Hospitals Email List | Physicians Email List | Nurses Email List | Medical Email List |
| Gynecologist Email List | Neurologist Email List | Orthopedists Email List | Surgeon Email List |
| Medical and Diagnostic Centers | Outpatient Care Centers | Urgent Care Centers | Pathologists Email List |
| Health Care Consulting Firm | Health Insurance Email List | Healthcare Program Coordinator | Medical Records Manager List |
| Healthcare Insurance Specialist | Healthcare Financial Manager | Ambulatory Care Center | Nursing Email List |
| Hospitals CEO Email List | Allied Healthcare Professionals | Assistant Administrator List | Regulatory agency Mailing List |
| Nutrition Service Manager List | Pharmaceutical company List | Clinical Director / Managers List | Facility Manager Email List |
| Home Healthcare Email List | United Healthcare Mailing List | Medical & Health Service | And More! |
The Finest Healthcare Executives Email List for Successful Targeted Ventures
Here at Thomson Data, we have created the best-in-class Healthcare Executives mailing list. It helps you perform targeted marketing campaigns for an outstanding sales strategy. This is a pre-packaged list, but we also give you the luxury to customize our marketing database as per various selects. It includes Hospitals, Pharmacy, Health Information, Mobile Healthcare, and more. With an option to customize the database, you can explicitly tailor the marketing material for specific segments, or channels of your business interest. Tell us your requirement and gain more rewarding results than any other B2B sales technique. Our cleanest list of Healthcare Executives is comprehensive, well-researched, and presented with up-to-date details of the target prospects.
We know that the healthcare industry is growing like never before. And, it is giving businesses and professionals an occasion to explore a new business environment. With this in mind, we offer you the right solution that helps the healthcare industry professionals perform their tasks well. Our Healthcare email database is a well-built repository consisting of B2B contact details of professionals across the globe. Before the delivery of our datasets, we perform rigorous quality checks to offer you a minimum of 95% accuracy rate. Also, we make sure that our list complies with GDPR and CAN-SPAM, and other related laws and regulations. That's how our team maintains and delivers credibility in the contact details.
Make sure that you will not put the future of your business at risk by using outdated or erroneous records. Get our Healthcare email list now and reach your targeted medical executives.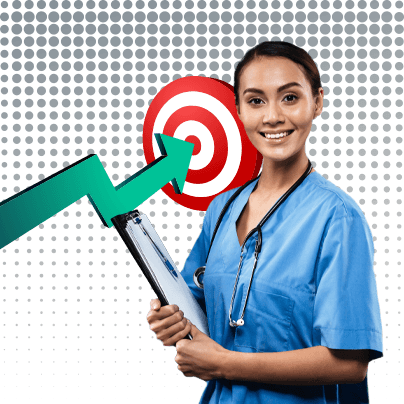 Our Healthcare Executives Email List Includes:

---
| | |
| --- | --- |
| First Name | Last Name |
| Company Name | Job Title |
| Email Address | Phone Number |
| Fax Number | Mailing Address |
| Company Website | Industry |
| SIC Code | NAICS Code |
| Employee Size | Revenue Size |
| LinkedIn Profile | And More.! |
| | |
| --- | --- |
| Chief Medical Officer(CMO) | Medical Societies |
| Chief Clinical Officer(CCO) | Hospital Associations |
| Directors | Healthcare Conferences |
| Chairman, Owner/Partner | Government Registries |
| Physicians/Doctors | Medical Publications |
| Medical Office Managers | Pharmaceutical Organizations |
| Administrator | Healthcare directories |
| Medical Surveys | And Others.., |
Let us help you reach your full potential