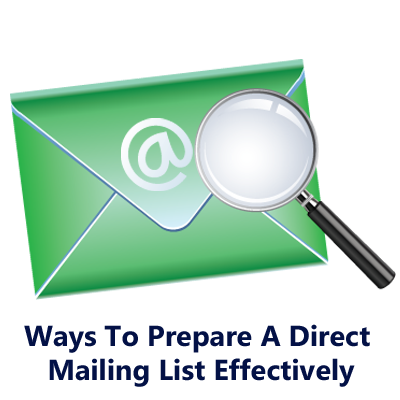 Marketing is the most important aspect of any organization. In fact, it is the blood and soul. Especially for startups, an imperfect marketing strategy is sure to sink down, without a doubt.
Besides social media marketing, direct mailing is also most sought-after marketing techniques that are available today. While most companies are looking for building a direct mailing list, here are two ways to compile it.
One is- by preparing yourself and the other is by renting the list. Perhaps, rented list can be used only once and can be expensive. But if you wish to build on your own, you have the opportunity to reuse it again and again.
However, it's also very important to know how to build a direct mailing list; here are few key methods that you can follow.
1. Look Through Your Internal Sources
While you go ahead of your decision and start building your direct mailing list, first take a look at the address that are compiled in your company's records and documents. You would surely have complied few of them. This is how, you would take the initiative of building a direct mailing list.
2. Examine Your External Sources
Once you feel that you have compiled all the contacts within your company, it's time to widen your focus. Start exploring your customers' websites, association directories, trade directories, chamber of commerce directories, and magazine and newspaper stories to get addresses of the people within your community.
3. Hold A Relation With Existing Customers
More than grabbing a new customer, it's very important to maintain a healthy relationship with the existing ones.
Introduce a monthly prize like discounts on products within your company. Through this you will at least be able to make a noise in the market. In case, even if your customer is not willing to buy, he/she will definitely drop their visiting cards with you. Use these cards to add their address to your already existing mailing list.
Similarly, introduce these kinds of offers in your website as well. It will require the customer to provide their contact number before signing up the contest. This will in turn help you in adding new contacts to the list, across all the domains.
4. Constantly Update Your Mailing List Without Fail
Time and again, it's very important to update your direct mailing list. After a course of time, there might be people who choose to be removed and others willing to be added to the list. So, ensure that you are revising your mailing list accordingly. By doing this, you will eventually discover that, you have a customized mailing list that your competitor might not have.