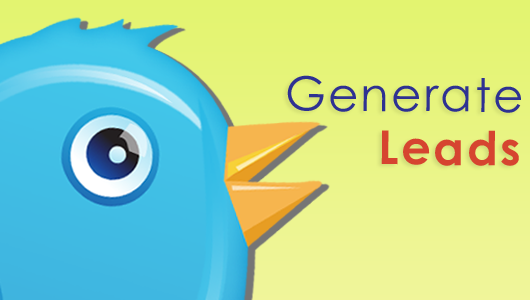 Marketing via social media can bring extraordinary success to any business if implemented properly. Although it can prove out to be a best lead generation tool, it is sometimes quite complicated to start accomplishing leads from social networking site Twitter. However, Pamela Vaughan of Hubspot / Inbound hub website lists down five useful steps for Twitter lead generation, using which you are sure to commence a successful Twitter lead generation campaign.
1. With Twitter search check industry terms: In order to understand what's happening on Twitter you must use Twitter search, which is a powerful and free tool. With the usage of this tool, search for common industry phrases and questions to discover prospects. So, once you are successful in finding individuals who could be concrete prospects for your business, start interacting with them by sharing content from your blog to answer their questions.
2. Make a committed twitter landing page: It's very important to create a new page on your website exclusively targeted towards visitors from Twitter instead of just copy pasting the link of your homepage. The twitter landing page you have created can be an array of things, like for example- it could be a preface to your company, an offer for a piece of lead making content, or other applicable content. Likewise, the most important thing you should keep in mind is that some characteristic of this Twitter landing page should prop up lead generation.
3. Tweet URLs to landing pages: Most of your Twitter followers are probably ready for some of your thought leadership lead generation content instead of being ready for a demonstration of your product yet. With the usage of landing pages tweet links with lead generation forms for offers that can provide general education for your followers.
4. Join in Twitter chats: A number of micro- communities have been formed with the help of Twitter. These communities have self organized around certain topics and in general discuss industry issues in the form of a Twitter chat. Each week at a certain day and time these organized discussions or chats happen. They apply a precise hashtag to tag and aggregate the discussion. For determining if your industry has a Twitter chat, this public Google doc is a big source.
5. Attach your blog to Twitter: In today's competitive business world, businesses who blog in fact have more twitter followers than businesses that don't, reveals Hubspot. This is because blogging furnishes businesses with more appealing content to share on Twitter. As every corporate must have lead generation calls- to- action on their blog, you are sure to drive more leads from Twitter by connecting your blog to your company's Twitter account by using tools like Hubspot or Twitterfeed.