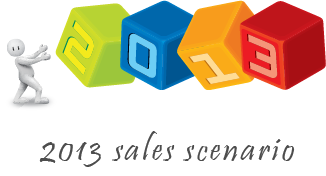 Everywhere the buzz is going to predict the marketing scenario for the 2013, in the mean time we diverted our way to find strategies for the successful sales program. If you think that your sales team is being held back and not pushed forward, then it's alarming time to take an action.
So, let's find the reasons, and the way to fix.
You recognize the wrong salespeople and for the wrong reasons. Only three-things matter
Year to date Sales revenue and profit
Year to date achievement of Quota (Target)
Close Rate.
You really need to understand that nobody cares about the sales rep that secured the most sales appointments during your last prospecting blitz. Instead, recognize the sales representative that got the most appointments that closed. That's the only way to improve your B2B sales performance.
1. Trust counts. Seriously in a sales team, trust factors a lot. So, if in your team there is a lack of trust then you need to fix that as soon as possible.
2. B2B sales will increase when your reps have the time to do what they do best sell.
3. There are too many meetings for the sake of having meeting. Please don't have a meeting to fix this problem.
4. You hired an outside consultant to learn what your sales force already knew and wanted to tell you. Listen to your Sales Team and you'll improve your B2B sales performance.
5. Targets are not set, regularly discussed and measured against.
6. You have not had a phone blitz day in the last 3 months where the sales team is competing to win a real incentive.
If those points are you problems, then, it's better not to repeat the same in the year 2013. Before New Year starts, it's better to have a team meeting and discuss all the points that you missed in 2012, and what you can do for a better result in the year 2013.