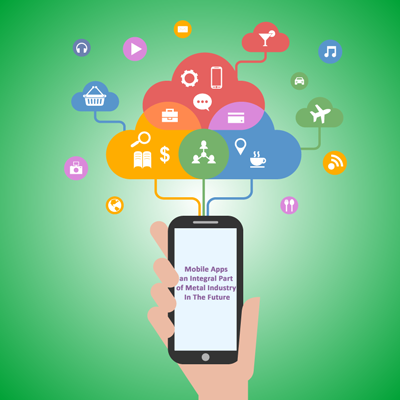 Mobile devices have become common among every individual, likewise there are apps for almost everything, from gaming to cooking and dancing. However, it's time to admit the fact that enterprises lack to adopt mobile applications at workplaces. They still rely on traditional paper log sheets or an operator reports shift wise tonnages.
Similarly, metal industry should also be an adopter of Manufacturing Execution system (MES) and machine integration is primitive. Here, Thomson Data has tried to provide some insights on how mobile apps at workplace combined with Internet of things (IOT) will change the way the century's oldest industry-metal industry will function.
Initially, when mobile apps were introduced in the work place, it was just limited to approvals, alerts, reports and associated workflows using mobile devices. Today, we witness sales reps using mobile apps for customer contacts, account information, capture lead, view product catalogue, quote price, see movement of metals on commodity markets, report order status, invoice payments and others.
IOT refers to connect objects such as, machines, equipment, mill, products-coils, slabs and plates through internet by providing a unique identification number. The systems have sensors that can sense and respond to the environment around and share data among themselves.
Recently there is an emergence of single chip which gives an opportunity to develop an entire application with low cost, low power single chip micro-controllers with built in Wi-Fi systems. Bluemix and SAP HANA platform device connectors offer the developers to develop custom application which interact with enterprise applications.
When mobile apps and IOT are connected, you can surely get an ever connected world, like for example; sensors on mobile can interact with sensors on the equipments which in return provide a data flow with the operator and the equipment and to the products.
In the future, every computer terminals must be replaced with mobile devices where operators can directly record data like quality parameters, send instructions to machines for corrections, confirm yield, execute logistic movements, identify coils / plates, record visual inspection, trigger maintenance orders.
Mobile apps provide different ways of working for individuals. Thus, in the coming years every machine should be an IOT device. Mobile apps can even act as the MES system integration to IOT devices, machines with appropriately developed logic.