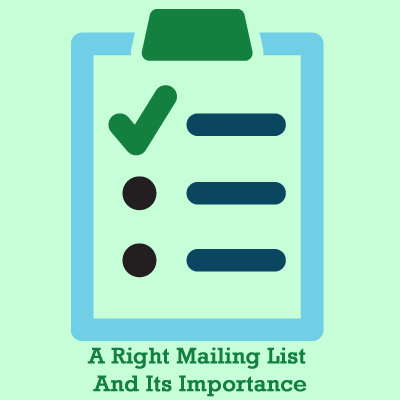 Direct marketing takes place when you get in touch with the customers directly through multitude of channels which includes email, phone and in person. In direct marketing, you can most often see messages involving a specific call to action, where in the results are immediately measurable.
To make your direct marketing successful, its' very important to have a right mailing list. A right mailing list consists of names of all your prospects and at the same time helps you in saving money.
A perfect and a right mailing list will simply increase your response rate. A higher response will lead to a higher rate of return. However, the key role of a mailing list is to know who are your target audience and whether they are interested in what you sell.
There are few things marketers must consider, while preparing mailing lists. They are:
Include names of existing customers.
To include names of people who have made at least one purchase from you.
To include customers who are willing to join you for future business.
Better to avoid those who cannot afford your product.
Three Types Of Mailing Lists:
1. Creating Your Own Direct Marketing Lists
Here the list consists of individuals who have inquired about your product or purchased a product through your business outlets and your official website. In fact, this is one of the strongest forms of mailing lists available.
2. Inquired List
In this, names of your future customers are included, who are ready to make their future business dealings. They inquire about your product and are interested knowing more about it. They will even ask free trail of your product. It is your responsibility to satisfy them and make them understand how different you are from your competitors.
3. Detailed List
In a detailed mailing list, you separate people according to the different features and demands they posses. A detailed list is useful when the list is growing and it becomes unmanageable to handle one huge list of prospects.
No matter what kind of marketing mailing list you prefer, all you need to do is to update the list from time to time. You know, a right mailing list can make wonders. Therefore, it's very important for you to create or own a right mailing list before launching direct marketing campaign.