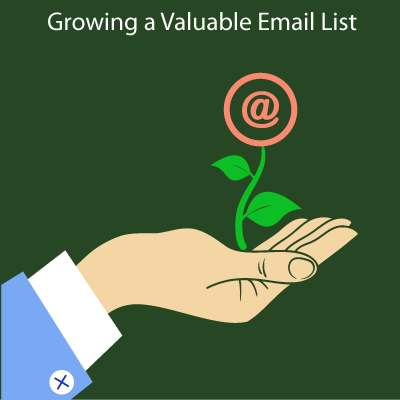 Growing a valuable email list is the most important task, as it builds a healthy relationship with the customers. But, prior to sending that e-blast you must build a solid email list of subscribers.
There are three important steps one has to follow in building a valuable email list successfully:
Follow Basic Rules
Make sure that your build a list that is permission based. That is, your subscribers agree to be included in your email list. Sending an email which is unsolicited would definitely put you into the spam segment or get banned from using many email marketing products.
To stay away from this, you must always use email addresses of clients who are aware of your products, adore and respect your work and permit you to send them your email campaigns.
Assemble Information
The more you collect information about your customer, the more you have chance to tailor the message according to your customer needs and preferences. Ask your customers to share some basic information such as demographic data, interests, activities and others in your sign-in form. However, always try to keep your sign-in forms as simple as possible.
Figure Your List
Given below are some of the proven methods of building an email list effectively:
Try to provide an opportunity for your existing customer/subscribers a reason to join your mailing list. Try to make your emails interesting by sending emails on special discounts and offers rather than just "buy now" emails.
You must try and offer some insights that customers do not find it anywhere else, such as tips and techniques etc.
As links to your sign-in form on your Facebook fan page.
Meanwhile, you must also encourage new visitors to sign-in and as a when they create an account or make a purchase.
You can also offer an on-the-spot deal for those who sign-in.
Posting your email campaigns on social media can make people know what exactly they are missing. Here, Make sure to have link to your sign-in form.