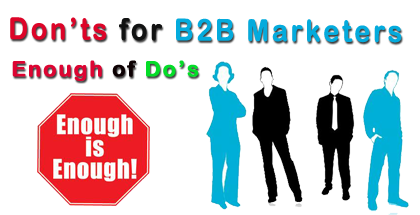 Ask for advice from thought leaders about any topic and they would start talking the important DO's. But why not the Don't. Let's take an example of you asking from anyone how to lose weight? And the advices start pouring in from all ends about how you should exercise daily, visit a dietician or count the calories intake. But isn't the basic missing somewhere? If you want to lose weight, stop eating extra! It is as simple as that.
And the same holds true for B2B marketers also. There are numerous best practices, things to do and smart measures listed for the dos, but very few have comprised important and key don'ts for B2B marketers.
Therefore, let's discuss some of the Don'ts for B2B marketers:
Don't 1:
Stop thinking as if everything is all about you: It's not always about you and your company. Understand your customers and put your marketing efforts in a direction that would attract them and is able to create an impulse. Put your audience first, that would require quite a bit of courage and effort, but the result yielded would be worth it.
Don't 2:
Stop turning things into complicated: K.I.S.S. as any variant of Keep It Stupid, Simple or Keep It Simple, Stupid. Different situation would require different applications of the same term and this should very clear for the marketers who very often loaded with statistics gets so confused about the next step, that they forget that it is ultimately all about creating value for customers.
Don't 3:
Stop behaving like a machine: Wondering how, well read any of your latest email, website or your campaign, do you feel that a human have written those content. No. Get personal (a bit), get interesting and be human. Think and write a personal experience in a line of two or three that would relate to the customers and woo them.
Don't 4:
Stop self-indulging and monologues: Once in a while get out of the office and analyze the world beyond other marketers. Speak to customers, or executives from the sales team, get in conversation with the CIO or CFO of companies. If you are too introvert to do that get into search analytics and list down the trends that are bringing more traffic.
Don't 5:
Stop focusing on means, get to the end: Ask any marketer as how their yesteryear performance had been and you would receive the statistics of how many campaigns they have launched. But it not the real measure of success. Collaborate with the sales, finance and IT executives to understand tools and processes require analyzing business metrics for success.
Don't 6:
Stop being anti-social: It is essential to be social. As a marketer in this inter-connected world if anything that would work well with your customer is social and networking. Find contributors who are active and get connected and start sharing.
Don't 7:
Stop living in the past: The era of uninformed and disconnected buyer is over. So have an open relationship with them, start giving them what they want start from educational content to fun stuff. But try to build a relationship that stands strong.
Some to miss, Some to catch:
Marketing even if planned properly can achieve and will miss some milestones. Don't stop just keep going and make customers your top most priority. Enjoy the ride till then.