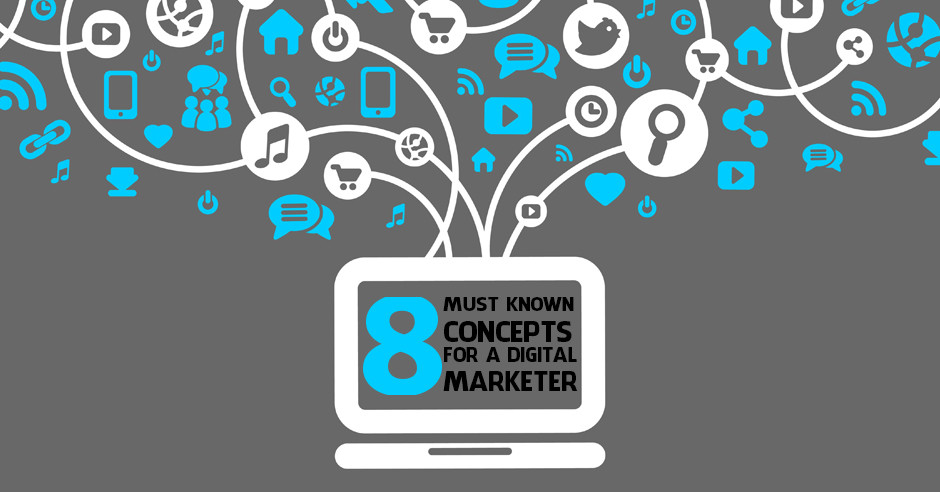 Digitalization has led to the reinvention of marketing strategies enabling brands and businesses better communicate with their customers and develop the value of their brand. With people consuming more and more digital content on a daily basis – on mobile phones, laptops, desktop computers at work, and more, marketers are shifting from analog to digital mediums for promoting a product or a service. And to keep pace with the changing world, marketers have to be adaptable and tech-savvy to respond quickly to the current trends in the industry.
Being a part of the marketing team, you have to not only know what your job role is but also have an idea of what others are contributing, too. It is also not expected from you to be an expert on everything, having a detailed knowledge of all job roles in your department. Rather, a basic understanding of the overall scenario will work wonders. Now, when we say basic, we mean the following eight essential concepts that as a digital marketer you should have an understanding of:
1. SEO
As a digital marketing strategy, SEO by adding a few keywords to your site ensures that your website ranks top in search engine results, driving more traffic and potentially giving you more business. But, today it is not just about keywords that marketers are focusing on to build traffic. They are using unique and qualitative content in harmony with relevant SEO keywords; compelling potential customers pay attention to a website.
The basic SEO elements that should be kept in mind while framing every piece of content includes:
Having in mind the SEO factor, frame titles that are fewer than 80 characters with a meta description of the content in 160 characters or less. Give a header text for the most relevant text with Alt descriptions for images and provide descriptive text for links.
So, get started with the basic elements of writing SEO-centric content and in the process learn more with experience. There are various guides available in the market that will give you a detailed understanding of how to make best out of your SEO strategy.
2. Engaging Web Content
Digitalization has turned print readers into online readers who prefer contents that are to the point and appealing. It is quite obvious that as a marketer, you don't create content but it is still very necessary for you to understand what kind of content you should promote that will catch reader's attention. Instead of long paragraphs, people tend to go for short ones. If your content is lengthy and monotonous with no white space breaking the writing into sections, readers are likely to move away from it going back to their search engine results for a better reader-friendly page.
To create engaging content, you should ensure that the content you display is relevant, pointed with headers for each topic and simple to go through at a glance.
3. Content Planning
In addition to the written copy, content includes images, charts, and downloadable files as well. So planning and developing your website's content is not a matter of joke. You have to be to be sure that the content your writers produce must be relevant for the users you are targeting.
Blindly writing something even without knowing its purpose seems useless. To write better content, one must have a proper planning that can guide him/her in achieving mastery over the content. By creating a content plan for the coming days, you can show clarity on the type of content you want, and the kind of traffic you need.
4. Forging Content Strategy
Gone are the days of just posting your content on social media and waiting for months to update it. Today, to make your content marketing successful you need to have a plan on what you publish and how to keep that content updated all the time. As content is the most important factor in marketing and advertising, so it becomes necessary for you to have a well-drafted content strategy that can guide your organization's content marketing efforts.
Your content strategy can be divided into three sections of your sales funnel – top, middle and bottom. By addressing each of these stages of the buyer's journey with quality content that focuses on their needs, you can turn prospects into customers.
5. Paid Social Media
Marketing through social media channels like Facebook, Twitter and more can bring notable success to your business. As today everyone is available on social media channels, it becomes easy for marketers to reach customers on a wider scale with merely no investment. You just need to create great content, put it on social sites, and when the audience starts following it and spreading it across their network, you get free publicity of what you posted even without directly approaching anyone to pay attention towards you.
But, just by relying on followers you cannot expect the success of your marketing efforts. You have to try from your end to reach as many people as possible and for doing so, you need to go for paid advertisements on these social sites. With a planned spending, you can use paid social media ads to target the right audience, increase traffic to your website and gain new customers for your business.
6. Pay Per Click (PPC) Advertising
With the advertising world, PPC is a known online advertising model in which advertisers can display ads for their goods or services that is visible only when users enter relevant queries into search engines. Whenever a user clicks on those ads, sending a visitor to your website, you pay the search engine a small fee. By leveraging such tools, you can reach a wider audience, and your content gets highlighted more than other competitors.
If you well-design and plan your PPC campaign, you are sure to get much more in return than what you have invested for the service.
7. Influencer Marketing
Influential marketing is not entirely a new phenomenon in the field of digital marketing. Leveraging the power of influence, this kind of marketing strategy allows marketers to identify individuals that have influence over potential buyers, and frame marketing activities around these influencers. For example, endorsements done by influential personalities or well-known experts who carry weight with both the general consumer and the industry pro can help you generate more sales.
Marketers use advertising through effective promotions, including different headlines and publicity stunts to expose influencers to their products. Influencers can be a blogger, a reporter, a consumer advocate and industry expert who can be instrumental in creating buzz about a new product or service. Though still new in the business, knowledge of such marketing strategy can give you a better hold of the market.
8. Measure Work Progress
It may sound not very necessary but keeping a track of results pertaining to your marketing efforts, targets of each member of your department and the validity of your content can be of great use anytime even though your job role doesn't require you to do so. If you are not comfortable enough to do so then having a metrics and analytics expert can prove advantageous for the entire team.
Going ahead, the points discussed in this article will add to your understanding of the role as a digital marketer in a better way and help you in taking your marketing efforts to the next level. So, buckle up your efforts and aim your target with a proper understanding of the pros in your field.