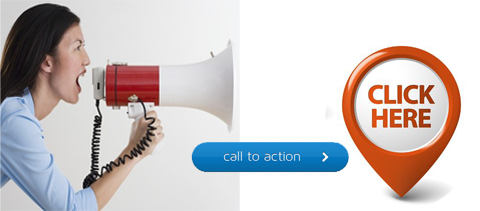 It's a complete disaster if Calls to Action are not put in place and can be categorized as repeat offender if small business marketer is unable to device a fully equipped strategy. A report released by Small Business B2B Call to Action Study sites that small businesses often fail to clear calls to action on their website. So what does it reflect?
What does it mean to have thriving Calls to Action?
Small Business Trends state the study that's based on an analysis of 200 U.S. small businesses in diverse B2B industries. (Web sites were randomly selected from a ReferenceUSA database of businesses with fewer than 100 employees). Let's say, 96% of small businesses don't offer how-to guides, white papers and similar thought leadership reports on their home pages. In fact, 70% don't display clear calls to action for other conversion opportunities on their home pages, such as specials, e-mail newsletters, demos, and interactive tools.
Some interesting facts
72% don't have any calls to action on their interior pages.
82% don't reference their social media profiles (text or images).
27% don't include a phone number on their home pages.
70% of web sites with a phone number don't display it in a prominent place.
68% don't include an e-mail address on their home pages.
38% of web sites with an e-mail address bury it on the home page (often in the footer).
Creating an Effective Call to Action
1. Planning Ground Work
Before a user is willing to complete a call to action, they have to recognize the need and Infomercials do this very well.
2. Offer a little extra
You may have to sometime offer a little extra to encourage users to complete a call to action. Incentives can include discounts, entry into a competition or a free gift.
3. Tits Bits of Impactful action
Be focused towards your calls to action, by limiting the number of choices a user has to make we reduce the amount of mental effort and effectively guide user around the site step by step.
4. Use active Urgent language
A call to action primarily should include keywords like:
Call
Buy
Register
Subscribe
Donate
Also use keywords diligently to increase a sense of urgency and a need to act now:
Offer expires March 31st
For a short time only
Order now and receive a free gift
5. Assign the Right position
Place the call to action high on the page and in the central column. Make sure to place a call to action in every page and carry the call through.
An effective call to action is the secret for success of any successful site and involves drawing best practices in usability, creative visual design and powerful copy writing.