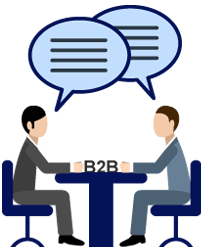 B2B Email marketing campaign has become today's trend and much of the businesses at top are using ways to implement this campaign in an innovative way. When you have to create a breaking and exclusive news for your business organization, B2B email marketing has constantly taken its stand in leading your ideas to next level as Joyce Kuras mentions about it in her article. Implementing a Successful B2B Email Marketing Campaign.
Many facts have to be taken into consideration when applying B2B email marketing especially, about the business/ company you are targeting at.The product, services, goals, brand, image etc matters a lot when the company is intending to build up a relationship. Until and unless you don't understand the needs of other company, your message will not induce a positive effect. Only right audience can bring capital and fame to your business. Studying and researching on your prospect and future audience will help in executing plans according to their needs.
Borrow your competitor's strategies if that is leading them to success. Verify and find out what your company lacks in and fill those loopholes by applying better ideas. Sometimes in- house database can also add a lot to your ideas, especially those prospects who are willfully interested in your company, its product and services. Researching on the area and the attitudes of the audience where one has decided to campaign can provide wider knowledge. When a business works according to the wills of the prospects, the customers tend to get closer to your work. Having a check on the facts and statistics of audience's life on regular basis will give you much insight on what and how a campaign must be introduced. Rework on updating B2B mailing list and on its accuracy. Consistent spamming can destroy and cause an unwanted end to your campaign.
Make everything easier and simpler for your prospects, from clicking a link, buying products, sharing your newsletter, subscribing the campaignto joining the social media site. Inform them on the offers and benefits they get out of it wherein their values are given first priority. Follow the email marketing instructions and design your newsletters in such a way that it is influential, concise, entertaining and easy to take in.Welcome all kinds of feedbacks from your customers and work on ways to present it.
Revive your loyal customers because they will get you steady leads. Work on emails that will dig up new customers but not at the cost of losing the old ones. Remember that a company or product is not built immediately. Only slow, careful and step by step methods can lead your company to accomplishment. Invest and precede your business from the right foundation and lay a new foundation that becomes a marking point to new attainments.