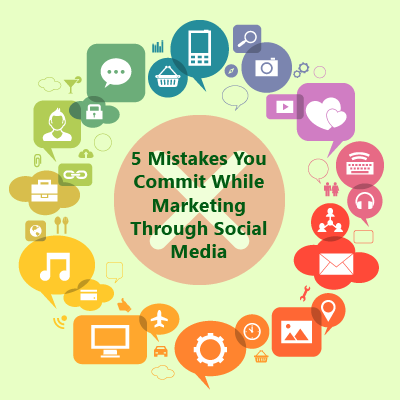 Today, many businesses have realized the importance of social media marketing. Be it an already recognized company or a start up. All have appreciated, what social media has been doing for them in the growth of their business.
Be it Facebook, twitter or your company's' blog; all play a vital role in the success of your organization. However, there are few mistakes people commit while using social media. Its' better to take a little time and consider revising your mistakes that could be hindering your progress.
Here is a list of such mistakes that you could turn around with a little effort for quick and improved results.
1. Not Informing People About Your Social Media Presence
Establishing presence in the social community is very important. You have to take every opportunity to let people know. You can include your twitter link in your Facebook account and vice versa.
At the end of every newsletter, you can also include your social media links so that your subscriber reaches you through those sites as well.
2. Not Incorporating Social Media With Your Other Communication Tools
You many have many ways to communicate, like broadcast emails, direct email and newsletter but, they should occur along with the social media. Just make sure that, they are a part of an overall strategy and ensure that they tie up well.
3. Not Giving A Though About The Channel You're Using
Each social media has its own set of rules to be followed. They can be different the way it is being used, etiquette and protocol. Its' important for you to know and abide by those rules. For instance, twitter post should be short and concise, whereas Facebook gives you that space to stretch your legs with longer posters and better photo gallery. So, make sure that all the mediums are used effectively.
4. Posting Inconsistently
Posting too little or too much is not good for your business. Maintain a consistency while posting anything on social media, like for example 3 times a day, twice a week, 10 times a month and so on.
5. Not Making Yourself Interesting
Sure you own an organization, but you, as a person represents your company. You have to present your company in the most interesting way possible. Never ever send out blank news feeds or press releases. Make yourself interesting by sending out attractive photos and multimedia that can add depth and texture to your presence.